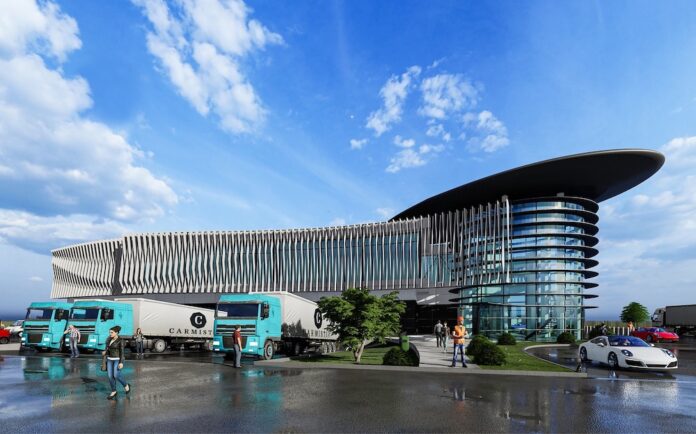 Avicarvil is a leading poultry producer, processor and retailer in Romania with an annual farming and processing capacity of over 30 million chickens/year. The company plans to double this capacity in the years to come by building a greenfield processing plant in close collaboration with Marel.
In Vâlcea County, Avicarvil will build the most modern poultry processing plant in South-Eastern Europe. Covering an area of 25,000 m2, it will be the largest chicken meat production unit in Romania.
First choice
The Avicarvil plant needed to expand to ensure competitiveness against international competition, producing more chicken of higher quality. Andrei Brumaru, executive director of the overarching Carmistin Group, explains, "For the best results and the best return on our investment, we decided to cooperate with Marel. For our new plant, we compared the efficiency of the lines in our two existing processing plants. Marel's line was clearly superior and our first choice to equip our third processing plant with a capacity of 13,500 bph."
The new project
The automated processing lines include robotization with Marel's RoboBatcher. "The RoboBatcher in the filleting line makes a big difference in the speed and accuracy and ensures a good return on investment. By combining robotics and software, RoboBatcher optimizes the processing time, quality and safety of our products. In addition, Innova software will help us make data-driven, timely decisions, reduce costs, and increase our competitiveness."
Sustainability trends
"Our investments aim to mitigate climate change. We implement systems and technologies to optimize energy use and water consumption. Marel Water Treatment will build an innovative system for collecting, treating and reusing water, fully complying with the regulations in force. The significant amount of recycled water returning will result in 80% less water consumption," says Andrei Brumaru.
The process
In Avicarvil's new plant, the process starts with ATLAS, the most sustainable and humane live bird handling system in the industry. This is followed by Marel's stunning, scalding, plucking and evisceration solutions, including the brand-new, intelligent Nuova-i eviscerator. The primary process is monitored real-time by IMPAQT software. After combined in-line immersion and air chilling, products are cut up in two ACM-NT lines and deboned in three AMF-i breast filleting systems. Then five Multihead Weighers and a RoboBatcher batch and pack the products. Marel checkweighers and labelers finish the process.
More information: marel.com/poultry or carmistin.ro