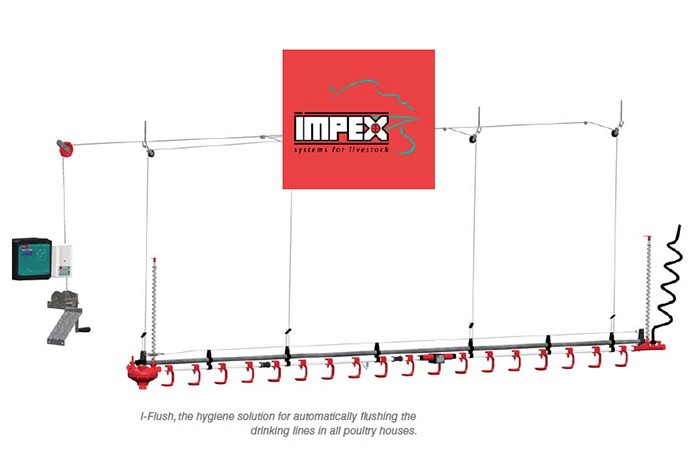 With its many years of experience in the poultry industry, Impex Barneveld BV has developed a hygiene program that provides livestock with clean and fresh drinking water in just the right amount.
The I-Flush is a total hygiene solution which can automatically flush the drinking system, based on given information from within the drinking lines and pre-set programs. With a flush computer, pressure regulator and several sensors the system can work fully automatic, without any manual action from the poultry farmer.
Optimal hygiene is very important in the poultry house and drinking water is herewith an important key.
The I-Flush total hygiene solution consists of the I-Control flush computer, I-Flow pressure regulator, Temperature sensor and Biofilm sensor. The Temperature sensor and Biofilm sensor measure the temperature and biofilm up-built within the drinking lines and send this information to the I-Control flush computer. When the sensors measure abnormalities or when the regular flushing time has arrived, the flush computer sends a signal to the I-Flow pressure regulator to start flushing. Through the build-in solenoid valve on which the actuator is mounted, this process is fully automatic. This way the flushing program can be optimally used.
This system is unique because of the possibility to automatically flush on deviations in the pre-set temperature and the amount of dirt in the drinking system. There are also pre-programmed flushing tables and the option to program your own flushing preferences. Because the flushing mechanism is build inside the pressure regulator, the flushing will work optimally and all other elements of the pressure regulator maintain their original purpose. The combination of these features is unique and new on the market.
Flushing of the drinking lines with the I-Flush total hygiene solution works completely automatically. This system contributes to more efficient management, optimal results and a better animal welfare.