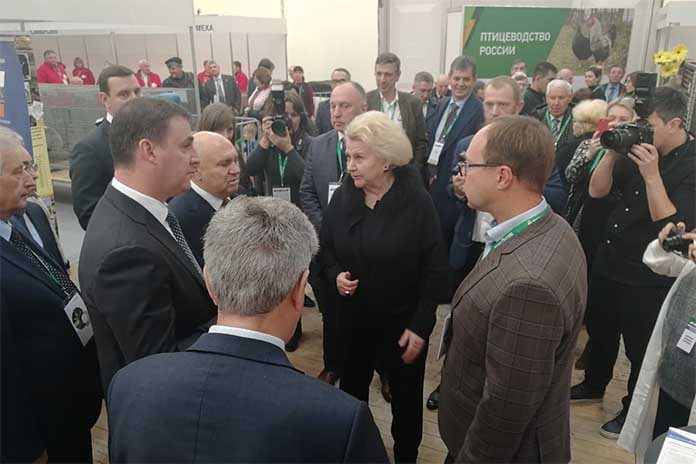 Russia's 2019 Golden Autumn agricultural exhibition was a big occasion for Aviagen® LLC, its customers and the Ross® brand. This year marks the fifth time the company participated in the event, which took place Oct. 9-12 in Moscow.
Aviagen's Ross 308 parent stock (PS) birds were featured in the show's Animal Farming and Breeding section.
Golden exhibition for Aviagen
Contributing to an eventful show were a number of achievements and memorable moments:
Aviagen LLC was recently recognized as an accredited PS producer in Russia, and its Certificate of Registration (valid for the coming five years) was presented.
For the fourth year in a row the company was awarded a Gold Medal for its balanced development of Ross breeding stock.
Dmitry Patrushev, Russian's Minister of Agriculture of Russia, visited the stand and commended the company for its standing in and contribution to the Russian poultry industry.
General Director of the Russian Poultry Union Galina Bobylyova presented the company with the Certificate of Merit for great performance, health and welfare.
Aviagen welcomed its customer Sheksninskaya poultry farm into the Ross 400 Club at a ceremony which was attended by the Vice Governor in Agriculture of the Vologodsky region Mikhail Glazkov.
Aviagen LLC General Director Valery Starodubtsev commented, "We're truly humbled to receive these recognitions. Firmly committed to the success of our customers, we work closely with them, and we're proud of the performance they've achieved."