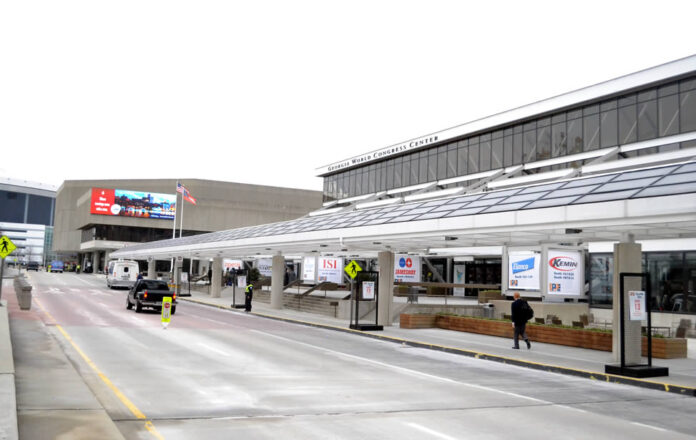 The International Production & Processing Expo (IPPE) continues to evolve to meet the needs of its attendees and exhibitors. For 2022, the show will be in-person at the Georgia World Congress Center in Atlanta. 
IPPE focuses on Innovation – bringing together buyers and sellers of the latest technology of products and services to make your business successful; Education – learning from the experts in free- and fee-based world-class programs on topics that cross industry interests; Global Reach – attracting more than 8,000 International visitors from 130 countries; and Networking – meeting new and rekindling old relationships with leaders across the industries.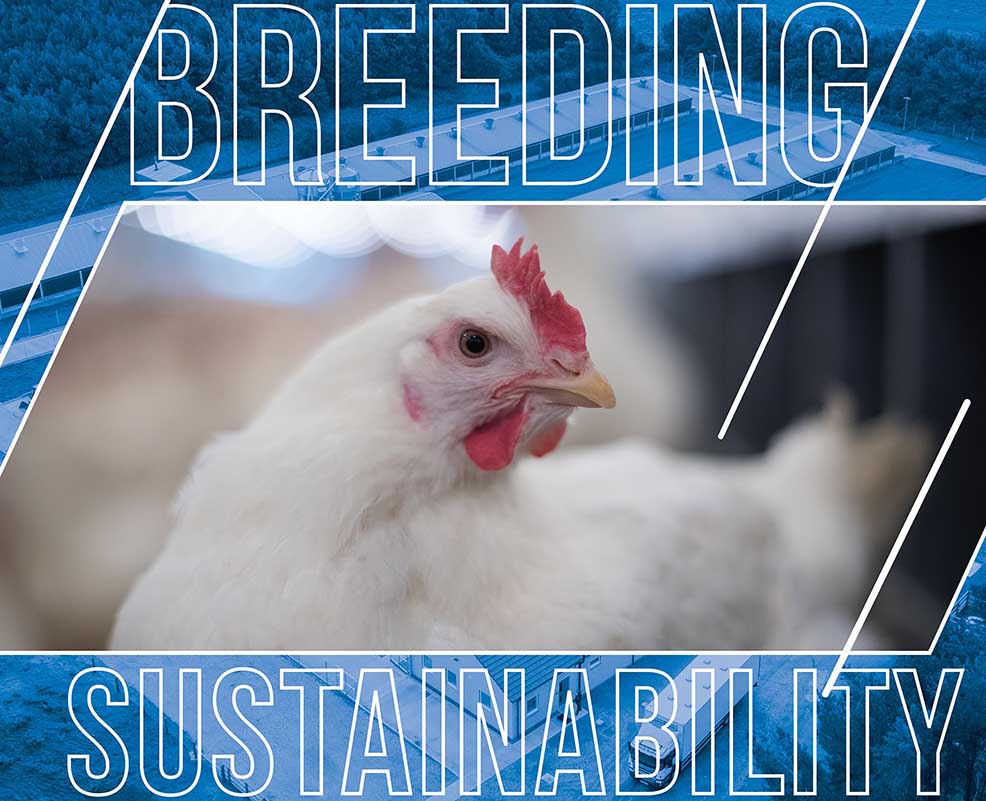 "Breeding Sustainability" theme highlighted at Aviagen booth – Aviagen is committed to "Breeding Sustainability" for our customers, the communities they serve and the planet we all call home. Through our balanced breeding program, we are able to continuously advance bird health, welfare and performance while decreasing the impact of food production on the environment. We look forward to seeing you in booth B4225 to discuss our sustainable approach to breeding the industry's broadest selection of quality broiler breeding stock, enabling our customers to offer the right bird for the right market, and at the right time.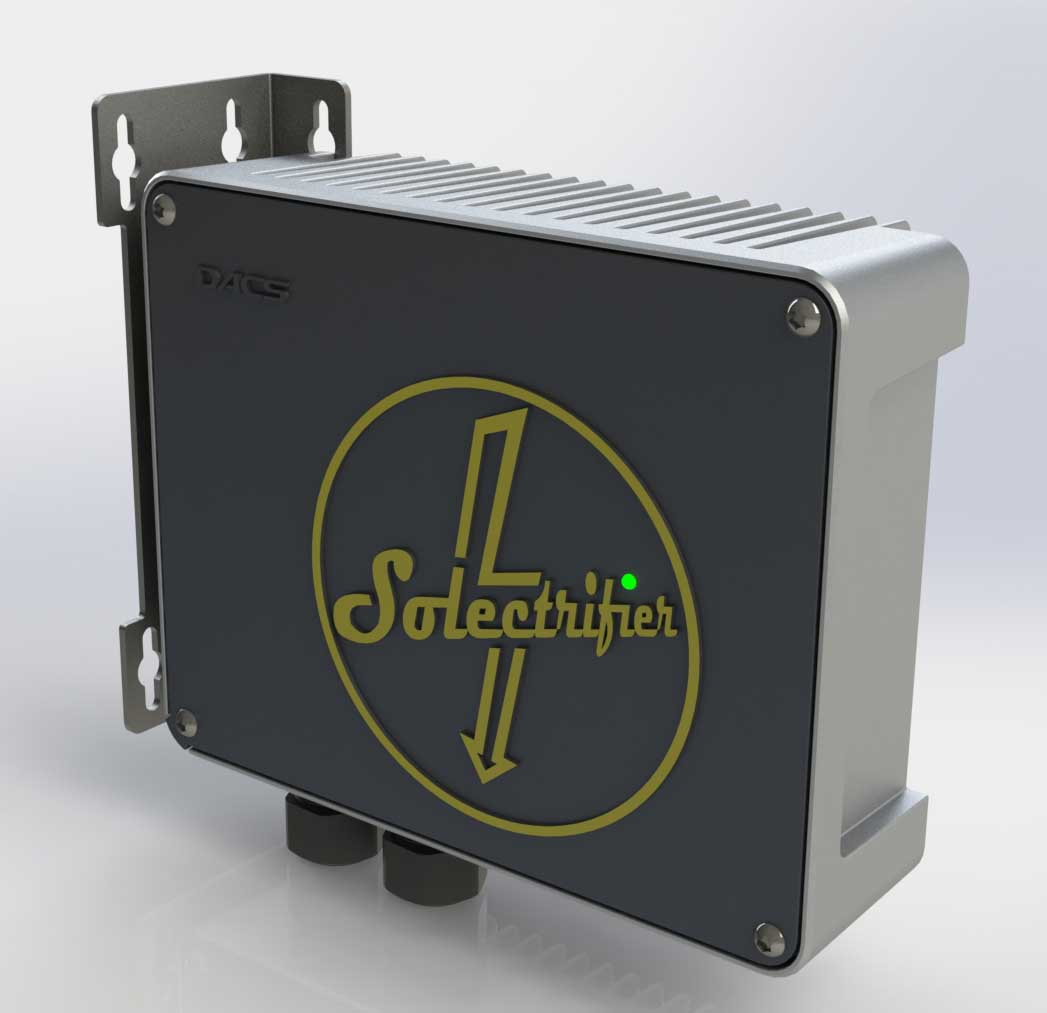 For the first time at an in person exhibition, DACS will be showing their Solectrifier – a high efficiency Dual Power Supply system which incorporates solar power in a new and inventive setup.
The Solectrifier harvests electricity directly from photovoltaic panels and feeds this electricity to a Variable Frequency Drive, which in turn drives a PM fan motor – reducing electricity consumption by as much as 91%.
The Solectrifier technology allows fans to run completely off-grid during daytime, when the photovoltaic panels provide the required power to drive the fans.
In addition, to the directly measurable and very substantial power savings, the Solectrifier also reduces the grid load – both the public grid and the on-site cable installation. On a typical installation, main cables can be downsized 35%, generator sets can be downsized 35%, and transmission (cable) losses completely eliminated with the Solectrifier.
In the video you can see how it works: https://video.dacs.dk/view?m=pUmpCyHeZ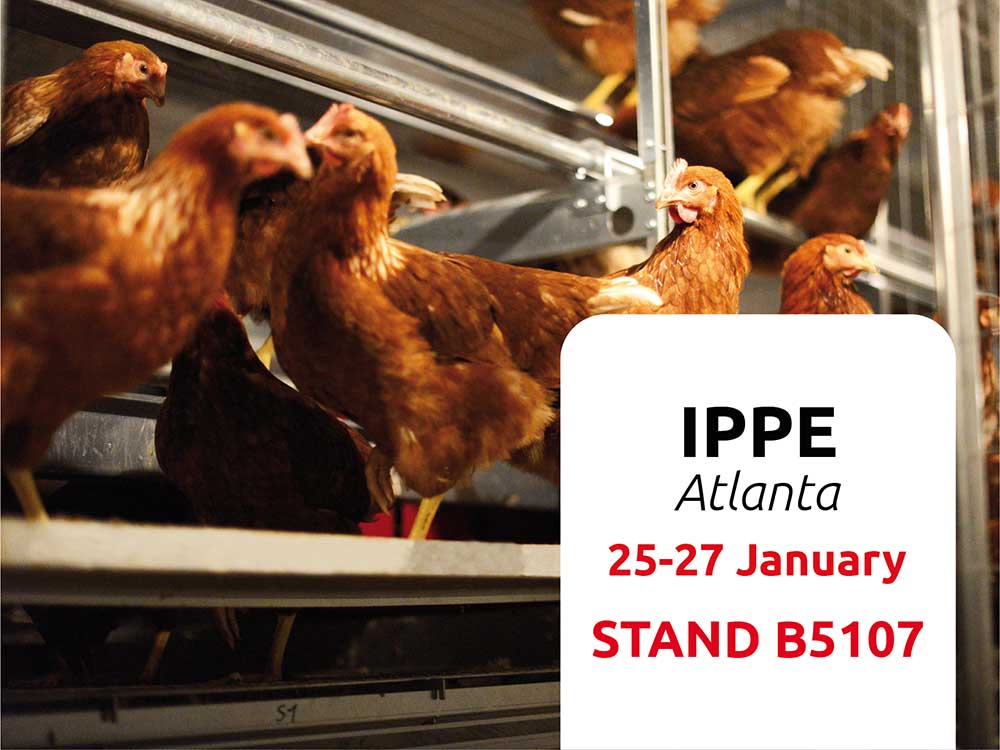 Officine Facco will attend IPPE Atlanta Show 2022. With a knowledge and study based on more than 60 years of experience, we will introduce you to our wide range of cage free systems better adapting to your poultry farm. Our systems combine animal's well-being, productivity, and ease of management. Every cage free solution maximizes the livable area increasing at the same time the available surfaces and assuring complete freedom of movement for the animal. Specialized in cage free systems and turnkey solutions, Facco supports its customers not only during the design and construction phases but also in the analysis and management of the systems through cutting-edge Smart Farm technology developed to ensure the full integration of each element. Find out more about our cage free systems visiting Facco website (https://www.facco.net/en) and meet us at our stand B5107.
Here some video links to Facco's solutions:
Libera Alterna https://www.youtube.com/watch?v=g_aDiPgUcOg&t=105s
Libera Casa https://www.youtube.com/watch?v=TRXAjgED6fM&t=96s
Case History Cage Free https://www.youtube.com/watch?v=RcA1Cuq2fvE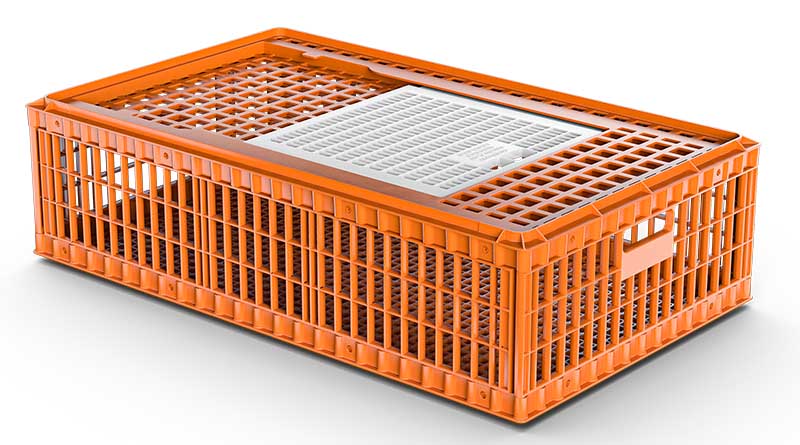 Giordano Poultry Plast, a leading multinational plastic moulding company, specialized in the production of poultry equipment, will be present at the upcoming edition of the professional exhibition: IPPE 2022, which will be held in Atlanta, at the stand n. B5355 – Hall B.
Established in 1962 under the name of Avicolplastica and since 1974 as Giordano Poultry Plast, specializing in plastic equipment for poultry farming, the company has grown regularly over more than half a century to reach a very international dimension, both in sales and in production.
Giordano Poultry Plast is glad to introduce its new Automatic Drinking Lines. The system has been upgraded starting with the pipe that goes from rounded to square shape 28×28 mm. This will provide a better result, not only during its use but also for washing at the cycle end. Also the pipes were changed as all plastic accessories and nipple. This new Automatic Drinking Line will also be easy to install, firstly because all the screws were eliminated and then due to the larger space between the metal support and the plastic water pipe.
The system includes "Super Drop" for broiler, "Pendolo Line" for Turkey and Duck (they will have different cups), completed by our already popular "Giro Line" a combination of 2 drinking lines with only 1 metal support (mainly used in the French market).
The headquarters of the Company is located in Italy, in Caraglio (CN), where more than 80 people are employed, the production subsidiaries are in Mexico, Argentina, Egypt and Malaysia. The Giordano family totally controls the group, with Osvaldo Giordano, President and sons Oscar and Enrico, Managing Directors. 95% of the group's production is exported to more than 65 countries.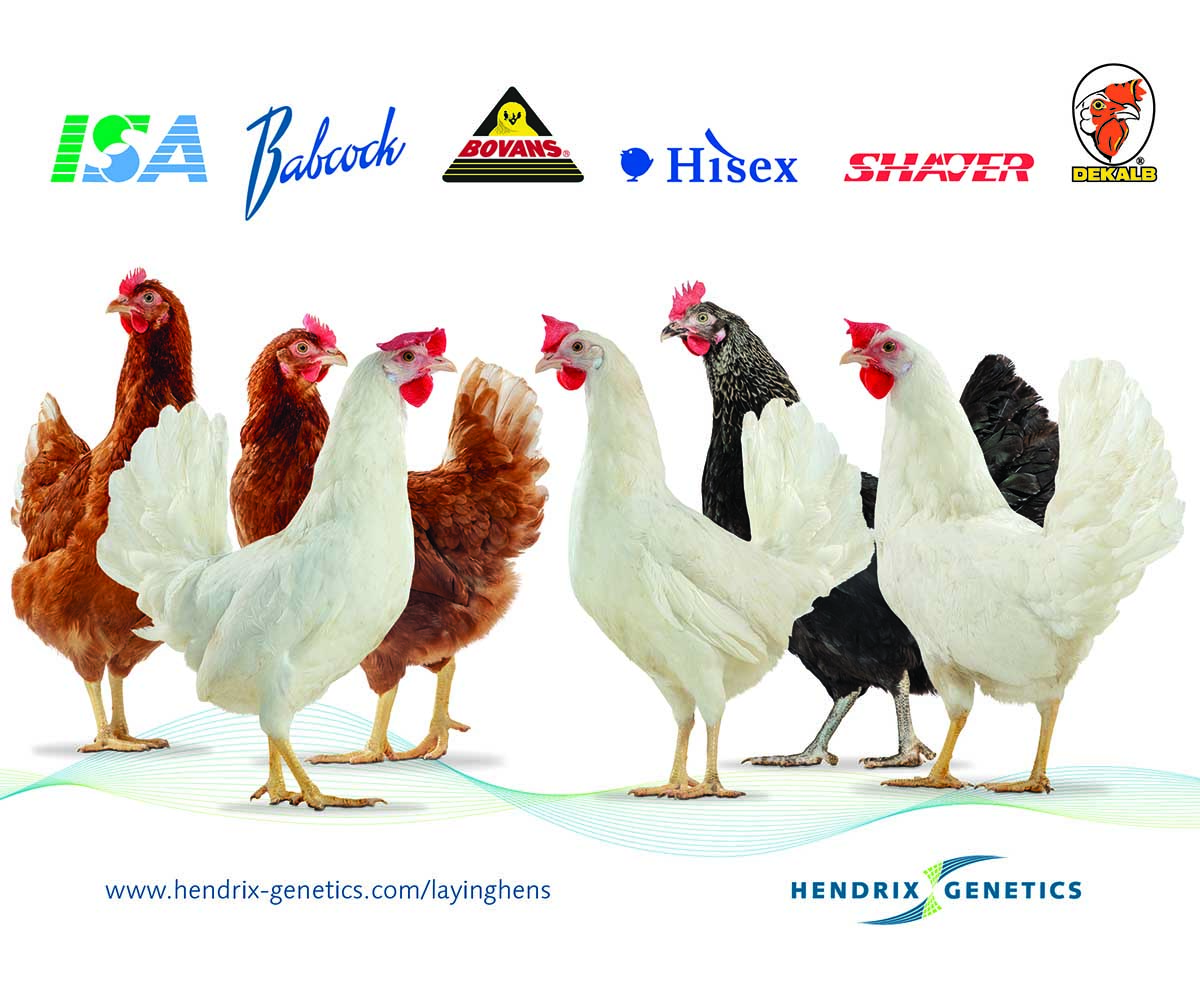 Hendrix-Genetics distributes parent stock and day-old chicks to layer hatcheries and egg producers across the entire America's. We focus on serving the American egg markets with our dedicated team of technical poultry specialists, our high-quality egg laying chicken breeds (known as Dekalb, Shaver ISA, Babcock, Bovans, Hisex), and our world-class facilities. Delivering the best day-old chick quality lies at the core of our daily activities. Our technical poultry experts are eager to help you bringing your operations to the next level. As we are a global player in poultry genetics, we can offer our valued customers a global perspective, by sharing best practices and the latest insights on keeping laying hens. We welcome you to our stand B4927 at the IPPE in Atlanta.
For more information on the company's proven product performance in laying hens, watch this video,
HUBBARD Conventional and Premium Breeding for you since 1921 – www.hubbardbreeders.com – Booth B4127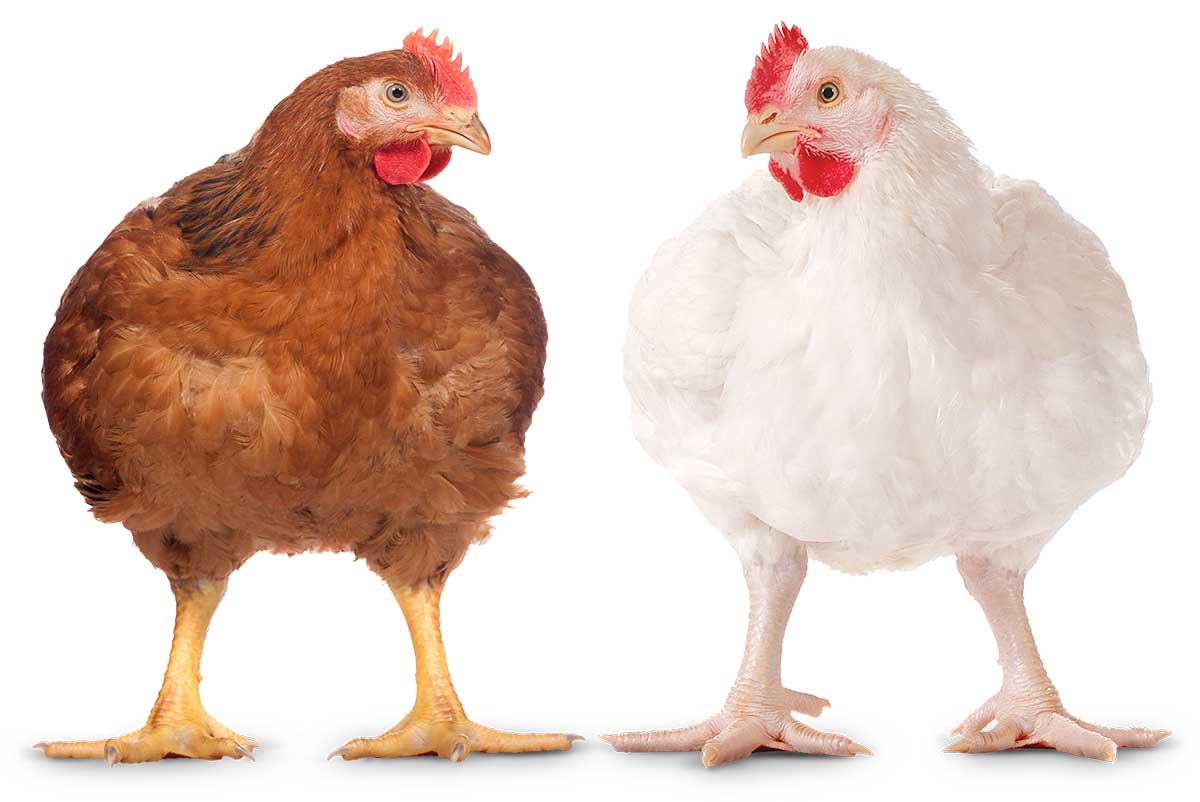 The Hubbard Efficiency Plus female and the M77 and M99 males perfectly match the needs of the conventional broiler markets looking for the efficient production of hatching eggs and chicks, efficient broiler growth, low feed conversion, good conformation and uniformity.
Hubbard is the worldwide preferred choice for the speciality and slower growing chicken markets. The Hubbard Premium product range offers a large portfolio of products with colour differentiation, slow(er) growth and excellent robustness.
The latest addition to the Premium Product Range, the Hubbard REDBRO, gives the best balance in terms of animal welfare, environment, and economics of any commercially available slower-growing breed.
HY-LINE International –  www.hyline.com – Booth B5829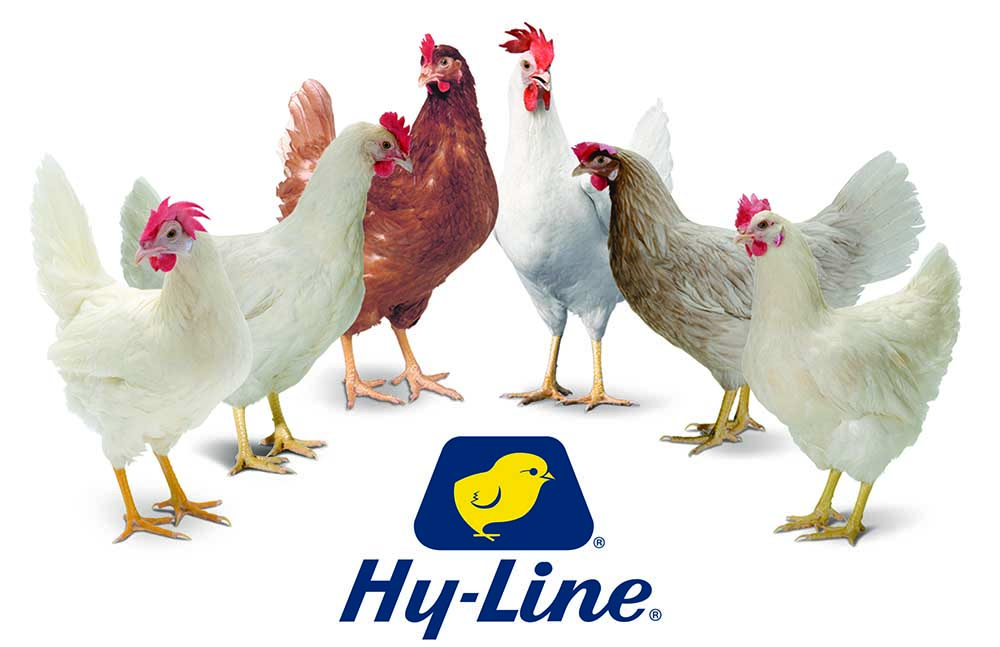 Hy-Line is accelerating genetic progress, putting more selection pressure on increased egg numbers and shell strength while not overlooking other key traits. Egg producers are seeing more saleable eggs from balanced layers suited for their markets, which means more profit for producers.
Hy-Line produces and sells brown, white and tint egg breeding stock to more than 120 countries worldwide and is the largest selling layer around the world. Hy-Line layers are known for:
strong egg production,
superior liveability and feed conversion,
outstanding shell strength and interior quality.
Visit us online at www.hyline.com or at IPPE 2022 Hall B, Booth 5829, to discuss how Hy-Line can deliver for you.
For more information on the company, watch this video: https://www.hyline.com/about-us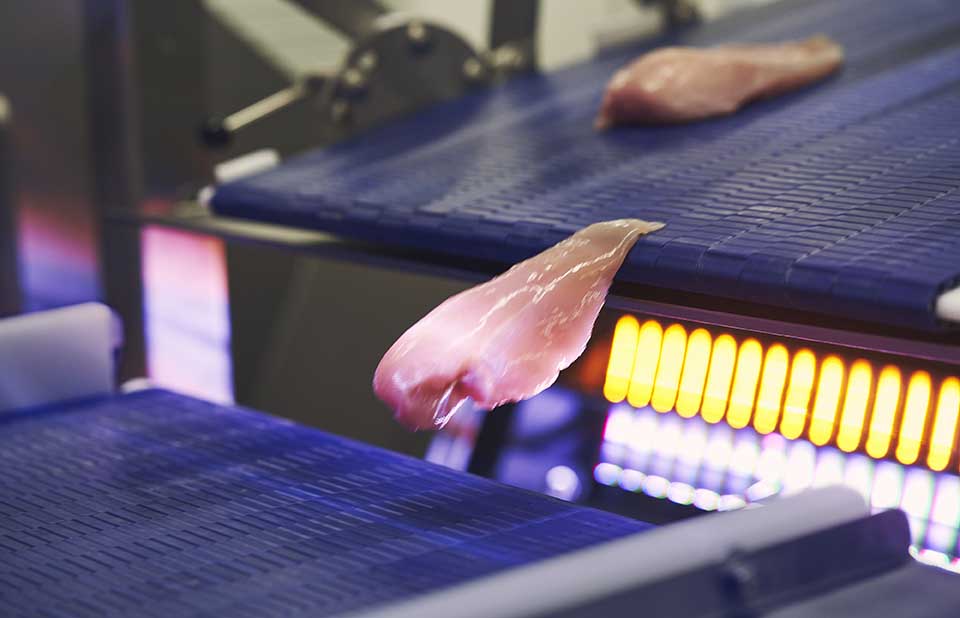 At IPPE, Marel will display new, innovative solutions to support poultry processors. Marel's multiple automation solutions help reduce labor and improve yield. Innova software capabilities help optimize production control. We are ready to transform the way food is processed, together with our customers. Besides the well-known I-Cut 122 TrimSort portion cutter with sorter, the RevoPortioner 1000 former and StreamLine for Poultry, Marel showcases the new Coating Line 1000, the best possible solution to fulfill any demand for highest quality convenience products with large diversity and in high volumes. We will also unveil our latest technology in foreign object contamination, Spectra, the revolutionary soft contaminant detector for poultry fillets. It performs a double-sided surface scan, using multispectral sensing technology.
MEYN – Smartifying Poultry Processing – www.meyn.com – Booth C12927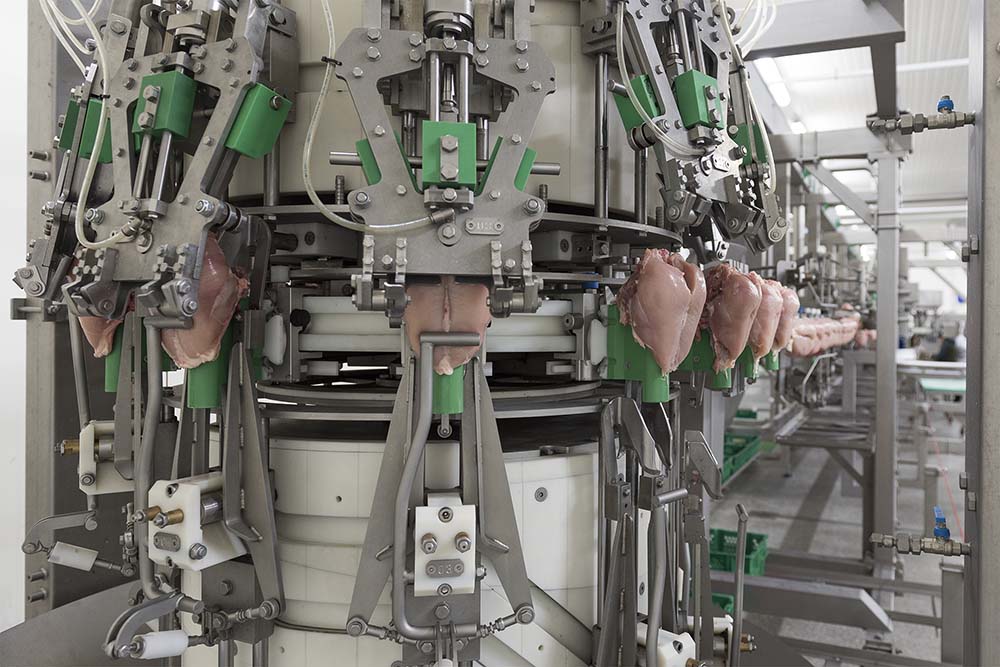 Poultry processors are facing rapid changes. Being flexible in poultry processing has become vital to match fluctuating supply with instant customer demands. Add the current labor shortages, and the complexity of processing multiplies. Meyn has developed an integrated set of solutions that addresses these challenges through a concept called 'Smartifying Poultry Processing'.
This edition Meyn will integrate their famous processing machines with their most recent processing software called: Cynergy. A collaborative success of Meyn and their sister company CatSquared. Together with the most recent innovations in evisceration, deboning and cut-up, Meyn now offers a range of smart processing solutions for a wide variety of line speeds and bird sizes – allowing poultry processors to achieve the highest level of productivity with minimal labor. 

In line with 'Smartifying Poultry Solutions', Meyn has developed an integrated set of solutions that address these challenges such as Evisceration: Meyn is proud to introduce the updated Maestro Plus automatic in-line organ harvester ensuring automatic giblet harvesting with the ability to handle the widest weight range within one setting – lowest downtime – lowest running costs resulting in the highest yield. With over 50 Maestro Plus systems sold worldwide, the Meyn® Maestro legacy continues. Cut up: A cut-up system like the Meyn® Physic Plus M4.0 delivers all the flexibility a modern processor needs. The new design provides top accuracy and quality of cuts. The Meyn cut-up solutions are the most accurate and fastest in the market and can process a weight range from 1.0-3.2kg for grillers. Deboning: Automated deboning with a Meyn® Rapid Plus M4.3 running at 7,000 breasts/h requires only three workers loading the breasts on the product carriers and just seven workers for trimming – a reduction of 31 workers per shift compared to manual processing. Poultry processing data: With line speeds going up to an astonishing 15,000 BPH, data collection has become vital. Poultry processors want to control the production outcome to deliver the right product mix. Cynergy is the key to achieving operational excellence and processing the perfect match of poultry meat production.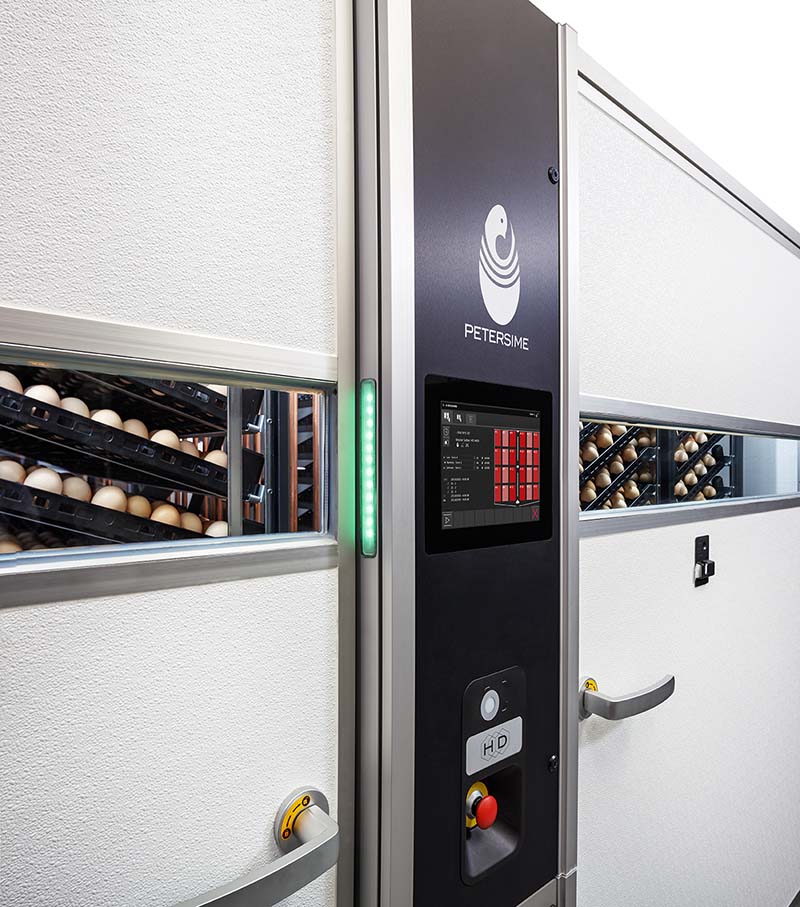 X-Streamer™ The world's first intelligent incubator
Petersime showcases its new range of single-stage incubators at IPPE. The X-Streamer™ is the first intelligent incubator that turns data into maximum hatchery performance. Together with the Eagle Trax™ system, the new range is a milestone for digitalization in the hatchery. Want to know more? Come and visit the Petersime booth! Hall B – Booth 3807 & 4007.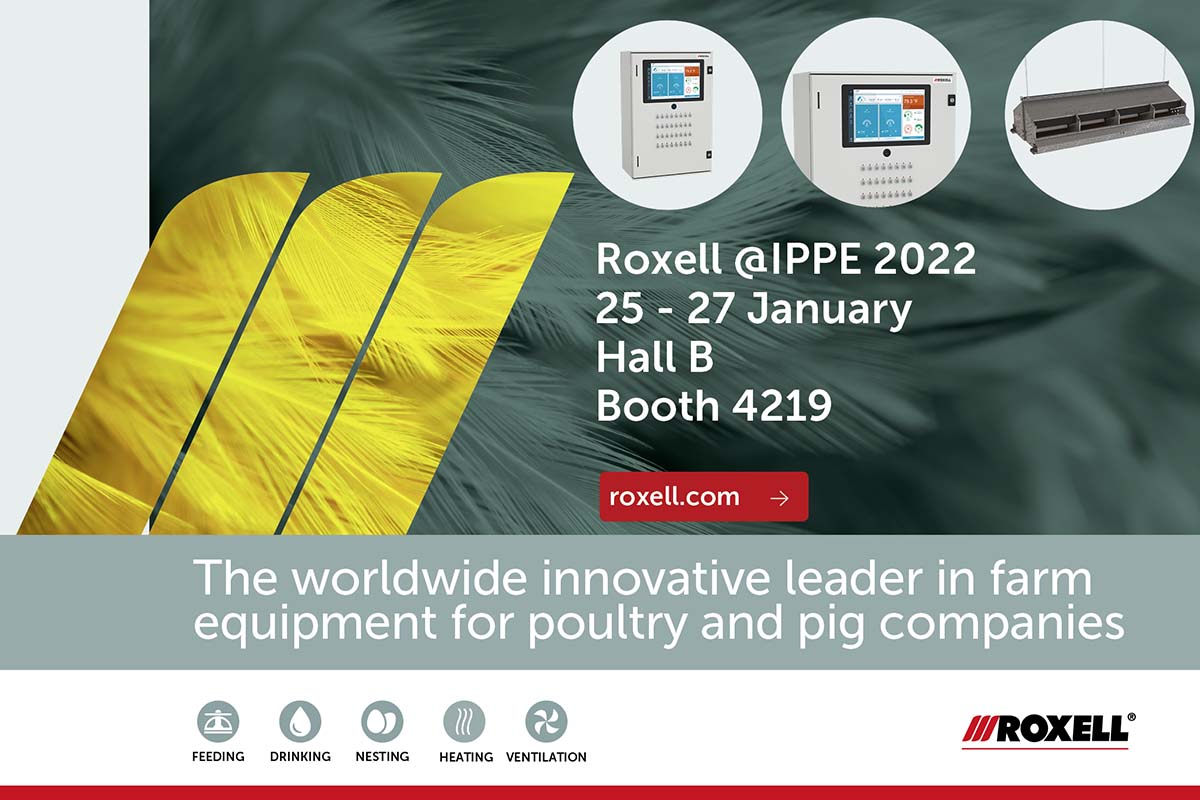 At IPPE, Roxell will be showing 3 brand new products:
iQon™ full house computer: the state-of-the-art and user-friendly full house computer for connected poultry farms.
Shenandoah group nest: more nest space and increased profitability with the solid Shenandoah® reputation.
New exhaust fans in fiberglass: direct driven, corrosion proof fans with variable speed improving performance and efficiency.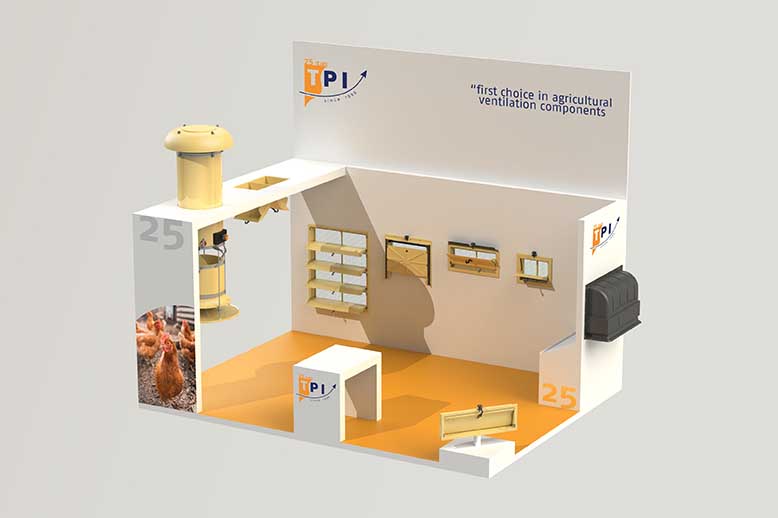 TPI-Polytechnics will be exhibiting at the IPPE in Atlanta in January 2022. We are looking forward to this show as it is the first exhibition we can physically attend in a year and half. We will of course showcase our latest products, product developments, and accessories. Also, we will take this opportunity to celebrate our 25th anniversary. We very much look forward to seeing our partners and customers in person again, visit us at booth B6159, let's talk ventilation!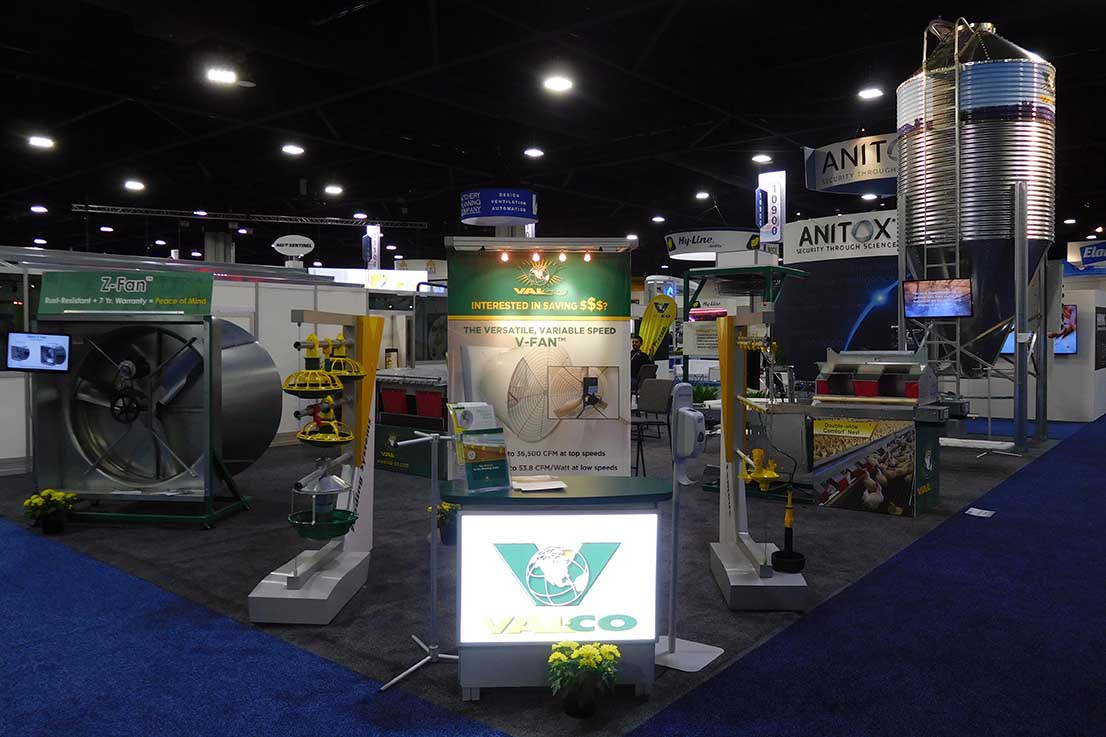 Visit VAL-CO at IPPE to see our newest products, as well as some tried-and-true classics. This year, we will be showcasing our new durable plastic hopper, which is lightweight and easy to connect, as well as the new & improved Fortica® Whole House Controller, with Energy Mode and Improved Precision Heating for big savings. Also, be sure to check out our other proven products, including the advances we've made to our world-famous watering system, like the 2-wire anti-roost line to prevent perching on the lines & eliminating the need for shockers. We help you grow at VAL-CO.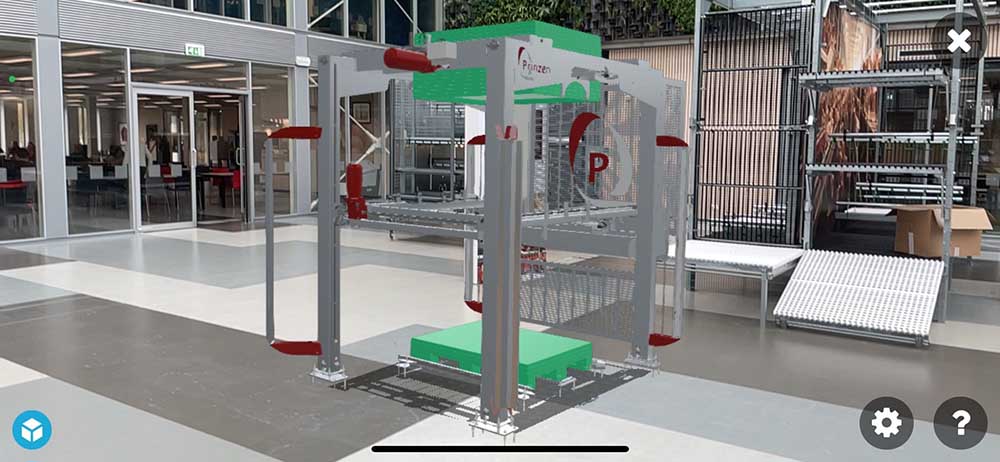 Vencomatic Group will show a virtual palletiser on their booth (B4917, Hall B), coupled with a virtual Prinzen Speedpack egg packer. Visitors can scan the models on the booth and watch them on their phones, but they can also place them on the floor and walk around them. The palletiser receives stacks of six trays from an automatic stacker and places stacks onto a pallet. It can handle 40,000 eggs per hour on pallets, i.e. 110 cases, by lifting 4 stacks of trays in each movement. The palletiser operates independent and connects with any suitable type of farm packer. The frame design is compact and matches various egg room lay-outs and uses very little floor space. Click here to watch a video of the palletiser in action: