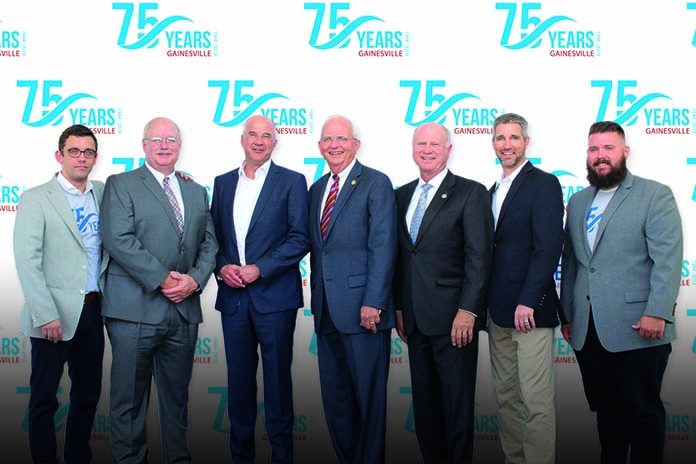 On September 26, 2019, Marel celebrated 75 years of operations at its location in Gainesville, Georgia. To mark the occasion, the company celebrated with a luncheon where Georgia Agricultural Commissioner Gary Black and Georgia State Senator Butch Miller along with Executive Management from Marel spoke to the audience.
Over 370 people attended the celebration, which opened with remarks by Folkert Bölger and Roger Claessens, both Executive Vice Presidents (EVP) of Marel, who took the opportunity to thank past and present employees for their dedication and hard work carried out in partnership with our customers to transform food processing. Claessens touched on the many innovations that have changed the landscape of the poultry industry. Following that, Commissioner Black addressed the crowd thanking Marel employees for their dedication and charging us to remember the importance we play in Georgia agricultural and helping the family farm on a daily bases. Senator Miller continued the celebration by thanking Marel for the affects we have had on the Gainesville community and poultry industry on a global level.
From Gainesville Machine Company to Marel
In 1944, Gainesville Machine Company was established as a metal working job shop, specializing in welding fabrication and machining. A major milestone for the company was in 1960 with the development of the first non-reverse defeathering machine. This development allowed processors to increase line speeds from 200 birds per hour to 12,000. By 1973, the company needed more space, so Marel moved operations to the current location at Airport Parkway. In 1975, Stork Acquisitions Corporation acquired the company and in 2008, Marel Food Systems acquired Stork Food Systems.
Key facility
Today, Gainesville is Marel's key manufacturing facility operating in North America and part of Marel's global supply chain, which spans 13 manufacturing sites in total. There are 380 full-time employees based out of Gainesville who work in a diverse range of functions including specialized and technical manufacturing jobs, marketing and sales, service, engineering, finance and more. Not only do we manufacture advanced food processing solutions, we also store and ship all spare parts orders from this location to our customers in North and South America. The poultry industry remains the largest focus of our business in Gainesville; however, we also manufacture and service equipment for the meat industry.
High-tech innovations
In the US, Marel is active in poultry, meat, fish and further processing. There are over 800 employees throughout North America and we have operations in four locations: Kansas City, Kansas; Des Moines, Iowa; Gainesville, Georgia and Seattle, Washington. We not only sell new equipment to processors, we also help service equipment and keep it running at the highest standards possible and we also develop new equipment. In the early days, primary processing equipment was designed and developed. More recently, we have expanded our offering to include secondary and further processing solutions. With Georgia being the largest producer of poultry meat in the US, the Gainesville location works with many top poultry processors to continually develop new high-tech innovations that help processors increase yields and efficiency as well as product quality and food safety.