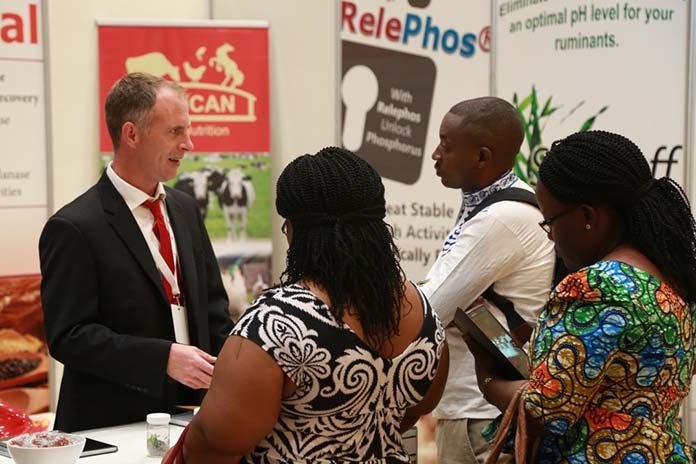 The first edition of Poultry Africa won great appreciations and set a solid basis for the development of this once-every-2-year boutique concept. This Expo returns to the 'Land of Thousand Hills' on 2-3 October 2019 and is set to offer an even wider range of programmes and supply for the poultry production chain in Sub-Saharan Africa.
In Africa, due to a fast growing middle class, a rapid urbanization is driving change. The consumption patterns are changing from a vegetable, to a protein-rich diet. This large-scaled shift urgently requires developments in professional farming and availability of up to date technologies and innovations.
More than 100 companies are exhibiting at the 2019 edition of this event that already proved great appreciation from the industry two years ago. With an increase of 30% in number of exhibiting companies, the event aims at presenting an even wider selection of Feed to Food suppliers in poultry and eggs covering feed, crop-tech and feed-tech, feed ingredients and additives, animal health, breeding & hatching, farm production and equipment, poultry and eggs processing and handling.
Among the African exhibitors that already signed for the event, Poultry Africa will showcase Abusol Ltd, AGCO South Africa (Pty) Ltd, Agrotech Ltd, Avipro EAST AFRICA Ltd, Urban Farmer, Essential Drugs Ltd, ME VAC, Vetcare Africa. A 50% of the exhibitors come from Europe, including key suppliers especially in the animal health, farm production and feed ingredients and additives sectors. India, Turkey, China and Southeast Asia will also be exhibiting at Poultry Africa 2019.
Visitors will not only be able to meet professionals at their booths, but also attend the experts' Technical Best Practice Seminars. Some of the interesting topics addressed by these sessions are "Heat stress, sustainability, and AGP free food, "Poultry health – the way to productivity and profits" and "Women in poultry business".
While the Expo takes place in the Kigali Convention Centre, rooms MH 1-2-3-4, the Technical Best Practice Seminars will be hosted in AD rooms, adjacent to the Expo's MH rooms. Both Expo and Seminars are held on 2-3 October, 2019 free of charge upon registration: a unique opportunity and 360º experience for African professionals to expend the network internationally and learn about practical solutions tailor-made for the African poultry industry.
On October 1st the Leadership Conference will anticipate the Expo with four sessions on "Profitable poultry production in Africa". After an economic overview on the Sub-Saharan region, the retail and digital aspects of the poultry business will be covered by the second session of the conference, followed by a presentation on the importance of animal protein in nutrition and of investing in poultry protein in Africa. Practical insights will close the one-day program. The Leadership Conference is held at the Kigali Convention Centre, in room AD12 and will host key international speakers from the world and from Africa. 
Poultry Africa is organized by VIV worldwide, the renowned feed-to-food network and series of events for animal husbandry. Poultry Africa is proud to work with strategic supporters for the realization of this event, such as the Ministry of Agriculture and Animal Resources Rwanda (MINAGRI), the WPSA, the WVPA, the Africa Agribusiness Academy, the Dutch Poultry Centre, the Netherlands-Africa Business Council (NABC), Rwanda Development Board, the Embassy of the Netherlands in Kigali, and around 100 partners such as government institutions, trade associations, industry media, and stakeholders in Africa and from the world.
1,500 professional are expected to visit this event, among which 50 Industry leaders will be invited to join a personalized program.