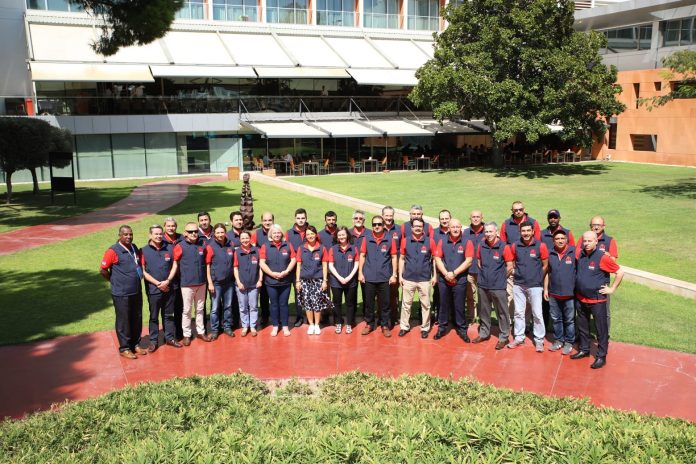 13th Ross Distributor Customer Focus Team Meeting in Turkey focuses on enhancing bird management techniques for even better brand support.
'Providing the best management support for the best bird in the market' was the theme of 2018's Ross® Distributor Customer Focus Team (DCFT) Meeting in Izmir, Turkey. Taking place from 9 – 14 September, this was the thirteenth meeting of the DCFT, with a total of 34 delegates attending   from eight countries. Over the course of the event, contributions from a range of speakers continued the broiler breeder management theme established in previous DCFT conferences, with subjects such as bird nutrition, regional market conditions and the importance of placement plans.
The veterinary workshop on the second day of the meeting was fronted by Dr Pavel Shkarlat, veterinarian, TMEA (Turkey, Middle East & Africa). In addition, there were customer addresses by representatives from different countries, in which individuals presented the bird performance results for their respective Ross 308 flocks. These presentations also outlined typical challenges within the region – and in response, the Ross team proposed a range of solutions designed to help growers improve bird future performance.
Grading and ventilation – key topics for discussion
The last day of the DCFT meeting included a grading workshop, which was organised by Dr Ibrahim Ibrahim, Ross technical service manager, MEA. There was also a talk from Murat Yakar, Ross technical service manager, TMEA, on establishing correct ventilation procedures. "The Ross DCFT is in its thirteenth year", comments Robert Haggarty, senior technical manager, TMEA, Aviagen, "and we place a great deal of importance on this annual Ross team event, since we believe that continued support and training for distributors is the key to helping grow relationships and confidence. This is vital in ensuring that we and our customers succeed in a very diverse market – so we thank the Ross TMEA distributors for their continued support for this event."
Ragab Shoeib, production manager, Wadi Poultry Co, added: "I would like to thank the Ross team for this wonderful meeting and for the constructive topics that included so many vital bird production points. The event provided an invaluable insight into the proper bird management and how to maintain flock health."