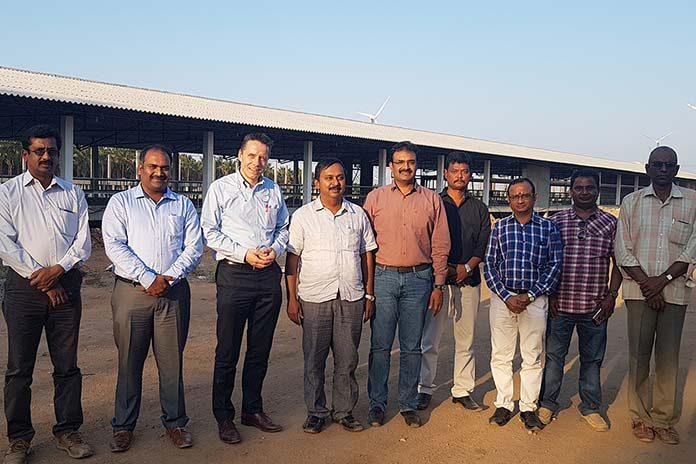 Leading Indian agricultural company Royal Agro Farm is expanding into poultry production for the first time and it has chosen integrated hatchery solutions specialist Pas Reform to equip its hatchery with SmartPro™ technologies. The state-of-the-art facility, at a 400-acre site in Udumalpet, Tamil Nadu, is a key part of the new poultry business, which also includes breeder growing facilities and breeding farms.
Royal Agro Farm CEO and company owner Mr. M.S. Sunther says: "Pas Reform's reputation locally made it easy for us to decide on SmartPro™ equipment for this project. We knew about the engineering capability of the Pas Reform group and we have been in close contact with them to plan the hatchery layout and make technical project calculations, to ensure we can both optimise incubation conditions and maximise chick quality."
The project comprises a first phase of 400,000 day-old broilers per week divided over four hatches. It entails 12 SmartSetPro™ setters, each with a capacity of 124,416 hatching eggs, and 12 SmartHatchPro™ hatchers, each with a capacity of 20,736 hatching eggs. This fully integrated hatchery project also includes climate control and automation systems. The heating, ventilation and air conditioning (HVAC) system has been tailored to specification by Pas Reform engineers, and it includes air handling units, air ducting, pressure controls and temperature controls. Royal Agro Farm has also chosen to significantly automate the incubation process, with automatic candling and transfer systems and an automated chick-counting system.
Pas Reform's SmartCenterPro™ hatchery management system will deliver precision process control and provide detailed hatchery management information, analysis and reporting. Venkitakrishnan Natarajan, head of Pas Reform's sales and service centre in Tamil Nadu, says: "The poultry market in India was difficult for several years, resulting in lower than average company returns. More recently, however, the market has recovered as poultry consumption has increased – particularly in Tamil Nadu and nearby Kerala. Tamil Nadu's producers now have an excellent opportunity to grow their business." The whole project will be operational in August 2018.