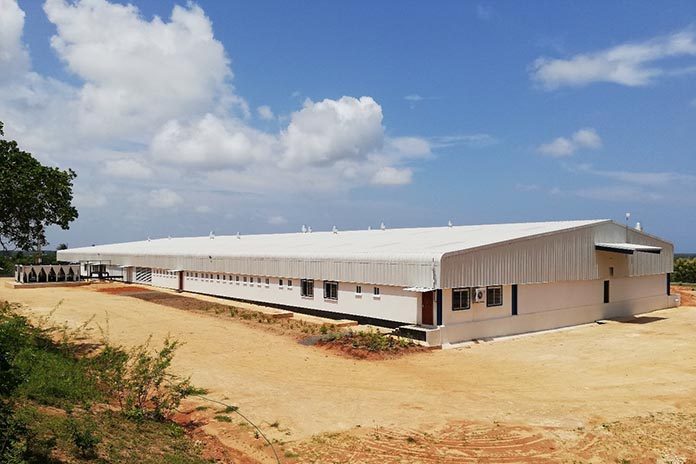 Irvine's, aspiring to be the leading and most trusted chicken company in Sub-Saharan Africa, chooses Petersime for their new Single-Stage hatchery project in in Dar Es Salaam, Tanzania.
This is one of the many projects by the Irvine's Group, purposefully changing lives in Africa by producing an affordable source of protein. The first results in the new hatchery are great with a 90.04% hatchability.
Feeding the continent

As the population of the African continent is said to swell to 2 billion within the next 3 to 4 decades, it becomes increasingly important to create affordable food solutions to keep up with this rate. Poultry, being the most efficient land-based converter of feed to protein plays a major role in feeding the continent. "Irvine's aims to be the leading and most trusted chicken company in Sub-Saharan Africa," says Craig Irvine, CEO of the Irvine's Group, stressing a desire to participate in the expansion of a business critical to the daily welfare of Africans.
Another collaboration with Petersime
To achieve their goal of creating affordable food solutions through the poultry value chain across Sub-Saharan Africa, Irvine's Group decided to invest in a new single-stage hatchery in Dar Es Salaam, Tanzania. For this project they put their trust in the experts at Petersime. Hatchery designers, engineers and incubation specialists who had already proven their worth collaborating on Irvine's GP hatchery in Zimbabwe.
Support from A to Z
"We've provided support from A to Z for this new project. Together we discussed the initial idea and collaborated closely up until and including delivery. As they say, a good start is half the job, so our hatchery specialists stayed for start-up support to ensure everything went well from the beginning," says Filip De Smet, Sales Director North Europe & North America.
"The decisive argument for choosing Petersime for this project was their reputation for delivering the best service. Something we experienced in our previous joint project. Moreover, for this hatchery we needed expert advice on setting up a Single-stage hatchery from scratch. Something Petersime has successfully done many times before," adds Fabio Stella, Country Manager – Director Irvine's Tanzania.
Excellent results
The new hatchery is equipped with top-notch Petersime BioStreamer™ HD incubators. Single-stage setters with Operational Excellence Technology™, with a capacity of 64,512 chicken eggs each. For their egg transport, Irvine's Group chose Petersime stackable setter trays to ease the egg handling process.
"The hatchery is running since November 2018 and the first results already showed a great outcome with 90.04% hatchability." says Fabio Stella, Country Manager – Director Irvine's Tanzania. "This confirms our choice and gives us confidence in the future."