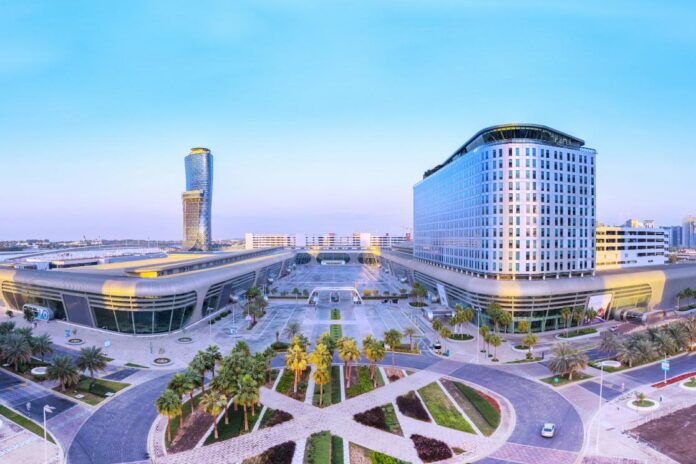 VIV MEA, the international Feed to Food trade show, returns to Abu Dhabi National Exhibition Centre (ADNEC) on 23-25 November 2021 for its third edition. After an unforeseen halt due to the global pandemic, the time has come to meet in person and do business face-to-face. The city of Abu Dhabi serves as a safe host for this biennial show dedicated to animal protein professionals from the Middle East and Africa. About 500 global exhibitors are ready to showcase the latest products.
A place to stay ahead of new technologies and market trends
Despite the global situation, about 500 confirmed companies ready to exhibit this November with 17,500 sqm gross space and 8,000 expected visitors are the figures making a mark already for the upcoming show.
Partnerships to foster business in the MEA region
Maintaining steady relations with its partners since even earlier than its launch in 2016, VIV MEA 2021 brings on board many of the industry leaders who with their experience and innovations provide a substantial support to the show. Some of the global and regional partners include Abu Dhabi Agriculture and Food Safety Authority, Ministry of Climate Change & Environment, Dutch Poultry Centre, NABC, Global Dairy Farmers, Emirates Veterinary Association, Hub Orange, IEC, WPSA, and FAVA.
A week of appointments: new and continued co-locations
VIV MEA, firmly focused on the animal husbandry Feed to Food supply chain, is honored to be part of the first edition of the Abu Dhabi Agriculture & Food Security Week 2021 launched by ADAFSA. The initiative provides extra networking and business opportunities to all stakeholders. GFIA, already co-located with VIV MEA in the past, will come back as well at ADNEC this November.
Abu Dhabi opened its doors for safe travel
VIV MEA participants can benefit from eased travel restrictions in Abu Dhabi. All the vaccinated travelers can visit the city and attend VIV MEA following all the protocols diligently.
A clear track-record: a quick review of the previous editions
Looking back at the first edition, VIV MEA 2016 exceeded expectations and the show has been growing ever since. While it occupied three ADNEC halls in 2016, VIV MEA had spread into a fourth hall for the first time in 2018 to meet the higher demand for stand space. Indeed, the 3-day event had witnessed a total of 6,660 visits that represented a 6.7% increase compared with the first edition. A post-show survey found a satisfaction score of 7.3 out of 10 from exhibitors and an even higher rating of 8.3 from visitors.
Drawing from this brilliant track record in the industry, VIV MEA is ready to welcome the Feed to Food, livestock and animal production industry players for yet another 3-day exhibition and conference program at a safely equipped ADNEC venue in Abu Dhabi, U.A.E.
For more information please see: www.vivmea.nl

AVIAGEN – en.aviagen.com – Hall 10, Stand U025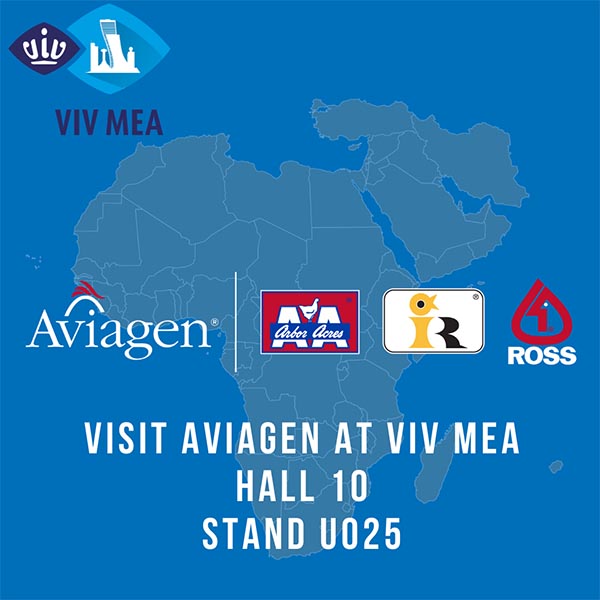 Aviagen® looks forward to exhibiting and welcoming customers to VIV MEA 2021. Aviagen will be exhibiting at Hall 10, Stand U025. A limited team of Aviagen specialists from the TMEA region will be available at the show to meet you. The company will be representing their core product brands including Arbor Acres®, Indian River®, and Ross®. This show is a special one for the Aviagen TMEA team as it is the first show we have been able to exhibit in since the COVID-19 global pandemic. The TMEA region is an extremely important market and Aviagen would like to thank you for your business and commitment to the company, we look forward to seeing you in Abu Dhabi.
Email: info@aviagen.com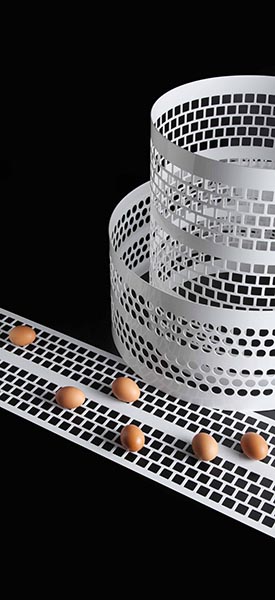 The production of egg conveyor belts, extruded belts and ropes is the final act of a long process that begins with the choice of the best raw materials and continues with the production of high quality yarn.
Barbieri offers its customers a wide range of products:
• Egg conveyor belts made of polypropylene, polyester in different colors and measures from 50mm till 360mm;
• Extruded perforated polypropylene egg conveyor belt in width from 200mm to 500mm;
• Manure belt in different thickness starting from 0,8mm to 3mm and widths starting from 500mm to 2500mm;
• Perforated manure belt for dry systems;
• Perforated polypropylene floor for broiler cages;
Polypropylene, polyester and polyethylene ropes in various sizes for feeding and drinking systems.
Email: info@barbieri-belts.com
CARFED International Ltd – www.carfed.it – Hall 07, Stand C017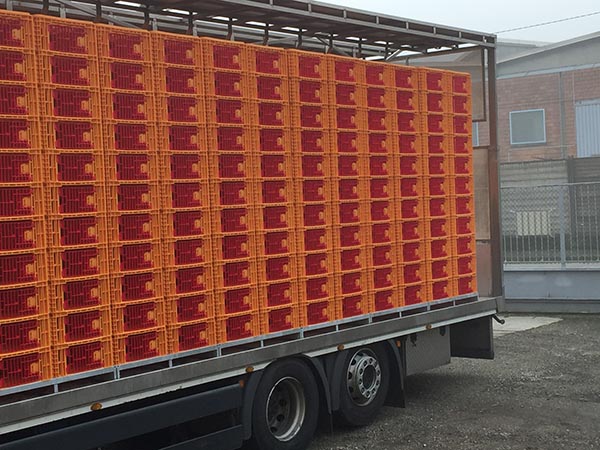 At the fair CARFED International Ltd , the well known English-Italian group worldwide leader in live poultry transport crates will exhibit plastic crates for transport of live turkeys and ducks.
Turkeys and ducks farming is more and more increasing in Developing countries.
Some different live turkey and duck crates are available at CARFED Int. Ltd :
MAXICARFED Code 43 not collapsible crate with 3 side doors (99x58x42 cm). This crate has 4 sides and bottom moulded in one piece and is this way extremely strong and long lasting (monoblock). MAXICARFED crate can be used also with no lid (open top) as a basket.
MULTI 110 "T" collapsible crate (108x58x42 cm) available in the same styles of MULTI 100 "T" and as basket as well (open top) and with solid or perforated bottom.
For sure the MAXICARFED Code 43 is the worldwide strongest turkey crate, much stronger of any collapsible/knocked down crate: lasting 3 times the normal life of a collapsible crate and we know as we have the MULTI 100 and 110 "T", it means that you save 2 times the price of a crate.
Besides visitors will find all other crates of the wide range of CARFED Int. Ltd at the booth, including:
the collapsible Baskets (open top crates) MULTI 100 (97x58x27 cm) and MULTI 100 crates with different lids of same size to transport live chickens.
the collapsible Baskets MULTI 110 (108x58x27 cm) for live chicken transport and MULTI 110 crates with different lids of the same size.
Day old chick boxes, egg transport crates, egg trays, trays for processed birds suitable for freezing at -40 °C will be displayed as well.
Email: carfed@carfed.it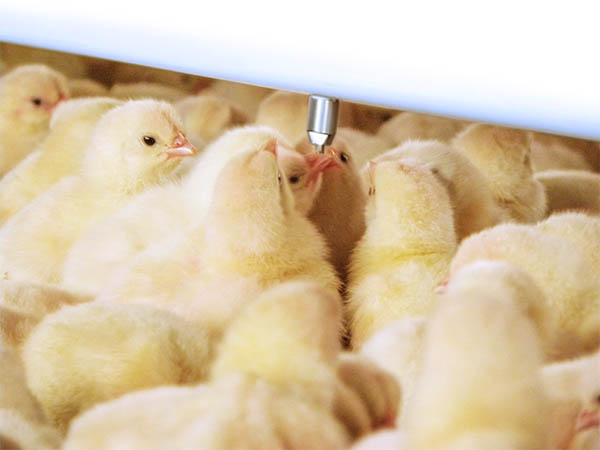 A reliable partner since 1983
Corti Zootecnici Srl, was founded in 1983 from the idea of the current founder and president Esterino Corti and boasts over 30 years of experience and know-how in the poultry sector.
Through successful acquisitions and partnerships, the company has come to compete in the international territory through the production of products of high quality standards.
Our products
We supply products for both intensive and hobby breeding, with a particular focus on equipment dedicated to watering and nutrition. Our products reflect the true Made in Italy value: they are made with quality and resistant materials, suitable to withstand the different climatic situations that characterize farms in all areas of the world.
Here you can watch a video on Corti Zootecnici's equipment: https://www.cortizootecnici.it/download-2/
Email: info@cortizootecnici.com
FACCO – www.facco.net – Hall 07, Stand E011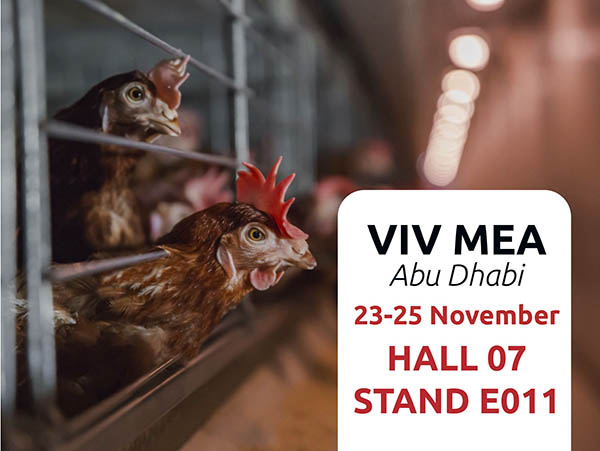 Officine Facco will bring its long-lasting experience and knowledge to VIV MEA 2021. We are looking forward to welcoming you at our stand (Hall 07, Stand E011) and guide you through the wide range of solutions customized for every poultry farm. With our worldwide presence, experience and commitment to developing reliable and flexible systems, we assure continuous support and assistance throughout the whole process. Specialized in turnkey solutions, we offer a complete range of systems from traditional (pullets, layers and broilers) to cage free. With a continuous focus to the market development in terms of automation and farms 2.0, our technology includes the Smart Farm system, a high-tech solution completely integrated with your farm for remote control and management.
Our experts will welcome you at our stand to share their professionalism and know-how in developing the best solutions for your poultry farm.
For Facco's solutions, watch here: https://www.youtube.com/watch?v=Hqg-YWCOCSM&t=7s
Email: info@facco.net
GIORDANO POULTRY PLAST – www.poultryplast.com – Hall 07, Stand B037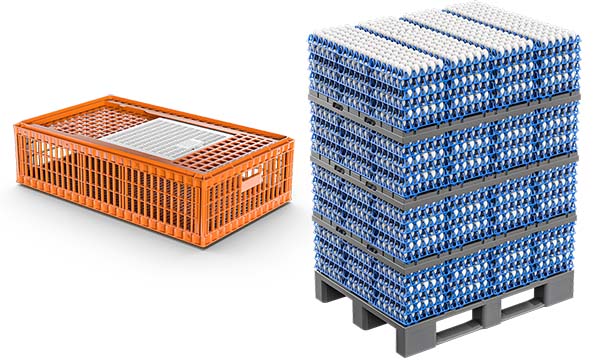 Giordano Poultry Plast, a leading multinational plastic moulding company, specialized in the production of poultry equipment, will be present at the upcoming edition of VIV MEA 2021, held in Abu Dhabi, stand n. B037 – Hall 07.
Established in 1962 under the name of Avicolplastica and since 1974 on as Giordano Poultry Plast the company has grown regularly over more than half a century to reach a very international dimension, both in sales and in production.
Giordano Poultry Plast is glad to introduce its new Automatic Drinking Lines. The system has been upgraded starting with the pipe that goes from rounded to square shape 28×28 mm. This will provide a better result, not only during its use but also for its washing at the cycle end. Also the pipes were changed as all plastic accessories and nipple. This new Automatic Drinking Line will also be easy to install, firstly because all the screws were eliminated and secondly thanks to the larger space between the metal support and the plastic water pipe.
The system includes "Super Drop" for broiler, "Pendolo Line" for Turkey and Duck (they will have different cups), completed by our already popular "Giro Line", a combination of 2 drinking lines with only 1 metal support (mainly used in the French market).
The headquarters of the Company is located in Italy, in Caraglio (CN), where more than 80 people are employed, the production subsidiaries are in Mexico, Argentina, Egypt and Malaysia. The Giordano family totally controls the group, with Osvaldo Giordano, President and sons Oscar and Enrico, Managing Directors. 95% of the production is exported to more than 65 countries.
Email: info@poultryplast.com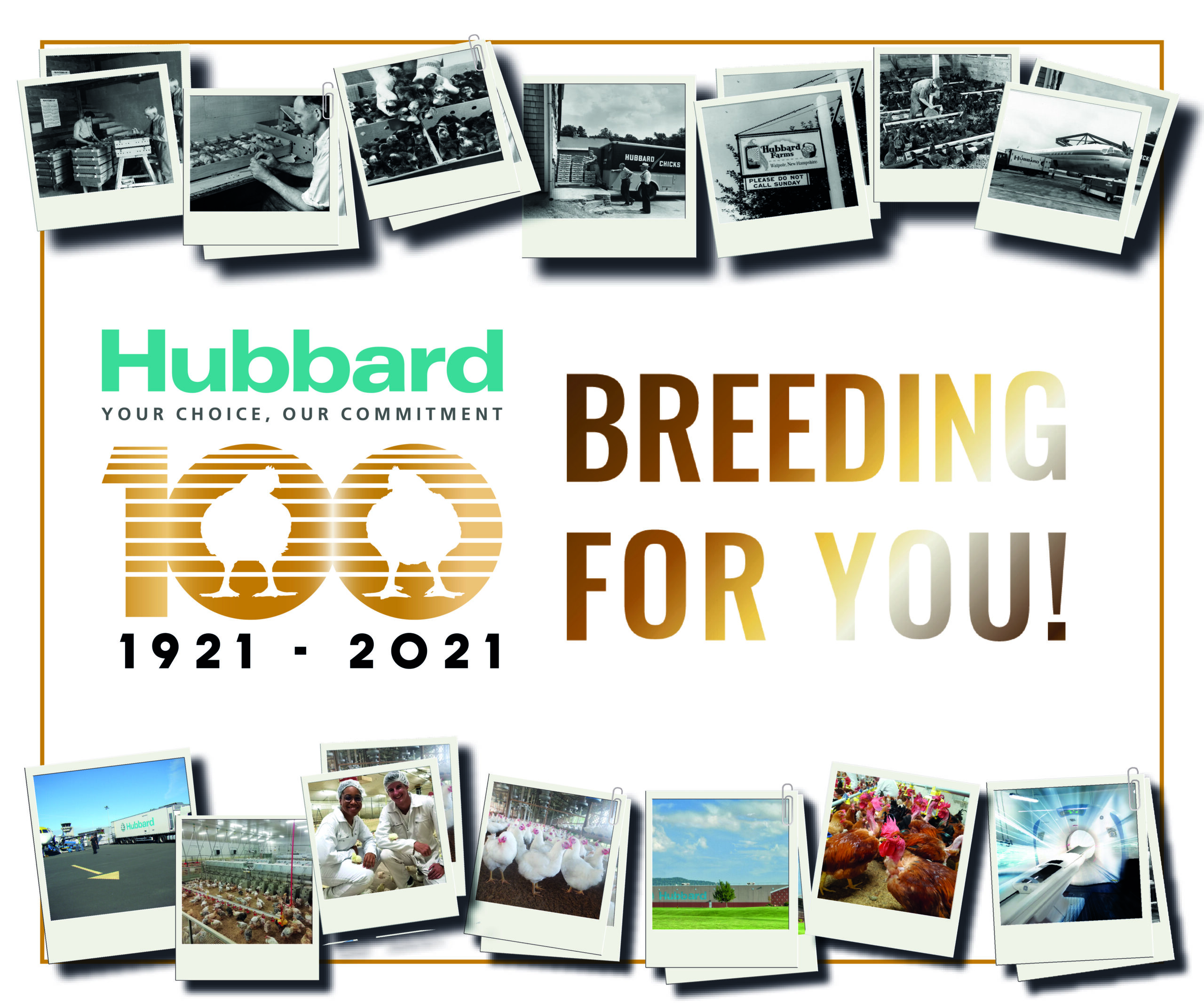 Hubbard Conventional and Premium: 100 years commitment to poultry breeding!
Hubbard is a worldwide reference for the supply of high-quality broiler breeding stock. We supply day-old grandparent and parent stock chicks all over the world.
The proven Hubbard Efficiency Plus breed matches the needs of conventional broiler markets looking for the efficient production of hatching eggs and chicks, efficient broiler growth, low feed conversion, good conformation and uniformity.
Hubbard is the worldwide preferred choice for the speciality and slower growing chicken markets and the Hubbard Premium product range offers a large portfolio of products with color differentiation, slow(er) growth and excellent robustness. No doubt you will find your product needs with us!
Email: contact.emea@hubbardbreeders.com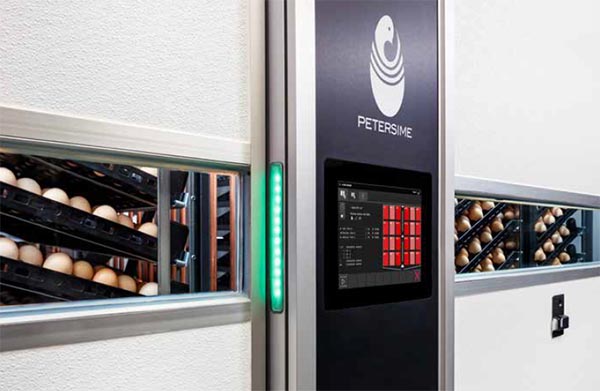 X-Streamer™ − The world's first intelligent incubator
At VIV MEA Petersime showcases its new range of single-stage incubators. The X-Streamer™ is the first intelligent incubator that turns data into maximum hatchery performance. Together with the Eagle Trax™ system, the new range is a milestone for digitalisation in the hatchery. Want to know more? Come and visit the Petersime booth!
Email: info@petersime.com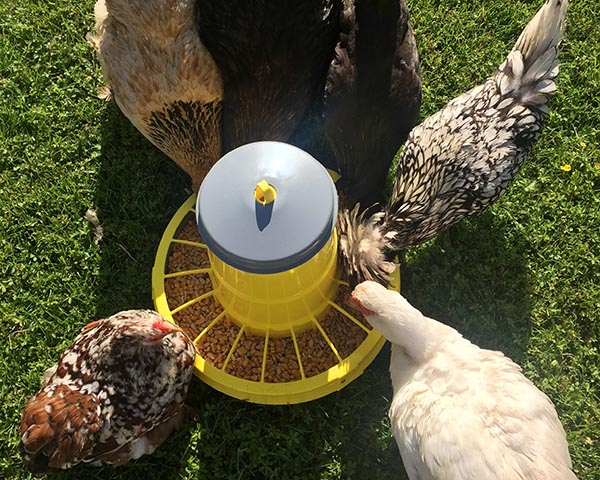 After taking part in two important exhibitions in Italy and already anticipating some 2022 new products, River Systems is once again ready to cross the Alps to present its range of poultry equipment to Middle Eastern and African operators.
Professional visitors to VIV MEA will finally be able to see first-hand the quality of River Systems products: digital incubators for any kind of eggs, drinkers and feeders suitable for all types of poultry houses, grain mills and many other products, all strictly Made in Italy and CE certified.
Primarily oriented towards amateur breeders, River Systems has an unparalleled knowledge of the poultry sector, thanks also to its successful partnership with Lubing System, a company specialized in cooling and drinking systems as well as egg conveyors for professional farms.
Here you can find the company profile and their equipment:
https://youtu.be/mrZjsOd7ex0 – https://youtu.be/rJCtUyO5ba0 – https://youtu.be/033NXUvKNA
Email: info@riversystems.it
ROXELL – www.roxell.com – Hall 07, Stand D012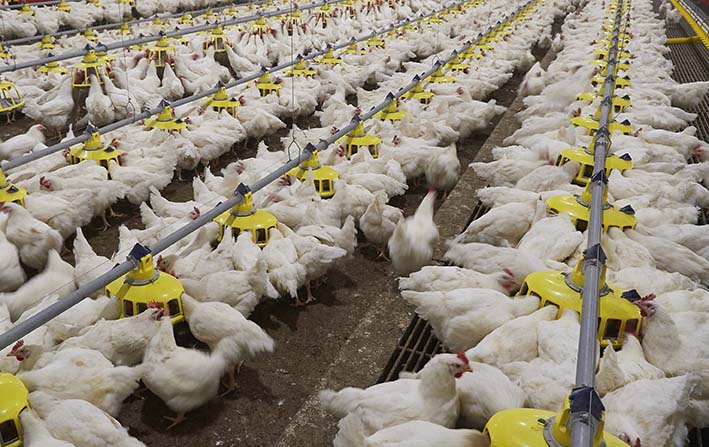 At VIV MEA Roxell, stand 07.D012 (shared with Fancom) will display the below solutions.
Automatic feeding, high-quality systems for better growth
We are eager to demonstrate the strength of our feeder pans for broiler breeders, broilers and layers.
A sustainable solution that smooths beaks while feeding
Natural Beak Smoothing is the alternative to beak treatments (hot blade or infrared debeaking). This solution is incorporate into our oval feeder pans for broiler breeders. 
A full range of livestock heaters with a unique solution for every need
The new Siroc heating range perfectly fits the needs and practices of modern livestock companies.
A feed computer for every poultry house
We will also demonstrate the iQon™ feed computer. You can see how the controller manages the entire feeding process.
Group nest, the biggest and most comfortable nest for happy hens and growers
Koozii® represents a comprehensive range of automated group nests for broiler breeders and layers.
Email: info@roxell.com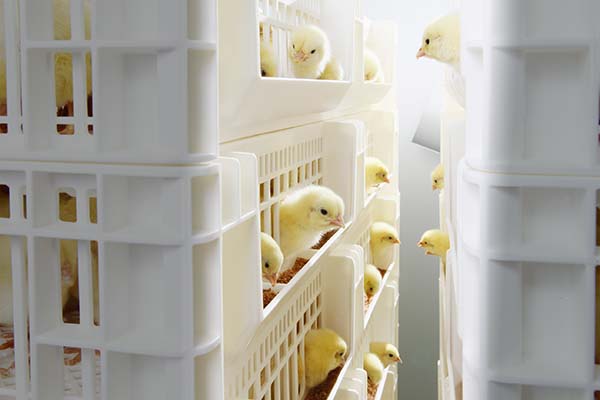 SmartStart™ – Post-hatch feeding made easy, practical and flexible
In a unique partnership Royal Pas Reform, biotech start-up In Ovo, DSM Premix company Twilmij and Philips NatureDynamics have developed SmartStart™ – a flexible, ground-breaking post-hatch feeding solution that gives newly hatched chicks the earliest possible access to feed, water and light. Here its features:
Taking our lead from nature, SmartStart™ uses natural deep eutectic solvents (NADES) to retain water inside a semi-moist feed for a practical, simple post-hatch feeding solution.
The SmartStart™ system offers a perfect start for newborn chicks, enabling them to eat from the moment of hatching.
It promotes the development of robust day-old chicks and helps to reduce the need for antibiotics.
SmartStart™ helps you to implement post-hatch feeding easily and flexibly. It comprises two key elements, that can be applied individually or together: precision feeding and intelligent lighting.
Watch the Youtube video on SmartStart™ Inspired by nature: https://www.youtube.com/watch?v=KAo-o5ZbXPI
Email: info@pasreform.com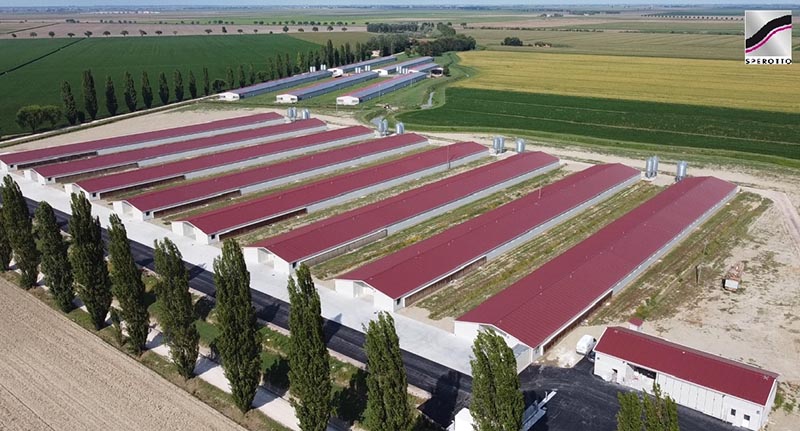 Sperotto will be present at VIV MEA 2021 as exhibitor with big joy and interest: joy because this exhibition will represent to us the return to exhibition life, after the stop due to pandemic. We will be very happy to meet again customers, prospects and dealers at our stand. Interest because we are very confident in the future opportunities given by Middle Eastern markets. Sperotto will keep on putting its over 58 years experienced in the supply of poultry projects at farmers' disposal, to support them in realizing new poultry houses with the best latest technologies.
Email: info@sperottospa.com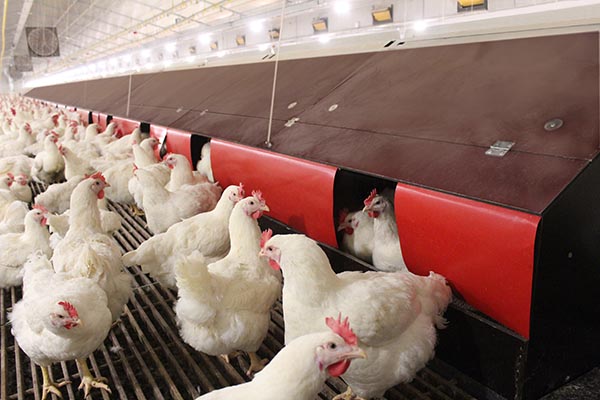 Vencomatic Group will show its famous wooden Van Gent nest at VIV MEA. The Van Gent Nest is well known for its performance: less floor eggs, high quality number of hatching eggs and simplicity. This poultry housing nest is a successful nest from years of practical experience. The construction is solid and simple, which makes the nest easy to assemble and easy to clean. The nest is provided with an automated expulsion system. It expels birds from the nest after laying during the night, preventing broodiness and soiling the nest.
More information: https://www.vencomaticgroup.com/product/poultry-production/van-gent-nest-poultry-housing
You can watch Van Gent Nest here: https://youtu.be/KJ2y1M7O1g0
Email: info@vencomaticgroup.com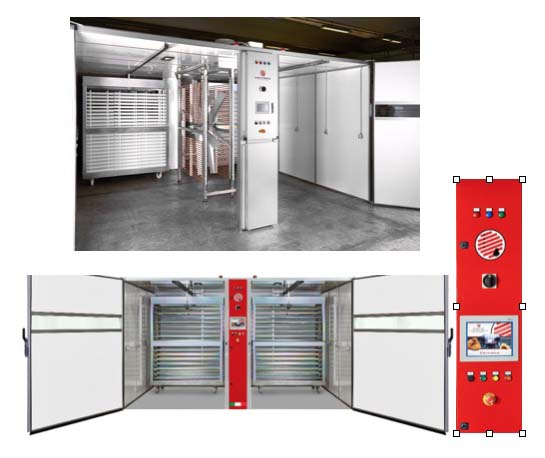 VICTORIA, world leader in the production of egg incubators since almost 100 years, renews its continue research and efforts in order to improve and apply new technologies to its products.
To this effect, Victoria introduced newly conceived incubators for 20.000-115.000 eggs of capacity, the final result of our constant research aimed to the expansion of the already wide range of incubators supplied. The Victoria focus will be as well on the important new products lastly introduced, the new control board and the special trolleys. The processing of Victoria machinery is unique and customized to our customers' needs: in fact, each model is designed and manufactured to achieve the maximum results while saving energy.
Nowadays Victoria is developing a special line of incubators with integrated refrigeration system to achieve a temperature range from 4-7 °C, expressly designed for companies producing vaccines.
At VIV MEA Victoria will display new setters designed with double glass windows, sandwich cabinet high insulation thickness mm 45.
All internal support for fan, cooling and control box completely arranged in stainless steel with following features: easy and direct access to the electric and control system of the machine, easy to clean and maintain, waterproof and protected during cleaning/disinfection operation, INOX 304 steel for cabinet and trolleys, new sizes for touch screen 10" inch full colors.
Email: victoria@victoria-srl.com