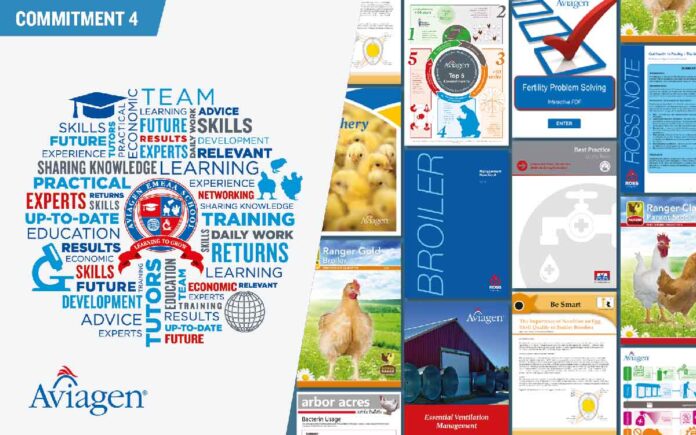 Experts agree that the way in which animals and poultry are managed can affect 70 to 90% of their health, welfare and productivity.
Poultry producers, in turn, recognise that good management and stockmanship are essential for their birds and for their businesses. That is why Aviagen has made "Importance of management and stockmanship" #4 of its Top 5 corporate commitments, and the sharing of knowledge is vital in putting this commitment into action.
In fact, transfer and sharing of knowledge is important in supporting all five Sustainable Development Goals (SDGs) prioritized by the International Poultry Council (IPC) as areas where the poultry industry can make a difference in promoting a better and more sustainable future for all. In this article, Aviagen's Global Head of Technical Transfer Alan Thomson talks about how the company supports management and stockmanship by communicating the latest information to its customers, the world's poultry producers.
Knowledge shared = Knowledge2
Pulitzer prize-winning poet Carl Sandburg once advised that, "knowledge shared is knowledge squared." Aviagen ascribes to that philosophy, realizing that when we share the latest understanding and best practices with our customers and industry colleagues, benefits are multiplied as they share these findings with their own teams. Knowledge sharing starts with our local teams of Technical Service Managers (TSMs), who work with customers to understand their opportunities, help solve their daily challenges and champion their success. These TSM teams in turn collaborate with veterinarians, nutritionists, welfare, sustainability, hatchery and incubation specialists, as well as management experts, who themselves engage regularly with customers both globally and locally.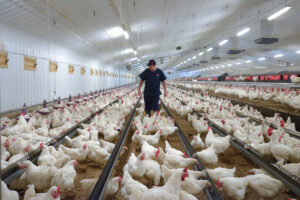 A brand-new initiative, initially spearheaded by our teams in Asia Pacific, Latin America and North America, is the creation of a new hybrid platform for heightened customer service and internal flock management. The new solution is made possible by a combined package of the latest in bonded cellular networking, mesh Wi-Fi, Augmented Reality (AR) headsets, specialist software and other technology. Thus, through live-streaming capabilities, for example, customers will be able to bring Aviagen experts virtually to the farm, hatchery, or any area of their facility where they need help on a pressing issue. This new suite of tools is a perfect complement to the on-the-ground support by local TSMs. We further advance the exchange of ideas and information through workshops and seminars, along with our interactive production management schools held regularly around the world, which combine theory with practical experience to enrich student knowledge and offer invaluable opportunities for networking with fellow poultry professionals. For our Europe, Middle East, Asia and Africa (EMEAA) Schools, we now have an Alumni program for students to continue on a journey of lifelong learning and connecting.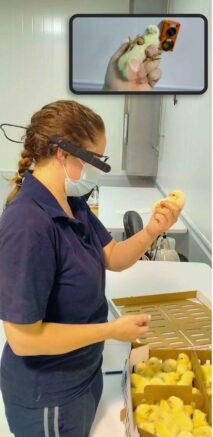 Made up of dedicated professionals from a mix of practical and scientific agriculture backgrounds the Global Technical Transfer (GTT) team is committed to supporting both our customers as well as internal colleagues with timely and topical management advice and literature. The work of the GTT is guided by the four principles of science, theory, data and practical application. In order to provide up-to-date best-practice advice on the full spectrum of areas affecting the health and wellbeing of birds being raised at all corners of the globe, they collaborate with Aviagen regional technical managers; our global veterinary, hatchery, nutrition, genetics, R&D animal welfare teams; and a host of external specialists. Thus, our work is strengthened, not only by our world-class products, but also by the confidence that the knowledge we share will be effective in promoting the success of our customers around the world.
Since our GTT team was formed in 2007, we have produced a host of documents covering an extensive range of topics, all with the aim of providing our customers with proven strategies to ensure optimal bird health, welfare and performance. This advice comes in the form of handbooks, performance objectives, nutrition specifications and practical guides that provide clear and concise procedural and explanatory information on daily management tasks. Moreover, there are posters, videos, as well as many innovative and interactive tools to help gather and analyze flock data. To provide our global customers with a local touch, information is tailored to diverse regional climates, conditions and production systems, and is often available in multiple languages. These can be downloaded from our Aviagen web site. We also have our Apps for our key brands, tailored to local requirements and languages, in line with Aviagen's commitment to produce globally applicable literature combined with a regional touch.
Our global markets are ever-evolving, which means we are on an exciting road of continuous development. Our plethora of tools for sharing information with our customers plays a vital role in this journey. Excellence in management and stockmanship and communication of best-practice advice are essential tools to help the world's poultry producers successfully bring healthy chicken from farm to fork, putting an affordable, sustainable source of nutrition on the tables of families around the globe.