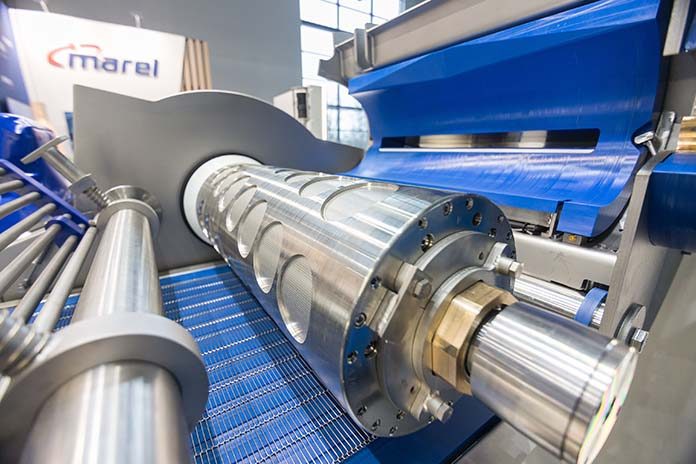 RevoPortioner with Helix Drum, Active Batter Applicator and RevoCrumb by Marel.

By combining innovative technologies for portioning, batter and crumb, unlocks new profitable opportunities for convenience poultry production. It's about RevoPortioner – with innovative Helix Drum Technology -, Active Batter Applicator and the new RevoCrumb in a 700mm line. This convenience food production line features the most uniform coating capabilities, resulting in highest volumes of high quality products.
This new 3-piece convenience configuration offers plenty of opportunities to poultry processors who want to start adding value to their trimmings, off-cuts, other cuts or MDM meat. It can create a wide variety of coated end products in high volumes, such as high quality whole muscle products and (partly) emulsified products like nuggets, patties and schnitzels. The 700mm wide line can run at the high speed usual for a 1000mm line, with a smaller footprint and much more flexibility, which is important when products change frequently.
RevoPortioner with Helix
The renowned RevoPortioner can produce a wide range of convenience products from well-known classics such as patties and nuggets to natural looking and 3D products. With virtually no meat loss, it is able to portion whole muscle products without emulsion and with the lowest possible cost of ownership.
New Helix Drum Technology changes rotational intermittent low pressure forming into continuous filling. In this forming drum, product forms follow a diagonal line, resulting in flattened pressure peaks for the meat pump and virtually no start-stop moments, enabling higher production speeds. The use of a diagonal pattern can also create space for an additional row of forms, which leads to a profitable increase in production volume. There is less wear and tear on the RevoPortioner system, which is now even more reliable and robust. More stable production characteristics ensure a consistent, top quality end product.

Better batter
The Active Batter Applicator moisturizes a wide range of products with egg white, batter or other suitable immersing agents. The bottom of the product goes through a bath filled with batter, while batter curtains wet the product on the top and the sides. Together, these techniques ensure perfect top and bottom coverage, even when thick batters are applied. Marel's Active Batter Applicator is able to handle high speeds, thereby improving pick-up control, which results in higher quality products.
The art of coating
The new RevoCrumb features a revolutionary transport mechanism containing a revolving paddle wheel which carefully conveys the crumb, unlike commonly used grinding augers. RevoCrumb ensures perfect coverage of the product on both upper and bottom sides. The sophisticated dosing system takes care of the optimal, equal and uniform distribution of all (bigger and smaller) particles and is easy to control. Crumb structure remains intact during processing, as the RevoCrumb doesn't grind or crush crumbs, which makes it particularly suitable for vulnerable crumbs such as grove panko or cornflakes.