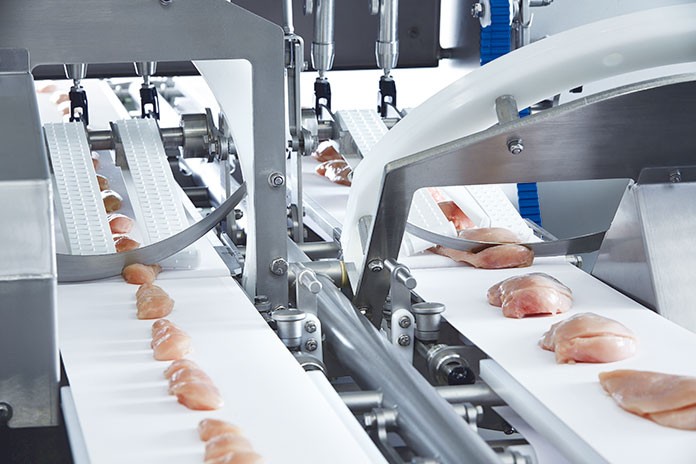 I-Cut 122 Portion Cutter by Marel combines the highest levels of accuracy, throughput and reliability with new, innovative software.
The dual-lane I-Cut 122 has been designed for cutting boneless, non-frozen poultry products to fixed weight or uniform dimensions and offers one of the highest throughputs in the market and will match future requirements for filleting line capacities. It can handle 2000 cuts per minute per lane. On each lane, the knife angle can independently be adjusted at 45°, 60°, 75° or 90°. Different products and cutting patterns can be cut on each lane simultaneously.
Fixed-weight portions
However, it is not just throughput that matters as markets nowadays demand for products of consistent weight and uniform shape. The I-Cut 122 is able to supply such fixed-weight product portions, while maximizing the use of raw materials, minimizing give-away and increasing yield.
The advanced vision control technology on the I-Cut 122 impressively demonstrate cutting results, combined with innovative patterns. Standard deviations between portions are considerably lower compared to previous cutter generations. In this way, the I-Cut 122 is taking portioning to a new era, ready to meet future demands.
Powered by Innova
The I-Cut 122 is so to speak "powered by Innova", Marel's intelligent production control software platform. Information about all pieces and portions is collected in real-time and stored in the Innova database, enabling users to analyse and optimize their portioning process. The user interface offers a very easy access to the programming. The intuitive touchscreen makes daily operation easier than ever. Now that processors can store an unlimited number of customer-specific programs in the software menu, they save a lot of time. These programs can be adjusted continuously during operation, making it possible to cut products to immediately needed target weights.
Full flexibility
The I-Cut 122 provides full flexibility to cut almost all fresh poultry products required by the market. It is a value adding portion cutter, both as a stand-alone machine and in integration with other equipment, such as the RoboBatcher Flex, together creating the "Robot with a knife". Therefore, the I-Cut 122 really sets the new industry standard in portioning.
More information: marel.com