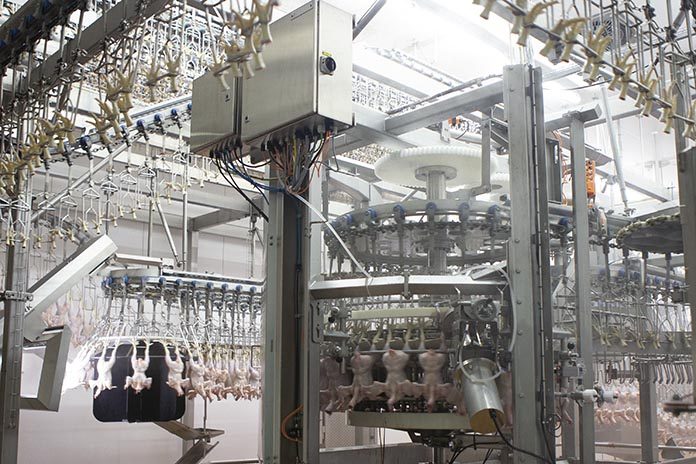 Marel Poultry is taking into account the fast growing and urbanizing world population, the production of poultry meat is expected to increase considerably. Processing plants need to intensify their operations to keep up with consumer demand. There is an unmistakable call for even higher processing capacities than today's maximum of 13,500. Marel Poultry timely foresaw this trend and started developing solutions to handle a line speed of 15,000 birds per hour.
Marel Poultry is the world's first supplier of integrated 15,000 bph lines. Dealing with such high speed, there is no other way than to have paramount reliability; if not, every minute of malfunctioning means 250 lost chickens. Therefore, Marel Poultry has profoundly tried and tested its new 15,000 bph configuration before launching it at the market. After this long period of extensive research and development, it is labelled as a truly proven solution.
Keep control
All systems are set for a processing speed of 15,000 bph. From live bird handling with ATLAS and stunning with CAS SmoothFlow, via evisceration and chilling, up to the distribution line, every process step solidly handles this all-time high speed. Innova software runs in the background to supervise all fast processes plant-wide. The ATC tension control system keeps the powerful forces of the lines under control, while they move at an incredible speed. New LineLink transfer units seamlessly hand over products from one shackle type to another, while they travel through the processing stages.
"To some people it may seem that a speed of 15,000 birds per hour would drive all components to extremes. On the contrary, I must say; they are operating at ease and perfectly capable of keeping up with the speed and control of the process," says Anton de Weerd, Marel Poultry Process Managing Director. 
Proven solution at Celler Land
Some time ago, Celler Land Frischgeflügel in Germany was the world's first poultry processor to advance to a line speed of 15,000 bph. Managing Director Richard Wenneker tells about the necessity of an accelerated processing line: "Our poultry market was projected to grow. We, however, had already two shifts of people working and couldn't do anymore products per day with this level of performance and quality, unless our line speed increased." Hendry Kuijpers, Celler Land Plant Manager adds, "Together with Marel Poultry we saw the perfect opportunity to expand the 13,500 bph capacity to 15,000."
Uncompromised
An all-time high processing speed is not a goal in itself. Already proven in practice, the fast operational pace of Marel Poultry's 15,000 bph lines brings about a significant increase in performance and yield. Sustainability benefits too, since the existing infrastructure with only a slight modification of machinery can be used for a considerable production growth. Achieving lowest production costs, it is of utmost importance that highest quality and efficiency remain uncompromised.