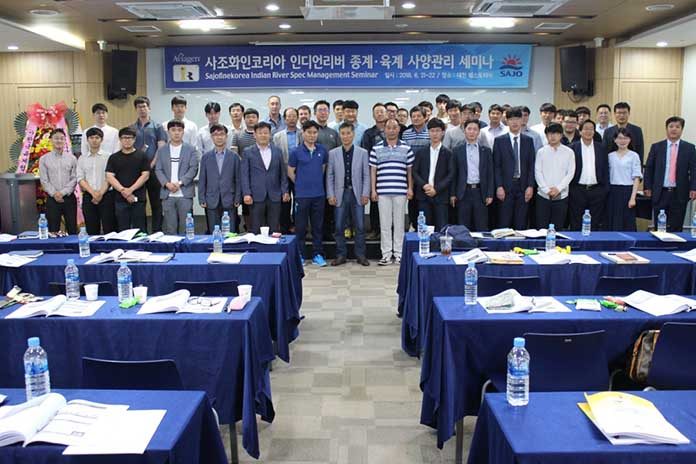 On June 21 and 22 in South Korea, Indian River® distributor Sajo FineKorea hosted an annual seminar emphasizing how to maximize performance and efficiency while reducing the cost of poultry production.  Sajo has been an important distributor of Aviagen®'s Indian River brand of broiler breeding stock since 2014.
Beneficial flock management practices
During the seminar, Aviagen broiler and breeder experts offered nutrition, biosecurity and other advice for optimal flock management, ultimately leading to increased profit for poultry businesses. Held in Boryeong, a city in South Chungcheong Province, the seminar attracted 150 South Korean directors and managers of poultry production companies. Aviagen's Indian River brand of broiler breeding stock benefits poultry producers throughout South Korea with its productivity and environmental resistance.
Seminar well received by Sajo customers
"The level of information presented at the seminar was very good and very useful," offered Kyu Shim Dong, planning manager, Sajo FineKorea.
"It was good to be updated on management tools and bring the information back to benefit our company back home," added Donghyeok Lee, Breeder Department director, JOIN Company.
"Each year the seminar gives us a very good opportunity to get together to exchange knowledge and experience about best management practice," explained Yeongtae Yoon, Parent Stock team manager, Dongwoo Farm.
Michael Block, Indian River Technical Service Manager, explained that he was impressed with the engagement and knowledge of the attendees. "The Sajo seminar provided a great occasion to meet with our valued Indian River growers, sharing ideas and information and gaining greater insight into the issues they face, and I look forward to meeting them again at next year's seminar."
"It was great to see such a large turnout for both the parent stock and broiler sessions, which indicates a great interest in Indian River in the Korean market," offered Larry Blackstone, Indian River Commercial Manager. "At Aviagen, we strive to make a positive difference for our customers by sharing the latest management advice with them. Given the level of interest and participation, I'm confident the attendees will implement the information on their farms at home to improve flock performance as well as their bottom line."