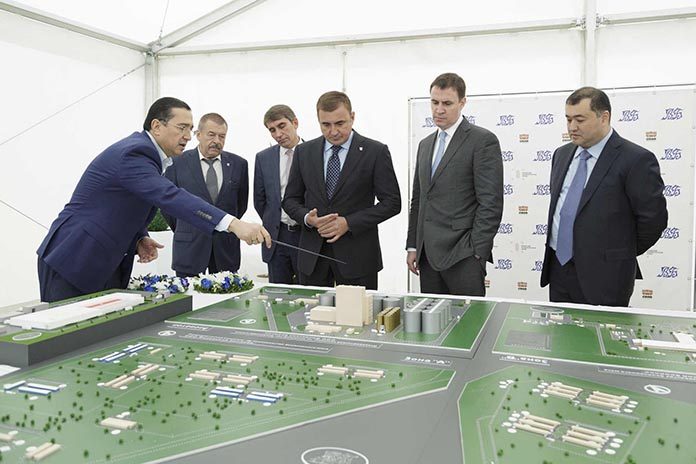 Volovskiy Broiler LLC (Volovskiy Broiler) is now equipped with a Meyn 6,000 bph Maestro­ based slaughtering and processing line, including an integrated 3,000 bph parent stock line. The old city of Tula is located 192 km away from Moscow, and is well­-known for its world famous 'Tula Samovar' (an ornate tea cooking utensil), and the nationally famous dish: Tula ginger bread with apple jam 'Tulskiy Pryanik.' Today, the Tula region can now also claim its third regional brand name – SVOYA ("Our own," in Russian) – in poultry processing. Tula's residents are very proud to start production of their own fresh poultry, and Volovskiy Broiler is helping them to achieve this by utilizing 100% Meyn technology in their greenfield project and new broiler plant. Volovskiy Broiler's site is planned for the eventual capacity of 51,000 tons of fresh poultry meat per year. It has 75 separate bird houses – 42 – which have been designed for broilers, 24 houses for parent flock, and 9 for replacement stock. The main scope of supply for the Volovskiy broiler includes a state­of­the­art 6,000 bph Meyn equipped slaughterhouse featuring a Maestro eviscerator, a hatching house built by Pas Reform, refrigerated storage facilities, and a modern water purification infrastructure supplied by Nijhuis Water Treatment, as well as contributions from many other partners.
Highlights from the opening ceremony
The meat­ processing plant was officially launched in the presence of many honorable guests on October 2016: Governor of the Tula Region Alexey Dyumin, Chairman of the Board of JSC "Rosselkhozbank" Dmitry Patrushev, Chairman of the Regional Government Yuri Andrianov, Minister of agriculture Dmitry Milyiaev, and company CEOs. The opening ceremony was attended by Volovskiy's employees, Meyn's Russian representative, officials from the regional government, and stakeholders from the private sector – including a sizeable number of Volovskiy broiler's European business partners. Volovskiy's Chief Executive Officer, Mr. Batyr Nurullayev, addressed guests and employees with his exciting vision for the company's future in the Tula region.
"600 people are presently working at the Volovskiy broiler production site, and upon completion of the project, 1,315 new jobs will be created. We have already received a large volume of orders, and we continue to expand the market with our fresh poultry products. In 2017, we plan to launch a feed mill and biogas plant, which will enable the facility to produce energy and heat independently," said Batyr.
The Governor of the Tula region, Mr. Alexey Dyumin, in his speech, added that the Volovskiy broiler project is a perfect example of honoring investor obligations, crediting the project's success to cooperation between private investors, and Tula's local government authorities.
In the packaging area of the poultry processing line, all guests appreciated inspecting the final poultry products in their original packaging, having a nice­by­ touch, top film, high­quality print, and smooth tray edges. As one impressed guest put it very simply: "This is excellent."
Together with the launch of the 6,000 bph Meyn 'technology equipped' poultry meat processing plant, Volovskiy Broiler LLC has made a huge step forward to end consumers, who will now be able to purchase and enjoy regionally produced fresh poultry products. Consumers can identify the product under the same brand name 'SVOYA' in numerous shops across the city of Tula and region.