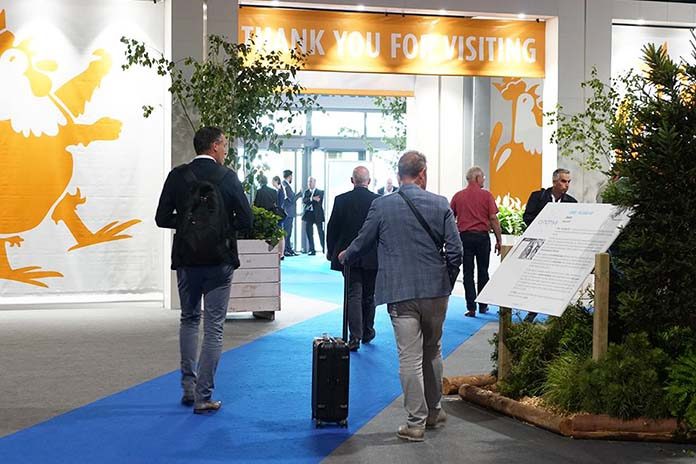 VIV Europe in its latest edition at the Jaarbeurs Utrecht showground in The Netherlands has justified being described as the World Expo from feed to food. Professionals from 144 countries in six continents have visited the three-day event, joining exhibitors from 47 countries in Europe, Asia-Pacific, the Middle East, Africa and the Americas at a global gathering that was world-class especially about the poultry business.
VIV Europe 2018 marked the anniversary of 40 years since the VIV brand was introduced in the market. Even more than at any previous edition, this VIV Europe demonstrated the event's appeal to the executives of the worldwide poultry industry. That has been seen in the high quality of the visitors as shown by their registration details. It resulted in a number of important show-time business deals, including several valuable contracts that were signed during the show.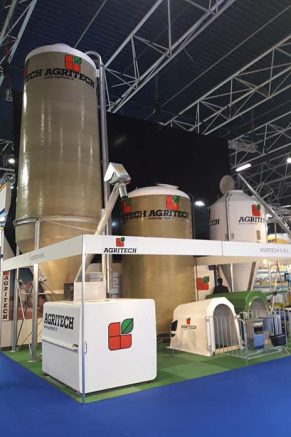 VIV Europe 2018 has been a successful event for Agritech, as the company had the chance to catch up with existing dealers from all over Europe as well as with new leads from Africa, the Middle East and South America. They registered good interest for the products on display and also managed to sign some orders. The fair also gave them the opportunity to explain the working principles and the benefits of some new products, such as the refrigerating boxes for animal carcasses storage Mod Agricool 120 to old and new customers. The mood of the visitors was generally good and since the poultry industry seems to be facing further expansion, at Agritech, they are confident in positive business results also for the second part of the year.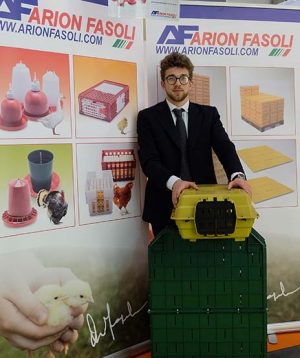 At the recent VIV Europe, Arion Fasoli displayed its entire range of equipment for poultry farming, including the new line for game birds and the new "feeding plate 26025".
During the fair, a partnership with the company River Sytems was started. As Nicola Bonetti, Marketing Manager of Arion Fasoli stated: "We have decided to work together to fill the gaps of both at the equipment level and hope that the collaboration is a lasting one that it will bear fruit for both."
AVIAGEN focuses on commitment to the poultry industry at VIV Europe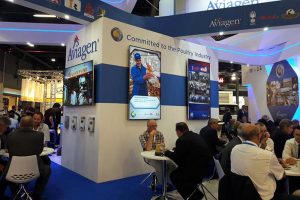 Aviagen® would like to thank their valued customers and industry contacts from all corners of the world for visiting them at VIV Europe. At the show they highlighted their commitment to the poultry industry, whichh they demonstrate by offering the broadest selection of broiler breeding stock in diverse global markets. The company is committed to sharing knowledge. At the show-related events, Aviagen Ltd General Manager Magnus Swalander offered expertise on optimizing bird health, welfare and productivity for the future.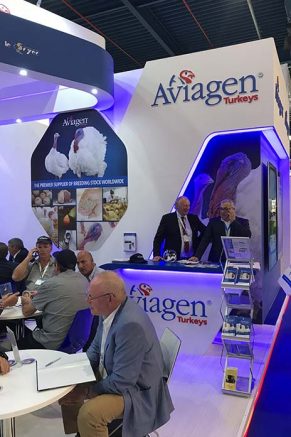 With 20,212 visitors from 136 countries and almost 600 exhibiting companies, VIV Europe was truly a leading event for the Agricultural Industry in Europe.
Professionals active in the production of pig meat, poultry meat, eggs, fish and dairy all had numerous reasons to meet up in Utrecht, at this World Expo from Feed to Food.
The show was well attended by leading members of the poultry industry – and it provided an excellent opportunity to discuss the product performance of the B.U.T.
6, B.U.T. Premium and the Nicholas Select Clay Burrows, Richard Hutchinson and Carlo Norci attended the show and met a number of existing customers and some potential new customers in the Middle East, Europe and North Africa. Aviagen Turkeys showcased its products, investments in R&D, focus on product development and customer support.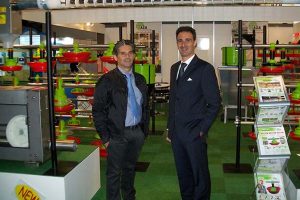 AZA INTERNATIONAL was founded in the late '50s and has always been recognized as a leader in the production of equipment for the transportation and automatic distribution of livestock feed. At the VIV Europe, the company displayed their new high-capacity conveyor systems and an innovative range of linear feeders and hoppers. These high-quality, competitively priced systems are specifically designed for broilers, laying hens, breeding stock, cockerels, ducks and turkeys.
"This edition of VIV Europe", says Paolo Pandolfi export manager of AZA INTERNATIONAL, "was attended by most of our European distributors, and by many visitors from emerging countries such as Ethiopia, Uganda, Sudan, Iran, the Philippines and many others".
The products, which AZA INTERNATIONAL focussed on were welcomed by visitors, such as the new large-capacity systems: Breedaza for laying and breeders and the new multi-purpose Mixta feeder.
The heavy-duty conveyors capable of transporting up to 12 cubic meters/hour are available in chain link measuring 76 and 114 diameters. The stainless steel chain link conveyors and hoppers are all made with top quality materials. The curves and feed outlets are available in different shapes and materials depending on the type of feed that requires to be conveyed. They represent the ideal solution for all those customers who need to transport large quantities of feed from one or more loading points to one or more outlets. An example of where this type of application can be seen to be effective, is in the cage sector where there is a need to transport large quantities of feed quickly, without the feed breaking up or crumbling as happens with spiral conveyor systems.
The BREEDAZA system is an innovative one for the controlled distribution of feed using linear trough feeders, particularly suitable breeders and layer flocks cage or floor-housed. Compared to flat-chain or spiral systems, the BREEDAZA system works with a chain equipped with a plastic ring that runs inside the anti-stop tube. The system is installed above the plastic channel and creates no obstacle so birds can comfortably eat and clean out all the feed in the line at the end of each feeding cycle. The BREEDAZA system guarantees a fast and homogeneous distribution of the feed along the entire line, without needing to lift lines to fill them with feed and thus, greatly reducing the feeding time of the flock. At the end of the growing cycle the cleaning operations are simple and quick. It requires only one lifting unit and a single lifting point even for feeding lines of 300 meters' length. With this type of feeding system, the loading silo can be positioned at the end rather than in the centre of the poultry shed. The BREEDAZA system is equipped with an adjustable anti-rooster grill to allow separate sex feeding.
The MIXTA feeder is gaining great success both in duck farms and also in countries such as France, Morocco and Algeria, where poultry farmers alternate between growing cycles of chickens and of turkeys. People using this feeders, greatly appreciated its easy operation. It is completely automatic and allows all internal components to be easily washed and sanitised as compared to other products on the market. MIXTA is equipped with an anti-chick ring that prevents chicks in the early days of the growing cycle from entering the hopper, which is very important, especially when used with turkeys. The transition to the adult phase occurs through the application of a secure collar, which is simply assembled and disassembled without the aid of screws or tools. 
Bábolna TETRA presented newly designed booth at the 2018 VIV Europe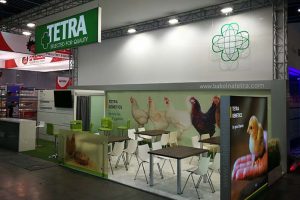 Bábolna TETRA participated at the VIV show in Utrecht, which was held June 20-22. Their team warmly welcomed numerous guests and potential buyers in its newly designed corporate booth.
This year, TETRA sales team aimed to expand its presence in the area to respond to the rapidly increasing demand for white and tinted egg layers among farmers in western European countries. Brown layers of the company are already present and perform well in various cage free systems in Europe.
The company invites its valued existing and new customers to meet with their team and get acquainted with TETRA products and innovations, at SPACE, Rennes, 11 to 14 September.
BIG DUTCHMAN at VIV Europe 2018: Digitization in the poultry house – and much more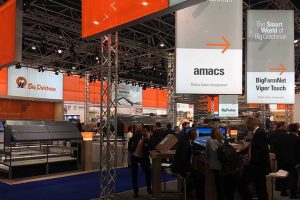 Following the motto "The Smart World of Big Dutchman", the German poultry equipment supplier showed a broad product range at VIV Europe 2018.
"To us, 'smart' refers not only to the current 'hot topics' regarding digitization, but also to clever innovations, housing concepts and other solutions that will make farms future-proof," said CEO Bernd Meerpohl.
This was reflected by the interesting and innovative solutions Big Dutchman had on display. FarmBookpro, the free-of-charge app for every poultry farmer, efficient BigFarmNet solutions, farm packers, a mobile house on wheels and the world's first aviary for broiler breeders are just some examples.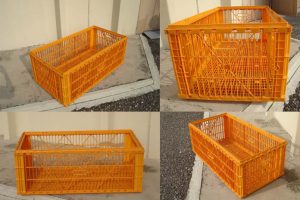 CARFED SA, the well-known Swiss-Italian group worldwide leader in live poultry transport crates exhibited at VIV EUROPE in particular plastic crates for transport of live turkeys.
Turkeys are more and more diffused in the developing countries after the large consumptionof turkey meat in Europe and US and will have a market also in the Russian Federation.
Some different live turkey crates are available at CARFED SA:
+MAXICARFED Code 43 not collapsible crate with 3 side doors of cms 99x58x42.
This crate has 4 sides and bottom moulded in one piece so extremely strong and long lasting (monoblock).
MAXICARFED crate can be used also with no lid (open top) as a Basket.
+MULTI 100 "T" collapsible crate of cm 97x58x42 available also as Basket (Open Top , no lid) and with solid or perforated bottom.
+MULTI 110 "T" collapsible crate of cm 108x58x42 available in the same styles of MULTI 100 "T" so as Basket as well (open top) and with solid or perforated bottom.
For sure the MAXICARFED Code 43 is the worldwide strongest turkey crate, much stronger of any collapsible/knocked down crate : lasting 3 times the normal life of a collapsible crate; the MULTI 100 and 110 "T", it means that you save 2 times the price of a crate.It means that in the same time while you buy 1 pcs MAXICARFED mono-block crate you would have to buy 2 or 3 pieces of any collapsible crate (that break easily with the big turkeys).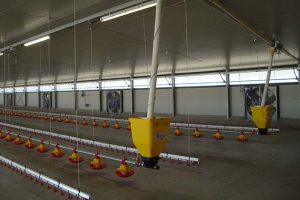 CODAF, the Italian company specialized in production of automatic poultry feeding systems, participated at the VIV Europe show with its own stand to consolidate its presence in the international market.
Innovation, excellence and quality products make Codaf a leading company in the poultry housing equipment allowing to achieve top results in terms of feed conversion and "animal welfare".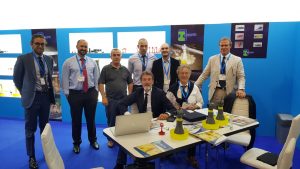 "It was a really positive exhibition, and there were many visitors in our booth. We had the occasion to get in touch with some customers, interested to invest more on high quality products.
During VIV EUROPE 2018 we have had the opportunity to launch two new products":
4006 i MULTI-FLOW: the new total steel nipple drinker with a perfect capacity and extra-soft opening action.
INFINITY TZC3: the new smaller pan feeder optimized for the perfect growth-curve along the whole life cycle.
"During the exhibition we have received excellent feedback, and realized that there is a growing interest towards performing features in the broiler breeders equipment and we'll try to satisfy them."
FACCO at VIV 2018: a stand full of novelties and friends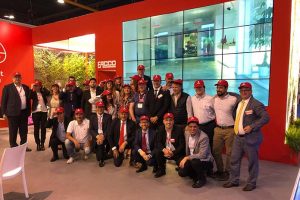 New products, technology, a stand completely renewed in its graphic, and the traditional engaging hospitality reflecting the company's attitude: all of this was in Facco's experience at VIVEurope 2018, greatly appreciated by a myriad of visitors who enjoyed all the contents of the stand. In the words of the company's President, Massimo Finco "We are the future of poultry: global with a strong focus on our customers; our products and services are highly integrated; we're digitized and connected at all levels of IoT."
Facco, 60 years of experience, has a full range of state-of-the-art poultry systems combining mechanical, zootechnical and electronic skills, delivering turnkey solutions in over 95 countries.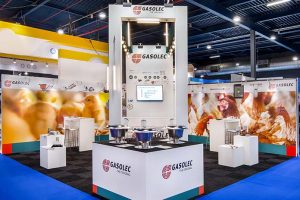 Gasolec B.V. at VIV Europe to present new developments of its Heating and Lighting Products.
The G12E Heater was demonstrated with a more compact and robust version of its Electronic Ignition and customers were keen on its energy saving potential.
For the lighting the OrionLED 14W White lamp was shown in an IP65 housing to allow washing. The Gasotube Lamp was presented as a new development in progress.
Another recent development was the Trion+ Ionisation unit: to reduce the fine dust level in poultry houses for better living & working conditions for man & animals and less fine dust in the exhaust air.
This exhibition attracted especially many dealers from all over Europe making it a success!
GIORDANO acquired Twinpack Special Products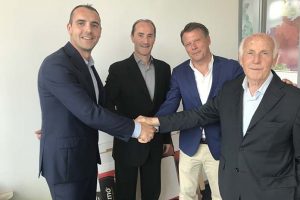 Recently, the Giordano group from Italy acquired the majority stake in Twinpack Special Products in The Netherlands. After almost twenty years of commercial cooperation, the Italian leader in professional poultry equipment decided to increase the strategic and operational focus on the logistics systems for eggs, such as EggsCargoSystem® and HatchCargoSystem®.
"The main objective for this acquisition is to expand and strengthen our global market position through a unique and coordinated management, which can now be developed more effectively in all areas of the world by exploiting the existing Giordano network. In fact, all customers and dealers will soon be directly contacted and involved in these positive developments," says Giordano's CEO Oscar Giordano.
Barneveld's current Twinpack Special Products office and staff remain the focus of related marketing and sales activities. In the meantime, for corporate identity reasons the company name Twinpack Special Products will change. From September the new name will be GI-OVO®.
HUBBARD welcomed many visitors at VIV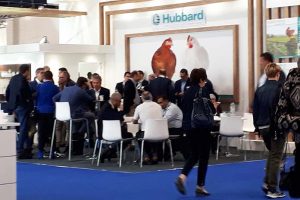 During VIV Europe 2018 Hubbard welcomed visitors from Europe, Africa, Middle East, Asia and the America's. Many of them confirmed the excellent field results of the latest Hubbard Conventional product range; highly productive breeder females with good fertility and FCR.
The recently introduced Hubbard M22 male, delivering more breast meat for the debone markets, was very well received.
And the world leading Hubbard Premium products got a lot of attention for their choice in colour differentiation, slow(er) growth and excellent robustness responding to consumer demand for high animal welfare standards and quality.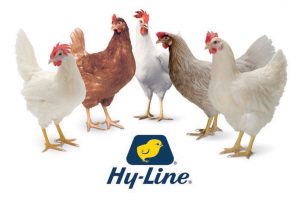 Hy-Line is accelerating genetic progress across all genetic lines, putting more selection pressure on increased egg numbers and shell strength while not overlooking other key traits. This was the message at VIV Europe 2018.
"We are achieving progress in all lines faster than has ever been seen before," noted Dr. Danny Lubritz, research and development director for Hy-Line International, in a recent discussion regarding Hy-Line's intensified efforts in genetic selections.
Hy-Line's team of geneticists is making the genetic engine more powerful and more efficient. In fact, the recent pure line selections have documented a considerably higher response than achieved in previous years.
Hy-Line produces and sells brown and white egg breeding stock to more than 120 countries worldwide and is the largest selling layer around the world. Hy-Line layers are known for their strong egg production, superior liveability and feed conversion as well as outstanding shell strength and interior quality.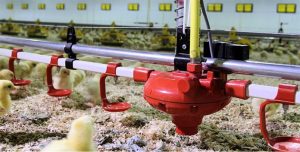 For Impex, VIV Europe 2018 has been a successful exhibition. The company met several new poultry professionals and many of their existing distributors from all over the world. Their I-Flush total hygiene solution got a lot of attention. Optimal hygiene is essential in poultry houses and managing the drinking water system plays an important role in it. Birds require ample fresh, clean drinking water, which is cool, colorless, tasteless and free of harmful sediments. To monitor this in a closed drinking system is difficult, time consuming and often neglected. For this reason Impex developed a completely new monitoring concept; the I-Flush total hygiene solution.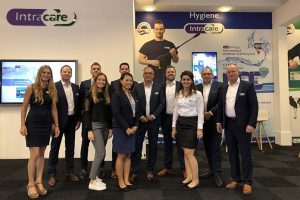 For Intracare, it was again a very successful exhibition, as the company had the occasion to welcome many of their customers who had the opportunity to discuss business with the responsible sales manager. Also, they were able to bring their customers to learn more about Intracare products. The first day was extremely busy, which resulted in a crowded and full booth. As the exhibition was for 3 days, at Intracare, they had the possibility to speak with all of their customers as well as giving new prospects for Intracare products.
It was a busy and fruitful VIV with positive inputs from visitors and customers. The company appreciated all the visits and support received during the show and the Intracare Team is pleased to thank all their visitors.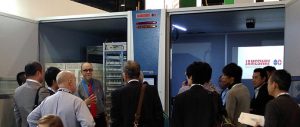 Jamesway is an active participant in many international trade shows and views the opportunity to interact with their existing and potential customers as essential to their business. On this front VIV Europe 2018 exceeded the company's expectations. This show provided Jamesway with an outstanding platform to showcase products to a large number of visitors from the European market (and beyond). They were able to make new contacts, generate new sales and network with current customers. The booth attendees were very interested in the Platinum 2.0 Incubator which was on display. Congratulations to VNU Exhibitions for the execution of this world class event. Look for Jamesway participation at many more.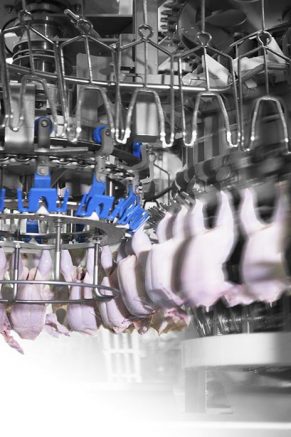 Arie Tulp, Marel Poultry marketing and sales director, expressed great enthusiasm about the successes achieved at VIV Europe, "To us, it was an outstanding opportunity to communicate our 'Think Fast, Keep Control' message when launching our 15,000 bph processing solutions. People were impressed by the way we manage to keep control at such high speeds. Besides our LineLink transfer units, we successfully introduced our Total Leg Deboning solution, for fully automated, inline drumstick and thigh filleting.
VIV Europe offered us an excellent platform to present our latest developments and innovations to our customers. We succeeded in enhancing our partnerships in a stimulating environment."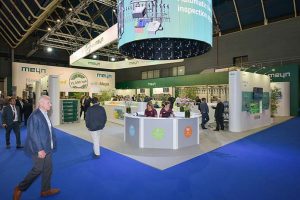 "With the VIV Europe 2018 just behind us we can look back on a highly successful exhibition with many visitors showing interest in our 15,000 bph poultry processing solutions. A lot of attention went towards the latest technology of the Meyn Line weigher M2.0, with its high accuracy and easy maintenance while achieving the highest line speed in the market."
Visitors had the opportunity to experience live simulations of the new poultry processing software platform, called "Meyn Connect" at the booth and attend live equipment demonstrations at Meyn in Amsterdam.
To cherish the unity between Meyn and its customers, the Meyn Family, the exhibition was rounded off perfectly with the Meyn VIP Night. An evening full of good vibes with live music, dinner, and drinks.
New MOBA innovations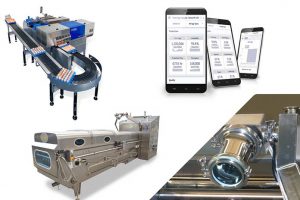 At the VIV Europe show, Moba welcomed its customers with several new innovations, in the areas of egg grading, packing and processing.
One of the eye catchers is the new Omnia PX180. With a capacity of 64,000 eggs/hour this machine meets the high hygienic standards in the market.
The world famous "work horse" for the egg farm is renewed. The Mopack40 is characterised by its very high efficiency, with a net output extremely close to tis capacity of 14,400 eggs/hour.
The brand new Shell strength detection is a detection system that has been developed in cooperation with the Catholic University Leuven in Belgium. Wit the new-patented algorithm the acoustic signal can be analysed and determine a quality rating for the shell strength of each egg.
NEWPHARM's innovations and new products at VIV Europe 2018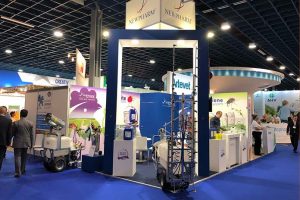 Newpharm, an Italian company leader in the production and marketing of solutions for pest control and environmental sanitization, presented their latest products against chicken red mite with formulas, which are widely recognized for their effectiveness and safety.
The intervention strategy involves the use of Baggy for a driving out and repellent action, and Baggy Plus with Diatomaceous Earth to abrade the mites in a lethal way during their movements, made more frantic by the included essential oils. The range is completed with a new biological solution, Baggy Bio, with 100% of active ingredients of vegetable origin, for the farms' cage and equipment sanitation.
Newpharm guarantees to restore optimal farm hygienic conditions, effectively fighting the presence and spread of the parasites through wide-spectrum insecticidal solutions. Among the available fly larvicides a special mention is deserved by Larvmeth®, based on s-metoprene, the only larvicide in the market able to alter the development of all stages of fly development (egg-larva-pupa) swarming in animal manure thanks to its innovative formulation and to the its excellent toxicological profile.
Newpharm offers a specific range of sanitizing agents with a bactericidal, virucidal and fungicidal action for a complete environmental disinfection.
At VIV Europe the company presented their exclusively designed application technologies to improve product application by optimizing time and economic return.
Discover all the specific solutions for the poultry and livestock sector here:
Newpharm srl – Italy – info@newpharm.it – www.newpharm.it – www.progettoacaro.it – www.no-more-flies.it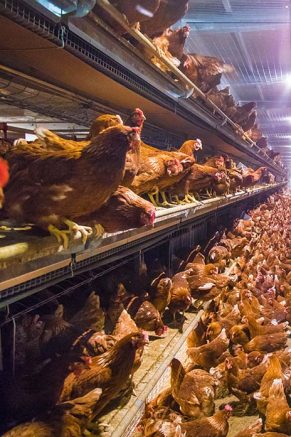 VIV Europe 2018 was a strategic expo for OMAZ. The Italian company is very pleased with the quantity and with the quality of the visitors who have reached its stand. VIV Europe has become a cornerstone of the international poultry market. It's early to draw conclusions, but OMAZ is confident of great results for extra-European market and for alternative systems market. In fact, the Open Space Galaxy, an aviary system, and the tried and tested Space International have aroused a lot of interest. OMAZ thanks all the customers and partners met during VIV Europe.
SmartStart™ – A fresh approach to post-hatch feeding by PAS REFORM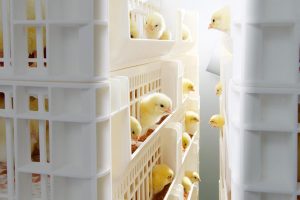 For two years Pas Reform has worked closely with biotech start-up In Ovo, DSM Premix company Twilmij and Philips NatureDynamics to develop SmartStart™ – a flexible, ground-breaking post-hatch feeding solution that gives newly hatched chicks the earliest possible access to feed, water and light.
Throughout the project they have taken their lead from nature. SmartStart™ uses natural deep eutectic solvents (NADES) to retain water inside a semi-moist feed for a practical, simple post-hatch feeding solution. The SmartStart™ system offers a perfect start for newborn chicks, enabling them to eat, if they want to, from the moment of hatching. It promotes the development of robust day-old chicks and helps to reduce the need for antibiotics.
The beauty of the SmartStart™ concept is its ease of use and flexibility. It comprises two key elements that can be applied individually or together: precision feeding and intelligent lighting.
Working with DSM Twilmij, Pas Reform has developed a semi-moist feed that provides the optimal combination of nutrients and water to support the chicks' gut health, metabolism and immune systems. Thanks to leading edge NADES technology, SmartStart™ feed performs well in the warm conditions of the hatcher.
And they worked with lighting experts Philips to develop a specialist lighting solution that guides newly hatched chicks to the feed balconies of the hatcher basket. The soft, indirect lighting operates at a frequency and wavelength that suits day old chicks best. It is gentle on their eyes, allowing them to get used to light without stress. The lighting programs are fully adjustable for natural day and night rhythms, in line with broiler farm lighting programs, and the software is upgradeable to keep pace with future light colour and temperature requirements.
PETERSIME puts latest innovations in the spotlight at VIV Europe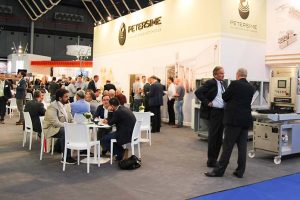 With a big Petersime team and many guests, the company's booth at VIV Europe was buzzing. "We are looking back on 3 exciting days with great discussions and positive feedback on our latest innovations. Our BioStreamer™ HD incubator, the centrepiece of the booth, attracted a lot of attention. Besides, we presented no less than four new product developments: our new range of standard automation solutions, the Eagle Eye™ app, the Hatchery Alert System™ and the Turkey 60XL tray.
A big thank you goes to all our visitors for the interesting discussions and the great atmosphere they brought to our booth. The Petersime team looks forward to seeing you again at VIV Europe 2022!"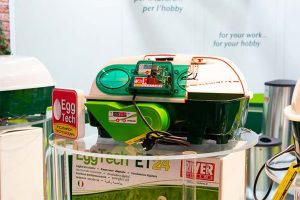 "VIV EUROPE proved in time to be a can't-miss event and for this reason we presented many innovations. The displayed ET 24 incubator gave visitors the possibility to see the safety precautions installed in the machine. On the same incubator was installed OVOLVO, the new turning unit that will allows users to choose speed and inclination of the egg tray. The 'Jardinerie' line was also new: coloured plastic feeders and drinkers developed specifically for colour lovers and for those who want to combine beauty and quality. From the commercial point of view, an important agreement was signed with Arion Fasoli. It creates a synergy that will lead to an exchange of products as well as skills and know-how."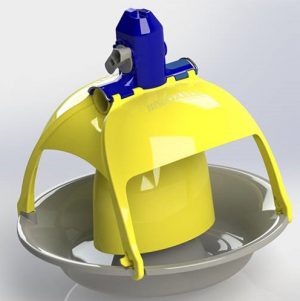 Roxell launched 3 new products during this successful VIV Europe show. First Natural Beak Smoothing for broiler breeders, which is a feeding system with a rough structure at the bottom of the feeder pan. It smooths the beak of the birds while the birds are eating. Next to that Roxell presented a new XL feeder pan for heavy turkeys, Titan. Expect bigger and comfortable eating places with higher openings and better growth results. Finally, iQon #sharp is a new feature to remotely control the iQon poultry feeding controller. iQon #sharp guarantees an easier operation of your centralized iQon.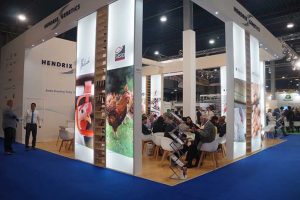 "At Sasso, we wish to thank everyone who stopped by our booth at VIV Europe in Utrecht from 20 to 22 of June 2018. It was great meeting our customers from across Europe, Middle East and Asia and our commercial agents.
It was also really interesting to make some good contacts with potential customers and promote our strains. We were happy to share Hendrix Genetics' booth and we're looking forward to attend the next VIV Europe."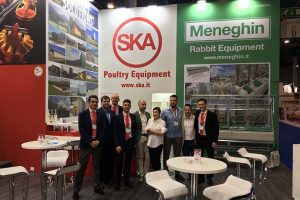 SKA manufactures and distributes a wide range of poultry equipment for floor rearing. At the recent VIV Europe they exhibited their complete range of products.
SKA has achieved a leading position in the industry being the only manufacturer to offer a wide range of poultry equipment of high quality and elevated technology: poultry buildings, aviaries, feeders and nests, covering every kind of poultry rearing, both traditional and organic.
Their sister company Meneghin Srl, a world market leader in the planning, construction and assembling of turnkey farms for professional intensive rabbit breeding, was present at the VIV Europe Fair as well.
Among the wide range of SKA products, the core products that are always welcomed to visitors and customers were: GEMMA, the aviary for commercial layers, representing the ideal system for rearing birds on an intensive scale respecting the European directives on bird welfare; The main feature of this aviary is ZEUS, a wooden nest placed in the middle tier. Egg collection is central, the eggs collecting belt is placed inside the nests to guarantee a higher level of hygiene and quality. The collocation of perch allows birds to move about freely within the shed. AVIO, the automatic galvanised nest, which is made of steel, resistant to chemical agents and bacteria, ensuring the highest level of biosecurity, increasing hygiene during the cleaning period. It provides a 50% saving in labour and a quiet, natural environment for the birds, maximizing eggs production.
SOCOREX successful participation to VIV Utrecht 2018
At VIV Utrecht, Socorex presented its broad selection of original glass and metal syringes intended for precision animal injections. The numerous visitors showed great interest for the syringes and their related accessories, in particular for the newly launched fixed volume models supplied as 0.2, 0.3, 0.5 and 1 mL sizes. These models are complementing the adjustable volume syringes available as single or Twin barrel models, with feed tubing or vial holder, ranging 0.025 ml until 10 mL.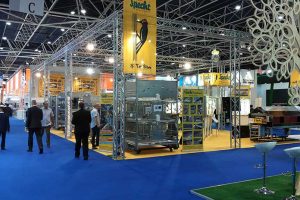 "It was a high quality show and an outstanding meeting point for the poultry community. VIV Europe show gave us a good opportunity to meet at our stand the customers from all over the globe and to foster contacts in comfortable atmosphere. We were impressed by the huge number of high quality visitors from the leading poultry companies and by the constant flow of people interested in learning about our products. The market is now worried about animal welfare; Specht company introduced some solutions that will help our customers meet these standards without compromising their profit: VARIA, VARIA-Plus; VARIA with middle nest as well as our cage free aviary. We would like to thank our customers and visitors for their sincere interest and loyalty."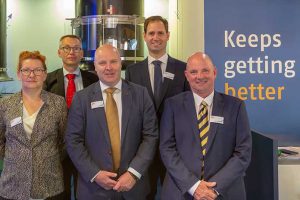 TPI-Polytechniek was pleased to be present at the VIV Europe having the chance to meet lots of their valued customers and partners.
The exhibition represented a great chance for the company to show their latest developments and all the team enjoyed talking to their customers. The fair has inspired TPI some new ideas for further product developing so they would like to thank their partners, customers and colleagues for this productive exhibition.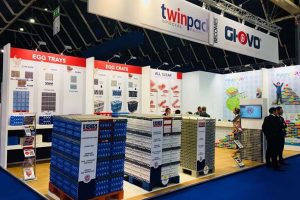 During the VIV Exhibition in Utrecht, The Netherlands, Twinpack Special Products announced their company name change due to the acquisition by Giordano Group from Italy.
Officially from September, the new name of Twinpack will be GI-OVO. For maximum customer recognition, the Giordano logo is part of the GI-OVO logo. "This way we like to demonstrate that Giordano is owner of Gi-OVO", says general manager Jacco Wagelaar.
Besides the name of the company, nothing will change. The sales team in Barneveld The Netherlands remains to be responsible for the global company brands like EggsCargoSystem® – HatchCargoSystem®, Eggyplay® and All Clear®. Jacco Wagelaar continues the mission of GI-OVO which is to become the world's leading company in logistic solutions for eggs, in the most general sense. Beside their existing logistic solutions for chicken eggs, they also have solutions for quail and duck eggs. The new website of GI-OVO was launched just before exhibitions opening.

Another VIV Europe became part of the VAL-CO history: "We look back at this exhibition in Utrecht as one of the most successful ones over the past few years. It was our pleasure to show recently developed shut off pans and standpipe seal caps, discuss the new plans to install Val drinking systems and Fuze feeder pans, design the controlled climate system in the hot climates, take care of biosecurity by advising the cremator use, engineer the chain feeding, and the list can go on.
Thank you all – customers, dealers, friends, potential customers and those who simply stopped by to inquire about the VAL-CO solutions – you all have contributed to the fantastic results of VIV 2018. We will look forward to the next VIV Europe!"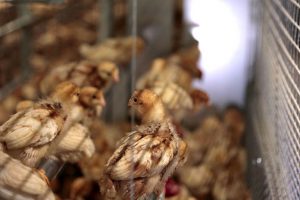 It's time to assess the results: the latest VIV Europe edition in Utrecht has established, at least as far as the old Continent, the clear market orientation towards alternative systems. VALLI, both with pullet equipment as Baby AREA, and with layer equipment as Space AVIARY, VLV Plus, CASTELLO Plus and CASA, offers the best solutions and answers to the many customers and visitors who were pleasantly hosted on its stand.
"A special thanks to everyone for the esteem shown and for the appreciation of the VALLI brand and its products. VALLI experience and quality remain the best guarantees for their Customers: breeding together for over 60 years!"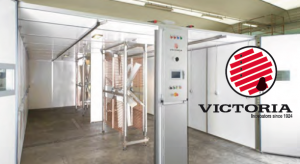 Victoria Srl, the leading manufacturer of high performance incubators in the Middle-East, Southeast Asia and Europe, has released their latest and most advanced incubator ever created. Developed using the most innovative materials and advanced technologies, it is able to reach new standards of production flexibility, efficiency and production load.
The VIC115 has a market leading production load of 115,776 hen's eggs, supported by 18/eighteen incubating trolleys (6,432 eggs per trolley). The introduction of new trolleys, with a more elegant and effective design, has improved the overall load by 30%+, while keeping the extremely high performance that has made Victoria's machines a leader in the market. This incubator provides a perfect distribution of oxygen, humidity and temperature through a completely new ventilation system (made of 12 innovatively designed blades) and an efficient system for trolleys. While achieving fantastic performance, the VIC1150 is also able to optimize costs.
The humidification system, which uses only pressurized water and not pressured air, generates high-energy savings.