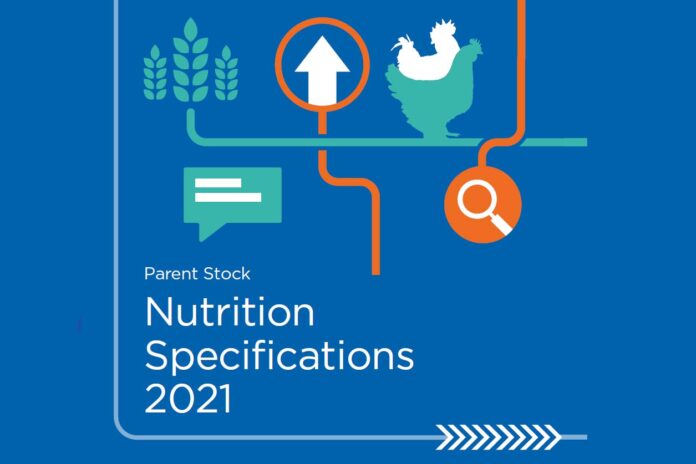 Recommendationson nutrition specifications help customers optimize bird performance, health and welfare in line with ongoing genetic improvement of Aviagen breeds.
Aviagen® recently rolled out the 2021 Parent Stock (PS) Nutrition Specifications for the Arbor Acres® and Ross® brands. These specifications detail the optimal nutrient balance (including amino acids, energy, vitamins and minerals) applicable through the life of a flock.
The genetic potential for bird performance, health and welfare is continually advancing; this is reflected in the recently updated PS Performance Objectives. Aviagen advises customers to use the Nutrition Specification in conjunction with the PS Performance Objectives and PS Management Handbook for the relevant brand.
Developed by Aviagen nutritionists who understand the field application of the Specifications, the new nutritional strategy will enable the latest Performance Objectives to be reached in a holistic, balanced way that simultaneously promotes reproductive performance, optimal early development, chick quality, livability and other aspects of bird health and well-being.
For a further explanation of the Nutrition Specifications, please refer to this document.
"Aviagen is committed to helping our customers further strengthen the outstanding performance, health and welfare of their flocks. As we continue to increase the inherent potential of our birds, optimizing feeding becomes more and more important, and our goal for the new advice is to provide customers with the knowledge to do so," explained Marcelo Silva, Head of Global Nutrition.
Download the latest Nutrition Specifications from our Information Library by visiting Aviagen.com Europe/Russia/CIS.