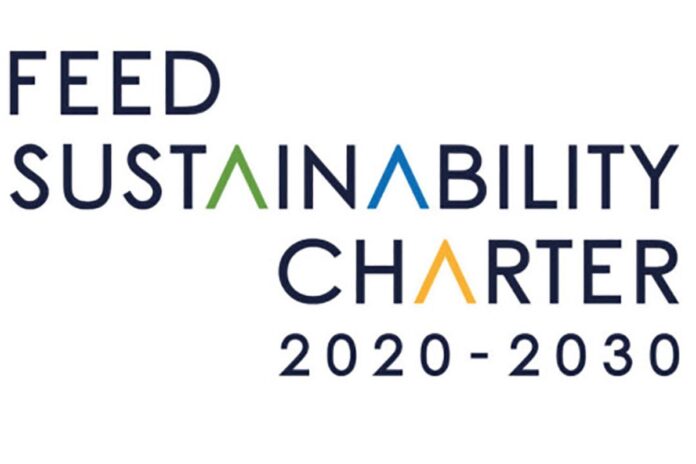 The Charter contains concrete feed sector actions at EU and national level featuring animal nutrition solutions that can help increase the sustainability of livestock farming operations.
During the event, FEFAC published its Feed Sustainability Charter 2030, highlighting five key ambitions how the European Feed Industry can contribute to the development of more sustainable livestock and aquaculture value chains. FEFAC President Asbjørn Børsting and BFA Managing Director Katrien D'hooghe highlighted how the Charter's actions and commitments are matching the specific EU Green Deal Objectives affecting the livestock and aquaculture sectors.
The digitally livestreamed FEFAC XXIX Congress featured a panel discussion between Michael Scannell (European Commission), Pekka Pesonen (Copa-Cogeca), Philippe Weiler (Lidl Belgium), Preben Sunke (Danish Crown) and Jean-François Timmers (WWF) on the Green Deal and market expectations to the European livestock & feed industry. A key priority raised by all panellists was the need for the European feed industry and its chain partners to achieve deforestation-free soy supply chains. They also welcomed the ambitions set in the FEFAC Feed Sustainability Charter and encouraged FEFAC and its members to take more targeted commitments.
FEFAC President Asbjørn Børsting: "It's a proud today for the European Feed Industry to set its ambitions for sustainability in feed production for the 10 years to come – see also two pager explanation (https://fefac.eu/wp-content/uploads/2020/09/FEFAC-F eed-Sustainability-Charter-2030-Two-Pager-1.pdf) of the Charter) – It was good to hear from important stakeholders what their concerns and priorities are and I can assure them that today is the beginning of a journey of measurable progress. We recognise that a deforestation-free soy supply chain is a key priority for our industry and we're working hard on the upgrading of the Soy Sourcing Guidelines to facilitate a mainstream market solution to achieve that goal".
BFA President Dirk van Thielen: "Even though we have had to change our original intentions for the joint FEFAC-BFA Congress, I am very pleased we managed to organise this digital event with very high quality speakers, including contributions from Stella Kyriakides (European Commissioner Public Health & Food Safety) and Willy Borsus (Vice Minister-President & Minister of Agriculture, Walloon Government). FEFAC and BFA are committed to step up the action on bringing down Greenhous ts, tackling deforestation and reducing antimicrobial resistance".