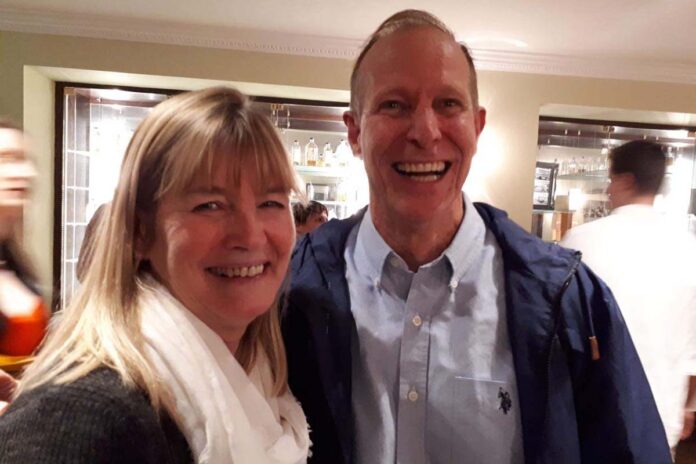 It is with great sadness that we learned of the sudden and premature passing on the 6th of July 2021 of Daniel Pearson (Dan), Aviagen European Veterinary Health Director based in Newbridge, Edinburgh. He died whilst cycling during a recent holiday with his wife Christina on the Isle of Arran.
Dan was the youngest of three sibling, born on 30th June 1957 in Ingham, North Queensland, Australia. He grew up on a sugar cane farm. Dan studied Veterinary Medicine at The University of Queensland, where he also played Aussi Rules Football and Tennis. In 1982 Dan "saw practice" at D B Marshalls, in Scotland. This was one of the largest integrated poultry companies in the UK in the 1980s.
Two years after graduation in Queensland, Dan returned to Scotland and joined Marshalls as a field veterinarian. There he met Christina, marriage quickly followed, then they had two children, Victoria and Christopher. Christina had 2 children when she met Dan, so Dan was soon a grandfather and latterly a great grandfather – roles he engaged in and enjoyed.
Dan's role within the Marshalls Food Group widened and he took responsibility for all veterinary health care of stock within Scotland. His role increased still further when the Company was bought by Grampian Country Foods and he became the principal veterinarian for all their poultry subsidiaries throughout the UK. This task was made possible by the support and cooperation of independent poultry veterinary practices who regularly serviced their farms in other regions. Dan then took his expertise as one of the most knowledgeable and experienced poultry vets in Europe into the primary breeding sector by joining Aviagen.
Dan was an active member of the British Veterinary Poultry Association and President from 1995-97. He was also an invited delegate of the GB group within the Poultry Veterinary Study Group of the EU (PVSG). Dan was elected last year as Junior Vice President of this international forum on Avian Health, aiming to take the lead as President next year. He was a truly gentle man, easy to relate to and to work with productively. He was always involved in his local community. He was a church elder and with Christina carried out vital assistance to youths and young adults through a wide variety of ways including manning a Christian Action Bus late at night in areas of town where help was needed.
Dan arrived in Scotland from Australia an accomplished tennis player, and he continued to play socially in Scotland. He enjoyed cycling and participated in club riding at weekends. He also completed some long and arduous cycle rides usually with colleagues and friends raising money for various charities. It is perhaps fitting that he died carrying out an activity he was passionate about in the hills of a country he felt deeply and affectionately bonded to after enjoying a picnic with the woman he adored.
He will be sorely missed by an industry he felt passionately about, a community he was an integral and valued part of, and most of all by the family he loved above all else.
(Collated by BHT with contributions from KK, CW, CJM, VP and SL)