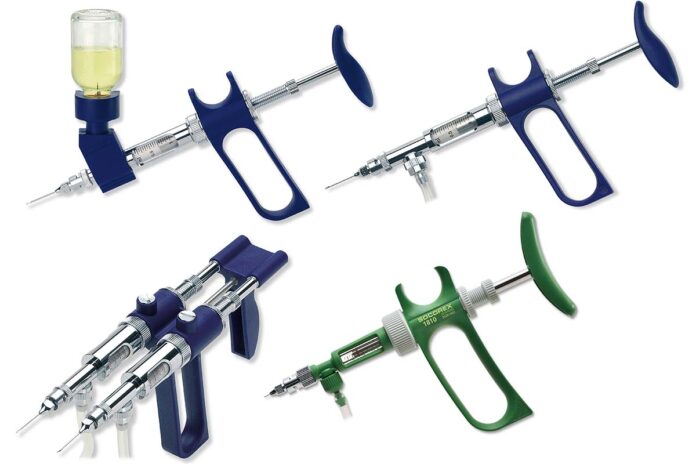 Animal health is an important factor due to the potential economical consequences in case of disease outbreak. For this reason, each farmer involved with animal production has great interest in carefully selecting the right syringe and needles for successful injections campaigns.
Go for a superior syringe programme
Socorex Isba SA is a Swiss manufacturer of self-refilling injection syringes with spring-loaded plunger and three-way valve system. Simple conception, perfect balance and ergonomic design provide for ease of use, operator comfort and fatigue free fieldwork.
The syringes are intended for mass vaccination of poultry, swine, cattle, fish and small laboratory animals. They are used by many pharmaceutical companies in the animal health market. Governments and international organizations also choose Socorex when it comes to large scale preventive vaccination campaigns. All models show maximal efficiency and reliability when used according to manufacturer's recommendations.
Correct instrument preparation
Unless previously autoclaved, both syringes and feed tubing must be first cleaned with water (ex. aspiration of boiling water) and checked for proper working (no leak, no broken part). A sterilized instrument can be used straight away. Disinfectant or chemicals are not recommended as they may then interfere with vaccine efficiency. Select the best appropriate syringe model and capacity (mind units: 1 cc = 1 mL) according to campaign purpose and pay attention to most adequate needle choice.
Correct needle selection
A quality needle shows high mechanical resistance. Adequate length and gauge are chosen in accordance with animal size/age and vaccine type. Prefer smallest possible needle diameter (gauge) to minimize tissue damage, knowing that thicker liquids may require larger diameters. Change needle if bent, dirty, worn or blunt edged. The Socorex safety needle packaging is intended for operator's protection, avoiding hand / finger injury when handling.
Cleaning-up after vaccination
Once the campaign is over, operator must rinse, clean, disinfect and dry the injection syringe according to manufacturer's guide-lines. Single-use and worn-out needles must be disposed in an appropriate safety container. Store re-usable equipment in adequate clean and dry location.
Combining a good planification, the use of a first class self-refilling syringes for highly professional work and respect of current rules and legislations, is the most efficient way to run successful injection campaigns.