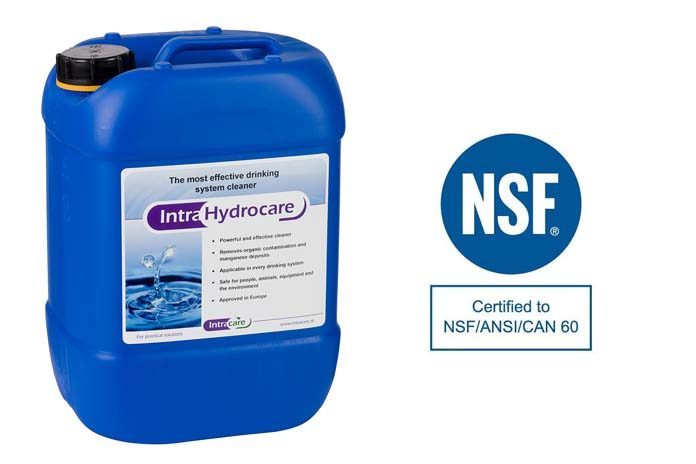 Certification to NSF/ANSI 60 demonstrates compliance with nationally recognised Intracare health effects standard for all drinking water treatment chemicals.
Intracare, a leading innovative company in the intensive livestock industry, has been awarded certification to NSF/ANSI 60, the American National Standard for Drinking Water Treatment Chemicals.
NSF International led the development of the American National Standards for all chemicals used to treat drinking water and materials/products that come into contact with drinking water. Today, government agencies around the world utilise NSF International standards to verify the safety and performance of water treatment chemicals, pipes and plumbing components and to ensure these products do not leach harmful levels of contaminants into drinking water.
To earn NSF/ANSI 60 certification, Intra Hydrocare was subject to rigorous testing and evaluation to verify that the product met requirements for use in treating human and animal drinking water. NSF International also audited the manufacturing facility to verify compliance with the standard requirements.
Director Intracare, Jan van Geest, "This is another milestone for us and the product Intra Hydrocare. This certification demonstrates that Intra Hydrocare can be used to disinfect human drinking water and is safe."
Intra Hydrocare is one of the best registered water treatment products world wide (CTGB PT02, 03, 04 & 05) and is even allowed to use in the drinking water when the animals are consuming the water.
More information: cvulders@intracare.nl & www.intracare.nl