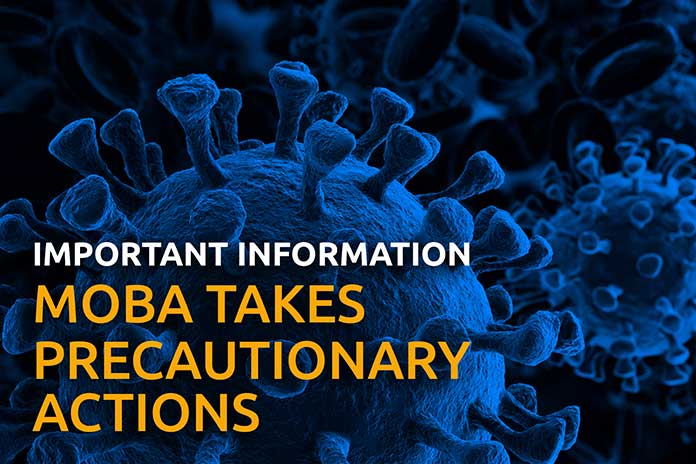 Health and safety is key: due to coronavirus, Moba has announced that it will be taking precautionary measures for the health and safety of its customers, employees, agents and the wider communities. Moba is closely monitoring the latest advice and recommendations from the World Health Organization (WHO), local authorities and advice centers in different regions around the world regarding the coronavirus (COVID-19). Moba's goal is to do everything it can to maintain its current service level during this constantly evolving situation.
Providing support to its customers is important to Moba, therefore the company is doing everything it can to maintain its current service level during this rapidly changing situation. The company has implemented the following precautionary measures:
Moba is aware that in the weeks ahead its customers may need its support for their businesses and the company will be there to help. Despite these operational challenges, the company's goal remains the same. The company is committed to being a reliable partner for egg grading, packing and processing solutions and will continue to give the best possible support for its customers.
About Moba Group
Established in 1947, Moba is the world's leading producer of high-quality integrated systems for the grading, packaging and processing of eggs. Headquartered in Barneveld, the Netherlands, the company has a product development department of approximately 100 employees and a factory in which the production of the machines takes place. The company employs 850 staff in total. Moba is always close to its customers thanks to its global sales and service network, which includes offices in Japan, Italy, China, Malaysia, Dubai, the UK, Germany, France and the US, as well as support from agents and distributors.
The company' vision is to enable food producers worldwide to feed consumers around the world with healthy and affordable egg-based food. Moba is developing from a producer of egg grading machines to a technology company that develops high-quality integrated systems for the egg industry. They supports its customers with intelligent solutions that ensure the highest yield, reduction of costs and the efficient utilization of resources such as energy, water and animal nutrition. Every day, Moba's systems process around one billion eggs worldwide.
For more info about Moba, please visit the website: www.moba.net