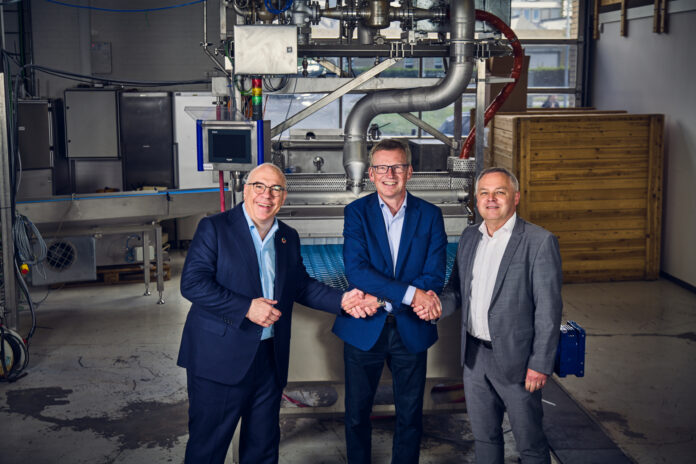 SANOVO TECHNOLOGY GROUP buys and takes over the SonoSteam activity from FORCE Technology.
SonoSteam's technology is a combined application of steam and ultrasound delivered from specially designed nozzles, which technology can provide efficient microbial chemical free decontamination process, designed for food and non-food surfaces by the nozzle technology with a combination of steam and ultrasound. SonoSteam's technology applies patented nozzles that produce the combined effect from steam-ultrasound simultaneously. A specially constructed treatment chamber that enhances the SonoSteam disinfection system also has wider use within the food industry including meat, fruits, eggs, vegetables and dairy products as well as non-food products such as conveyors, food boxes, trays, trolleys, crates and cutting knives etc.
SonoSteam's technology has been tested and used industrially in various food industries with success, great effect and with very satisfactory microbial decontamination results. The SonoSteam technology is environmentally friendly without the use of chemicals and at the same time does not destroy the properties in food and non-food products.
SANOVO acquires all assets, patents, trademarks, name rights, production premises and 5 members of the technical staff related to the SonoSteam activity and will in the future be a part of SANOVO BIOSECURITY A/S with the current Division Director, Niels Krebs from SonoSteam, continuing as President.
"We are proud of the acquisition of SonoSteam" said Michael Midskov, CEO of SANOVO TECHNOLOGY GROUP " which will allow us to offer technical environmental and friendly solutions for the removal and reduction of bacteria on all eggs, table eggs, hatchery eggs, and other food products. With SonoSteam, it is also possible to effectively remove and reduce bacteria on washed plastic trays, pallets, shims, and conveyer belts in the egg industry, as well as in other industries where sterilization and bacteria removal is needed, which is in line with our other business areas outside the egg industry."
"SonoSteam is a sustainable solution with great global potential in the food industry" said Juan Farré, CTO of FORCE Technology, "but also in many other industries and applications, where microbial and bacterial decontamination is needed. FORCE Technology has spent many years developing and testing SonoSteam, and as a Danish RTO FORCE believes it is time to bring these solutions to the market."