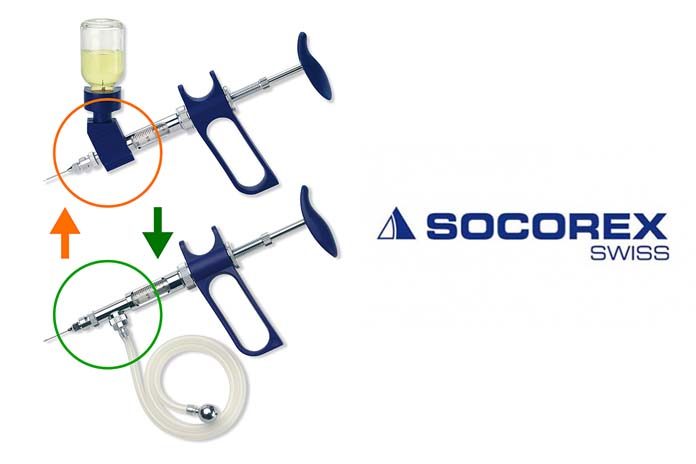 Optimal injection up to the last animal is guaranteed when selecting a reliable and comfortable syringe. The re-usable Socorex self-refilling models offer a high level of performance, thanks to careful conception and wise material selection. The syringes include ground glass barrel and metal plunger and accept any type of vaccine and suspension. Metal valve balls and springs remain efficient, even after thousands of consecutive injections. Proper plunger tightness without O-ring reduces maintenance requirement thus avoiding any trouble while vaccinating. When required, all syringe parts can be replaced to guarantee perfect injection, working conditions and extended instrument life span.
The following syringe accessories are designed to improve work efficiency, extending injection possibilities to take maximal advantage of the Socorex instruments.
Conversions sets to switch from a feed tubing syringe into a vial holder model or the opposite, depending on ste selected.
Draw-off needles to connect syringe tubing to a hanging pouch or bottle. An air-inlet with filter protect bottle content from any dust particle.
Injection extension, 20 and 30 cm length. Enable farm staff to vaccinate pigs without having to bend down, reaching each animal even if it moves a lot. Made of rigid PVDF, the extensions offer good mechanical stability. The optimized inner tubing diameter reduces dead volume and limits costly injectable product loss.
Manifold for single needle injection, to be fixed to the Twin syringe, when injecting at the same time two different liquids through one needle.
Needles, made of long lasting stainless steel with very sharp bevel to limit skin wound even after several injections. Needles are supplied in a safety packaging limiting risk of injuries and contributing to operator's protection.
ABF lubricant spray to protect syringe metal parts (plunger, valves) after use.
Check our web pages for details about these accessories, and contact our distributors for purchase.