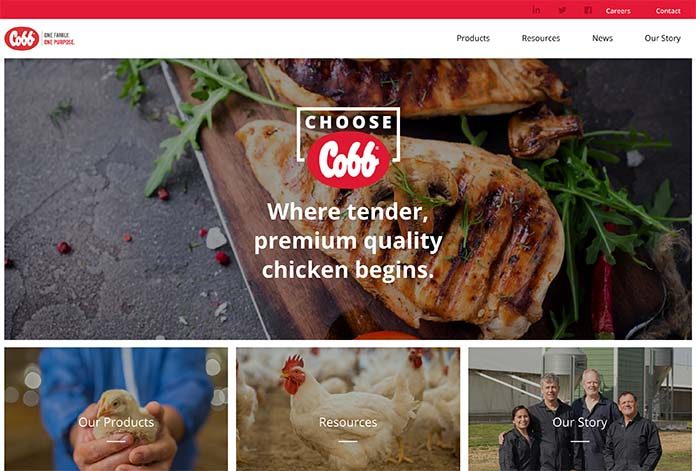 Highlighting its customer-centric approach to innovation, Cobb Vantress recently launched the new and improved cobb-vantress.com. The website, which serves Cobb's customers globally, brings together Cobb's industry-leading products with its commitment to technical services in an interactive, user-friendly approach.
"Cobb is the world's leading pedigree broiler breeding company — a position we attained by putting our customers and their needs first," said Stacy Vaughn, communications manager. "We expanded our online resources, streamlined our customer support tools, and brought forward our passion for broiler breeding stock in a number of ways."
Visitors to the site can see Cobb's unprecedented commitment to research and development firsthand. The redesigned and expanded resources page provides everything from product information and white papers to videos and technically focused articles. Because the resource library covers a broad range of industry topics, an added search function was integrated to allow customers to quickly find relevant information on a given subject.
For customers who can't find the exact answer to their questions or need additional support, Cobb also enhanced the contact functionality on the site. Now, visitors can send questions directly to Cobb's experienced World Technical Service team, regional leads, sales personnel and more through the website.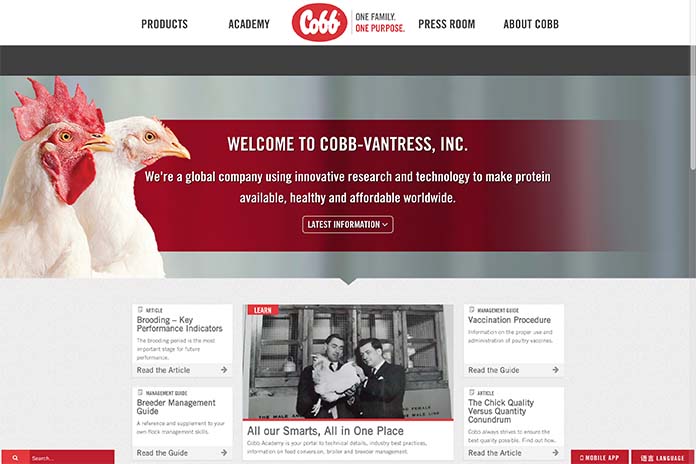 "Innovation is nothing new for Cobb," said Roger Vessell, senior director of global marketing. "We've been accelerating genetic progress every year for the last 104 years. It's part of our history and the way we operate as an organization today. Our website reflects that by documenting our history while also sharing company news so customers and partners can stay up to date on our progress."
For those interested in meat quality, Cobb has compiled resources for customers to attain better uniformity, less trim and more saleable yield, including processing tips and information on the company's competitive advantages.
Additionally, the new website features an enhanced careers page for workers who are passionate about helping to feed the world. Interested individuals can review available positions by region or by the various sectors where Cobb provides employment — from transportation to production and professional roles to internships.
Once complete, the new and improved website will be available in 13 languages.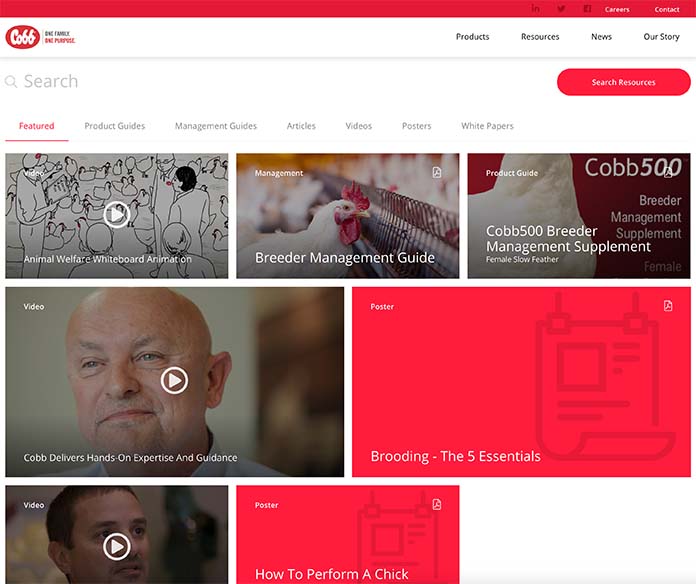 Explore the site at: cobb-vantress.com and stay tuned for additional features and multimedia content, added in August.