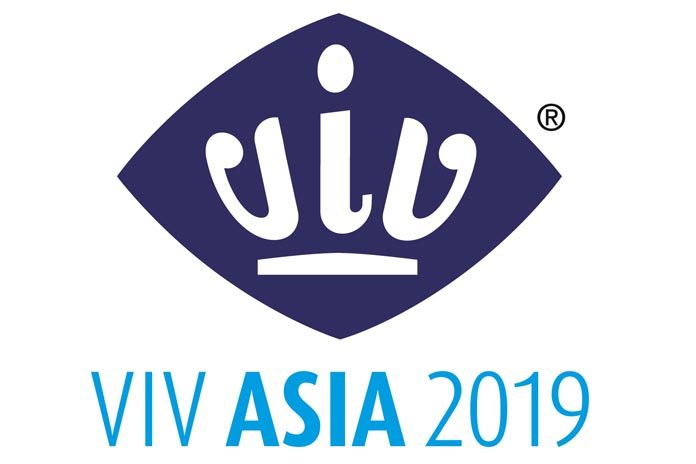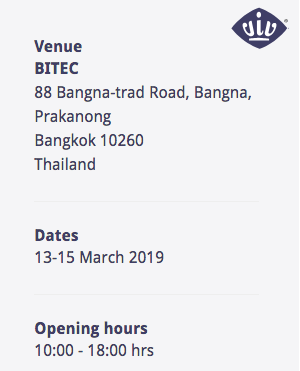 VIV Asia is back on 13-15 March 2019 as Asia's outstanding international feed-to-food event covering all species and sectors of the animal protein value chain. With more than 1,250 international exhibitors, VIV Asia offers a unique selection, including global market leaders and regional as well as national Asian players of growing importance.
Professionals active in the production of pig meat, poultry meat, eggs, fish and dairy all have numerous reasons to meet up in Bangkok. VIV Asia is held biennially, meaning its most recent appearance was in 2017. That edition took the show into a new league of global platforms in terms of event size and reach. Its certified final figures confirmed a new record total of 45,952 visits from 127 countries, revealing a nearly 20 percent rise in attendance compared with 2015.
Websites: www.bitec.net – www.viv.net/events/viv-asia-2019-bangkok
On the second stage of its World Tour 2019, ARION FASOLI SRL will be glad to meet customers and friends in Bangkok on the occasion of VIV ASIA 2019. Don't miss our latest products and innovations, come and visit our stand!
Email: nicolabonetti@arionfasoli.com
AVIAGEN showcases Global Reach, Local Touch at VIV Asia 2019 – Stand H101.2700 – www.aviagen.com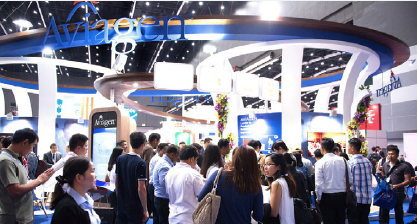 Welcome to VIV Asia in Bangkok! Aviagen cordially invites you to visit us at Booth 2700 in Hall 101. There you will be warmly welcomed by our team of dedicated poultry specialists, who will be on hand to exchange ideas on the latest industry developments, and discuss the best ways to maximize your business success.
Through our Global Reach, Local Touch theme, we accent our mission to grow our global business while remaining committed to the needs of our local customers and their communities. One strategy for strengthening our success is to offer the right bird for the right market through our range of Ross®, Arbor Acres® and Indian River® brands. To help you get the most from our birds, we share the latest flock management advice through numerous seminars, workshops, schools, face-to-face visits and shows like VIV Asia. We look forward to meeting you at the show!
Email: info@aviagen.com
AZA INTERNATIONAL is specialized in livestock transport and feed equipment. At the VIV Asia, stand 3333, hall H100, the company will display their new large-scale conveyor systems, linear feeders and hopper for broilers, layers, breeders, ducks and turkeys. All systems are of high quality at competitive prices. The heavy-duty conveyors capable of transporting up to 12 cubic meters/ hour are available in chain link of 76 and 114 diameters. The stainless steel chain link conveyors and hoppers are made with top quality materials. The curves and feed outlets are available in different shapes and materials depending on the type of feed to be conveyed.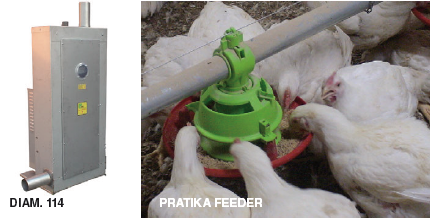 The PRATIKA feeder for broilers is completely automatic and ensures optimal feed distribution. It has a fully automatic system for adjusting the feed and opening the pans to facilitate sanitising.
The DUO system for broilers has automatic regulation and combines the feeding line with the watering line. This reduces bird movement and frees up space in the shed. Both the water and feed lines can be simultaneously lifted. The COMPACTA range is an ideal feeding system for turkey poults. The BREEDAZA controls the distribution of feed using linear trough feeders and is particularly suitable for breeders and laying hens in cages or on the ground. BREEDAZA works with a chain equipped with a plastic ring that runs inside the anti-stop tube. The system is installed above the plastic channel and creates no obstacle so birds can comfortably eat and clean out all the feed in the line at the end of each feeding cycle. The BREEDAZA system guarantees a fast and uniform distribution of the feed along the entire line, reducing the feeding time. It is equipped with an adjustable anti-rooster grill to allow separate sex feeding. The SELF-DOSY feeder pan is a sturdy feeder, designed specifically for breeding males, which incorporates an innovative volumetric dispenser with centralized control allowing to change instantly, across the line, the amount of feed sent to the feeding pans. The operator no longer requires to use the various feed pre-weighing systems, nor to raise the feeder line away from the birds during the feed filling. SELF-DOSY is easy to clean and sanitise thanks to the removable bottom.
Email: info@azainternational.it
BARBIERI's wide range of products – Stand H099.3431 – wwww.barbieri-belts.com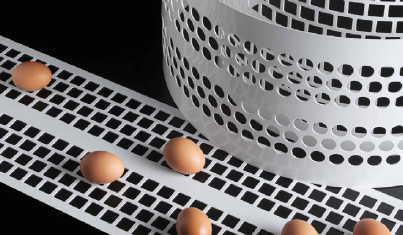 The production of egg conveyor belts, extruded belts and ropes is the final act of a long process that begins with the choice of the best raw materials and continues with the production of high quality yarn. Barbieri offers its customers a wide range of products:
Egg conveyor belts made of polypropylene, polyester in different colors and measures from 50mm till 360mm;
Extruded perforated polypropylene egg conveyor belt in width from 200mm to 500mm;
Manure belt in different thickness starting from 0,8mm to 3mm and widths starting from 500mm to 2500mm;
Perforated manure belt for dry systems;
Perforated polypropylene floor for broiler cages;
Polypropylene, polyester and polyethylene ropes in various sizes for feeding and drinking systems.
Email: info@barbieri-belts.com
The Smart World of BIG DUTCHMAN – Stand H099.3350 – www.bigdutchman.com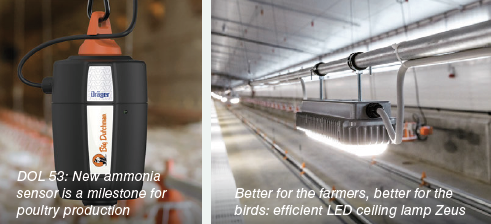 From equipment for modern egg production and poultry growing to clever feeding and sophisticated climate control systems: Big Dutchman will introduce many innovations at VIV Asia 2019. Following the motto "The Smart World of Big Dutchman" these include:
The automatic manure belt adjustment AMBA. It monitors the belts during manure removal, ensures that they run straight;
ChickNic, a feed pan with integrated feed storage for countries with inconsistent power supply;
Plastic slats for broiler houses;
A slat washer for automatic washing of plastic slats from broiler, broiler breeder or duck houses;
Male Chain, the world's first chain feeding system exclusively developed for the feeding of male breeders;
Clever LED solutions for efficient lighting of poultry houses;
The further developed climate and production computer Viper Touch 6.0 with a new powerful CPU and large 10" display;
DOL 53, a long-term, stable NH3 sensor for continuous measuring of the ammonia concentration in the house air.
Email: big@bigdutchman.com
CARFED's crates for any need – Stand H098.4531 – www.carfed.ch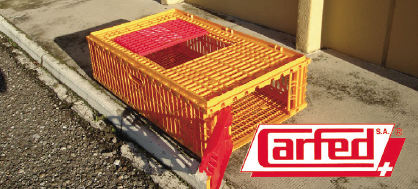 CARFED SA, the well known Swiss-Italian group worldwide leader in live poultry transport crates will exhibit in particular plastic crates for transport of live turkeys and ducks. Turkeys and ducks are more and more diffused in the developing countries. Some different live turkey and duck crates are available at CARFED SA:
+MAXICARFED Code 43 not collapsible crate with 3 side doors of cms 99x58x42. This crate has 4 sides and bottom moulded in one piece so extremely strong and long lasting (monoblock).
MAXICARFED crate can be used also with no lid (open top) as a Basket.
+MULTI 100 "T" collapsible crate of cms 97x58x42 available also as Basket (Open Top, no lid) and with solid or perforated bottom.
+MULTI 110 "T" collapsible crate of cms 108x58x42 available in the same styles of MULTI 100 "T" so as Basket as well (open top) and with solid or perforated bottom.
For sure the MAXICARFED Code 43 is the worldwide strongest turkey crate, much stronger of any collapsible/knocked down crate: lasting 3 times the normal life of a collapsible crate, and we know as we have the MULTI 100 and 110 "T", it means that you save 2 times the price of a crate.
Besides visitors will find all other crates of the wide range of CARFED SA at the booth, including:
the collapsible Baskets (open top crates) MULTI 100 (cms 97x58x27) and MULTI 100 crates with different lids of same size to transport live chickens;
the collapsible Baskets MULTI 110 (cms. 108x58x27) for live chicken transport and MULTI 110 crates with different lids of the same size;
the MONDIALCARFED Code 46 collapsible for live chicken transport crate of cms. 80x60x28.
Day old chick boxes and egg transport crates, with egg trays, will be exhibited as well.
Email: info@carfed.it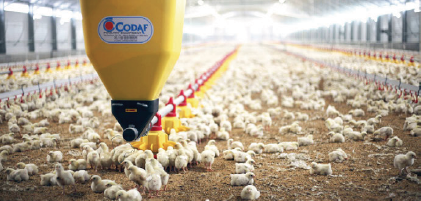 Codaf is an Italian company specialized in automatic feeding systems production in the poultry industry and they will be participating to the VIV ASIA 2019 fair with their traditional range of feeding pans.
Codaf feeding pans, well known for the elevated performances, allow the animals to have a better access to feed with a smaller waste during all the cycle duration.
The company is really young and dynamic, but more then fifty years of technical experiences let them be able to offer high quality products at a competitive price while maintaining an easy management and allowing customers to get the best performance possible. All these qualities give Codaf a strong reputation all over the world.
Email: info@codaf.net
CORTI Zootecnici, leader in the poultry equipment – Stand H099.3571 – www.cortizootecnici.com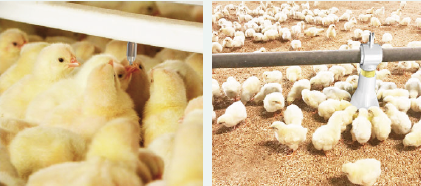 Corti Zootecnici Srl, world leader in poultry equipment with over 40 years of experience, proudly confirms its participation at VIV ASIA 2019, an exhibit that offers unique insights and contacts in relation to Asian markets.
We are daily committed to research innovative solutions and in the 2019's edition we will show:
4006 i MULTI-FLOW: the new total steel nipple drinker with a perfect capacity and extra-soft opening action.
INFINITY TZC3: the new smaller pan feeder optimized for the perfect growth-curve along the whole life cycle.
Find out more at our booth!
Email: info@cortizootecnici.com
DACS expand the MagFan product range – Stand H100.3231 – www.dacs.dk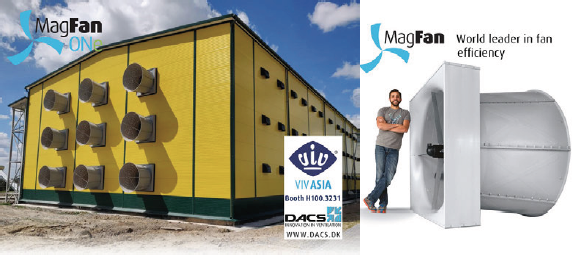 As a supplement to their variable speed MagFans, DACS now introduces the MagFan ONe, an ON/OFF version of the world's most efficient wall fan. MagFan ONe complements the 1.2 and 2.2 kW versions, MagFan and MagFan Plus, and offers performance and efficiency superior to any other make of fans.
Bess Lab testing
DACS tested MagFan ONe at Bess Lab, University of Illinois, in September 2018, and it outperforms all other fans tested there by a wide margin, with a capacity of 36900 cfm at 0.1″ (62700 m3/h at 25 Pa) and an airflow ratio of 0.85, while delivering 22.4 cfm/W at 0.1″.
Superior efficiency whether variable speed or ON/OFF
To further boost efficiency in the mid-range and improve airspeed control, this ON/OFF fan may be speed controlled using any conventional frequency drive. When speed controlled, the fan even has higher efficiency and higher airflow than any of the competing brands' permanent magnet direct drive fans of equivalent size.
Proven, uncomplicated motor technology
MagFan ONe uses a conventional waterproof three-phase induction motor. This sets MagFan ONe apart from other high efficiency fans with their permanent magnet motors requiring customized expensive speed drives with PM control. The motor is similar in design to all other DACS fan motors, with a strict focus on trouble free operation, easy cleaning and extreme service life. A design, which has proven its worth over nearly two decades of operation.
Attractive ROI
The use of mass produced, conventional technology has led to a significant reduction in production costs, and the increase in production volumes has enabled a very high degree of automation, thereby taking product quality to an even higher level. The combination of an attractive purchase price and the much reduced operational expenditures makes MagFan ONe an extremely attractive solution, with ROI often counted in months rather than years.
Increased production capacity
The highly automated production with robotized injection moulding has also enabled DACS to increase their overall production and the relatively small Danish company now outperforms even the big players in terms of speedy deliveries and punctuality. MagFans ship flat-pack on special skids and in ISPM-approved boxes for maximum protection of goods,and a 40 ft HC holds 150 complete fans. MagFan ONe is designed and manufactured in Denmark, using EU quality components.
Email: jd@dacs.dk
EUROSILOS SIRP – Stand H099.3715 – www.eurosilos.it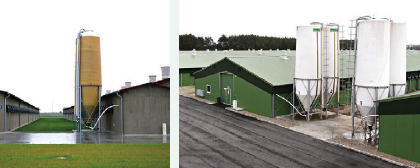 The company Eurosilos SIRP manufactures modular fiberglass silos for livestock farms, which comply with the static international regulations and are awarded of quality certifications. We also provide innovative and tailor-made transport solutions for filling and discharging our fiberglass silos, such as tubular conveyors, flexible augers and bulk feed wagons. Our storage installations match the requirements of poultry, swine, dairy and grain industries, while our extensive experience and the latest innovations of our product range focus on enhancing any customer livestock operation efficiency. Our commitment to design and improvement through novelty bestows Eurosilos a reputation for quality, offering market leading products at affordable prices, while striving to keep customer relationship is our sole priority. We will again exhibit in VIV ASIA and our booth location is Hall 99.3715. We are proud and eager to welcome and share our comprehensive experience with you to work any needs of yours out, primarily focusing on feed handling and livestock storage automation. Please get in touch with us by accessing www.eurosilos.it or submit your inquiry to contatti@eurosilos.it.
Email: contatti@eurosilos.it
FACCO keeping the highest quality – Stand H099.3634 – www.facco.net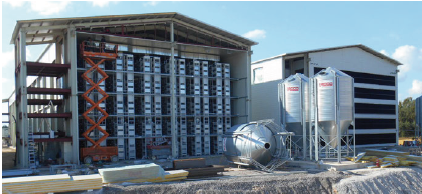 Food quality requires today innovation skills and focus on the whole supply chain, from feed to egg. VIV Asia 2019 will give the opportunity to discuss and share ideas and Facco, for over 60 years world leader in the poultry field, will welcome you in Hall 99, Stand 3634, with the complete range of avant-garde poultry solutions.
Facco (worldwide presence in over 75 countries) will display the most advanced technologies in the vertical cages market, developed thanks to the close connection with our customers and being a forerunner of the market changes. Highly qualified in Turnkey Solutions, Facco will be your partner in designing, analysing data and managing projects using the most advanced technologies developed internally for your SMART FARM. Remote control development and improvement has guided our innovation and a 4.0 approach for more than a decade. Facco will disclose the latest Farm Managing Systems, Customer Service and Assistance. Keeping the highest quality as our standard, we will welcome you at our stand with our warmest, professional and friendly hospitality.
Email: facco@facco.net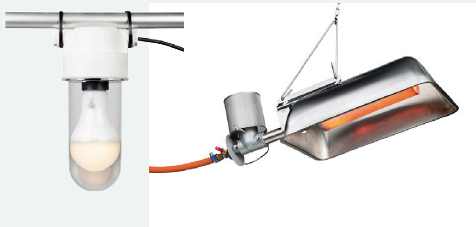 Gasolec will be present at the VIV Asia 2019 to show its range of Infrared Radiant Brooders from 1 to 12kW. For the M-types we will be showing recent developments on the round burners for the M5 and M8. Visitors will be even more intrigued about changes in the air intake of the M-type heaters to reduce maintenance costs. The G12 heaters are there to show their longevity and efficiency. Gasolec Type M & Type G heaters: stainless steel products, designed to be cleaned with water and to be disinfected for use in modern poultry and pig production.
Gasolec is also showing its OrionLED 14W White Poultry Lighting product line. A strong 14W LED lamp with a 1400Lumen output that is dimmable from 100% to 2%, with light units that are available in IP54 or in IP65 versions to enable cleaning with water.
The basis of the OrionLED 14W product line is the same fixture as used in the past for the Gasolec CFL products. In many cases this makes a conversion to a LED lighting system very easy.
Email: sales@gasolec.com

GI-OVO (successor of Twinpack Special Products) from Barneveld, The Netherlands will participate the VIV Asia exhibition 2019 in Bangkok. Besides the well-known EggsCargoSystem®, which is already used by many companies in Asia, GI-OVO will introduce a similar system for duck egg transportation. This transport is mainly between the duck farms and duck hatcheries. The Asian duck industry grows rapidly and becomes more mature in terms of automation. For that reason GI-OVO developed a new transport system for duck eggs. The most important part is the tray system. Trays are in fact specifically developed for 20 duck eggs and protect the eggs the best possible way. The complete system contains special pallets – trays for 20 eggs and dividers to separate the stacks. The system can be handled by robots, and fits into all existing washing equipment that is available in the market.
Email: sales@gi-ovo.com
GIORDANO Poultry Plast – Stand H100.3234 – www.poultryplast.com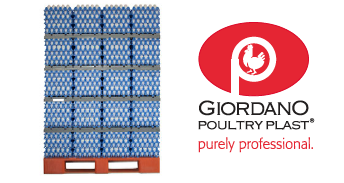 Giordano Poultry Plast, a leading multinational plastic moulding company, specialized in the production of poultry equipment, will be present at the upcoming edition of the professional exhibition, VIV ASIA 2019, held in Bangkok, at the stand n. 3234 – Hall 100. Established in 1962 under the name of Avicolplastica and since 1974 as Giordano Poultry Plast, a handicraft company specializing in plastic equipment for poultry farming, the company has grown regularly over more than half a century to reach a very international dimension, both in sales and in production.
Giordano Poultry Plast is glad to introduce its new Automatic Drinking Lines. The system has been upgraded starting with the pipe that goes from rounded to square shape 28×28 mm. This will provide a better result, not only during the use but also for washing at the cycle end. Also the pipes were changed as all plastic accessories and nipple. This new Automatic Drinking Line will also be easy to install, firstly because all the screws were eliminated and due to the larger space between the metal support and the plastic water pipe. The system includes "Super Drop" for broiler, "Pendolo Line" for Turkey and Duck (they will have different cups), completed by the popular "Giro Line", a combination of 2 drinking lines with only 1 metal support (mainly used in the French market).
The headquarters of the Company is located in Italy, in Caraglio (CN), with more than 80 employers and the production subsidiaries are in Mexico, Argentina, Egypt and Malaysia. The Giordano family totally controls the group, with Osvaldo Giordano, President and sons Oscar and Enrico, Managing Directors. 95% of the group's production is exported to more than 65 countries.
Email: info@poultryplast.com
HUBBARD Conventional and Premium – Stand H101.2720 – www.hubbardbreeders.com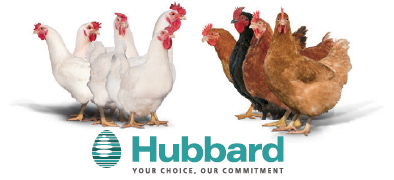 Hubbard's Conventional product range is highlighted by its highly productive breeder females mated with the white or yellow skin males. On broiler level the Hubbard Conventional delivers optimal growth, FCR and total meat yield. Hubbard, global leader in the Premium market, offers a wide range of products with color differentiation, slow(er) growth and excellent robustness responding to changing consumer demand for high animal welfare standards and quality.
Present in over 100 countries and with support of dedicated teams, Hubbard delivers high quality genetic solutions to broiler breeder customers around the world.
Email: contact.asia@hubbardbreeders.com
HY-LINE International – Stand H101.2830 – www.hyline.com

Hy-Line is accelerating genetic progress across all genetic lines faster than has ever been seen before, making the Hy-Line varieties more powerful and efficient. Recent genetic selections have placed more selection pressure on increased egg numbers and shell strength, while not overlooking other key traits.
Hy-Line Brown, the world's profit-leading brown egg layer offers layer farmers in Southeast Asia a greater opportunity to make more profit. It leads the way in a region that accounts for more than 63% of the world's egg production. Hy-Line has achieved increased market share in the region due to:
Prolific egg numbers;
Feed efficiency;
Exceptional livability;
Superior egg color and quality.
With the Hy-Line Brown, W-36, W-80, Silver Brown, Sonia and Pink, Hy-Line delivers a bird for every market – every climate, every housing system, every country. Visit us online at www.hyline.com or at VIV Asia 2019, Hall 101, Stand 2830, to receive the latest management guides.
Email: info@hyline.com
IMPEX Barneveld B.V – Stand H099.3426 – www.impex.nl

Water and water hygiene are very important factors when it comes to nutrition for poultry. Hygiene itself is very important in poultry houses. Especially when diseases such as bird flu, like the H5N8 virus and other hazards are going around. Poultry professionals often look at the 'simple' safety precautions to prevent these diseases affecting their poultry. These precautions usually concern feed, visitors on the property and protective clothing. However, water can also be a hazard and is very often overlooked, as this is all 'already taken care off' in the eyes of the poultry professional. The importance of a clean, safe water supply in regards to the health and performance of the flock is many times underestimated. Many factors affect the performance and health of the poultry flock, but most of them, (if not all) are not as important as water. A clean safe and fresh water supply is a necessity if each flock is to perform at its best. Impex has developed an automatic flushing system to make sure the water is clean and fresh at all times. Want to know more about this automatic flushing system? We hope to see you at VIV Asia!
Email: info@impex.nl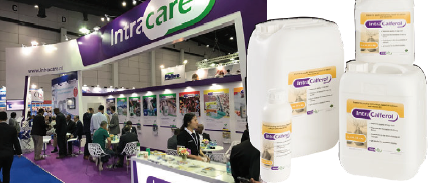 All people of Intracare are already excited about the next VIV Asia from the 13-15 March 2019, one of the world's biggest Expo for animal husbandry. This year Intracare will be present with a joint booth with our partner Behn Meyer in Hall 106 stand 459. Intracare offers a comprehensive range of products, meeting the highest quality requirements of farmers and European guidelines. With stricter government measures and increasing consumer demands for food safety, Intracare invests in solutions for healthy and antibiotic-free animal productions. Liquid feed supplements are getting more and more popular in the Asia regions. Intracare has a lot of expertise in regards to liquid feed supplements and Asian farmers can benefit from this knowledge. Due to the developments of Intracare, many farmers are able to reduce antibiotics and still can make serious progress in the economical parameters at their farm. Our new generation of Intra Calferol will be the highlight of this exhibition. Intra Calferol is a pH neutral product with a very stable vitamin D3 concentration. Intra Calferol is a mixture of concentrated calcium in organic form, vitamin D3 and chelated magnesium, which may easily be absorbed in the animals' intestines. This supplement keeps the animal's calcium balance in optimal condition.
Email: info@intracare.nl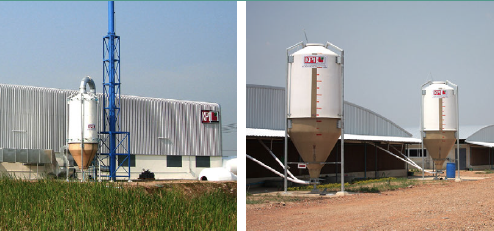 Agritech Srl, an Italian company specialized in the design and manufacturing of fiberglass silos will present its products at VIV ASIA through a Thai based joint venture named KPI-Agritech Co., LTD.
Agritech offers a large variety of products in addition to silos, that is: silo loading and unloading systems such as rigid and flexible screw conveyors, a wide range of outdoor shelters for animals, truck tanks available both with auger and pneumatic discharge.
Thanks to its 10-year presence on the market and the know-how transfer from Italy, KPI-Agritech Co., Ltd. can grant efficient supplies of silos and other fiberglass products in the Thai and neighbor markets.
Agritech Srl and KPI-Agritech Co. Ltd have joint their efforts to expand their presence in the Asian Far East and consolidate as leading companies in the field of feed and grain storage.
Email: agritech@agritech.it – Email: rachot.aks@kspthailand.com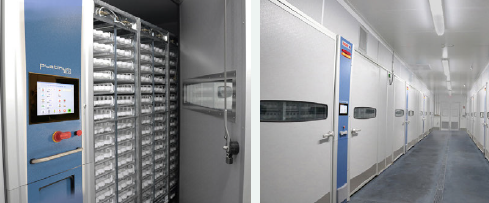 A Worry Free Hatchery is a state of mind. It means that you know your equipment is solid, that your HVAC is efficient and that your embryos are nestled in the perfect environment. Jamesway is the partner you need to hatch quality chicks with complete confidence.
Please join us at VIV ASIA where we will feature our energy saving Platinum 2.0 Single-Stage Incubator and Hatcher. Jamesway's Platinum Single-Stage machines feature high bio-security, easy cleaning, and easily accessible controls, which produce high quality day-old chicks and ducklings.
Email: christian.jordan@jamesway.com

During VIV Asia, Marel Poultry will present itself as the most complete full-line supplier in the industry. Focus will be put on auto-mated breast deboning, 8- to 11-piece cut-up and convenience food production. At our booth, you can experience live demonstrations of the AMF-i breast cap filleting system with real products. This will allow you to fully witness the top performance of this inline solution with automated adjustment of modules to the measured breast cap size.
Closely related to this machine presentation is the live demo of thighs and breast cap deboning. One of our experts will demonstrate how our automated solutions, including the AMF-i and the Thigh Fillet System, succeed in mimicking the complicated manual filleting actions of skilled personnel.
Cutting to all thinkable QSR specifications is possible with Marel Poultry's automated in-line ACM cut-up systems. But the modular system can do more than that; it can cut a whole product into 8, 9, 10 or 11 pieces with accurate weights, whatever the market asks for. Marel's famous RevoPortioner is also on display, this time featuring the new Helix Drum, ensuring low pressure forming with continuous filling.
Email: info.poultry@marel.com
MEYN at VIV Asia Let's work! – Stand H098.4034 – www.meyn.com
Meyn will participate in the VIV Asia 2019, which takes place in Bangkok, Thailand from March 13-15. At VIV Asia, Meyn will offer highly flexible, competitive solutions in processing equipment from live bird handling to deboning for a wide variety of line speeds. These solutions will boost the processor's market position and ensure their business continuity, allowing its customers to achieve a high level of productivity with minimal labor. During the trade show, poultry processors will discover Meyn's innovative solutions that address labor challenges such as labor shortage, labor safety, and quality & consistency of working. This year, Meyn campaign slogan will be 'Let's work' meaning Meyn provides relevant solutions to help the customer with their labor challenges.
Meyn welcomes all guests to VIV Asia at Bangkok International Trade & Exhibition Centre, in hall 98, stand 4043 and Meyn's specialists will also be available on at the booth in Bangkok to discuss the superior qualities of the products. Discover the latest range to have a very close look at the latest new features. There is something interesting to see for every visitor.
Email: sales@meyn.com
 MOBA – Stand H098.4514 – www.moba.net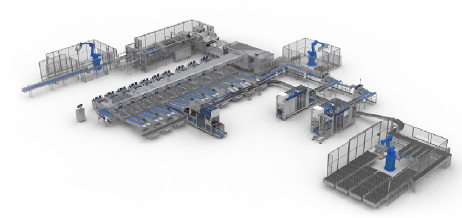 Moba, the world's leading producer of high-quality integrated systems for the grading, packaging and processing of consumption eggs, will present its new innovations at the VIV Asia; Innovations that are designed to improve the egg production chain.
The egg business is characterised by small margins: even the smallest detail can make the difference between profit or loss. In market segments ruled by margins, profits are maximised when costs are reduced to the absolute minimum. These costs, packaging, labour and losses, can be reduced increasingly by Moba equipment.
Total solutions with peripherals around an egg grader, such as case packing and (de-) palletizing robots connected to automated warehouses, reduce labour and packaging costs. Whether you need a solution for grading, packaging or processing Moba machines will add value to your operation.
Email: sales@moba.net
OMAZ – Stand H098.4314 – www.omaz.com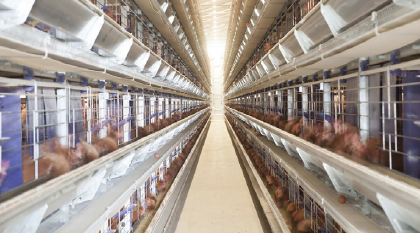 VIV Asia 2019 is always a crucial event for Omaz and the whole poultry business. We expect a great turnout of potential customers interested to our best-seller layer cage for foreign markets, the Space International, and the Nature BS72 system for broilers. The Omaz team will be more than happy to introduce customers and partners to its cage system, always trying to offer different solutions from the standard of the market. Our main goal is to provide long lasting, cost effective solutions to satisfy our partners, creating a relationship based on mutual trust and success. All this is possible because Omaz puts together more than 60 years in the business with the quality and service that have always characterised the company, working worldwide with a product 100% made in Italy and offering tailored solutions for the customer and its business. Visit us at BITEC in Bangkok and find out more at omaz.com.
Email: f.castricini@omaz.com – m.bellini@omaz.com
SmartStart™ – A fresh approach to post-hatch feeding by PAS REFORM – Stand H101.2730 – www.pasreform.com/smartstart

A unique partnership between Pas Reform, biotech start-up In Ovo, DSM Premix company Twilmij and Philips NatureDynamics has led to a flexible, ground-breaking post-hatch feeding solution that gives newly hatched chicks the earliest possible access to feed, water and light: SmartStart™.
SmartStart™ uses natural deep eutectic solvents (NADES) to retain water inside a semi-moist feed. The system offers a perfect start for newborn chicks, enabling them to eat, if they want to, from the moment of hatching. It promotes the development of robust day-old chicks and helps to reduce the need for antibiotics. SmartStart™ enables hatchery managers to apply post-hatch feeding where it will have most benefit and its components can be applied individually or in combination. The system is easily integrated into existing hatcheries and can be applied to some or all flocks; in one, two, or all hatchers. It comprises two key elements that can be applied individually or together: precision feeding and intelligent lighting. We very much hope you can join us at VIV Asia on stand H101.2730 to find out more. We look forward to welcoming you!
Email: info@pasreform.com

Achieving more and better chicks starts with using the best equipment. Petersime offers a wide variety of incubators, hatchery equipment and services and even designs, delivers and installs complete hatcheries.
At VIV Asia in Bangkok, Petersime will be delighted to show how their products and services lead to significant performance improvements of hatcheries worldwide. They will bring forward their latest product developments such as their new range of standard automation solutions, the Eagle Eye™ app and the Hatchery Alert System™.
Of course, their top-of-the-range incubators, Operational Excellence Programme™ and other renown products and services won't be left out.
Don't miss this opportunity and visit Petersime at Booth nr. 2940 in Hall 100. The Petersime sales team will gladly answer any question and inform you how you can maximize your profit for life.
Email: info@petersime.com
After the VIV MEA and the VIV EUROPE River Systems will also participate to VIV ASIA.
Participation in the VIV circuit events proved to have great outcome both in terms of contacts and results. This is why we decided to attend VIV ASIA again, to take advantage of a good showcase that allows us to meet new potential customers from all over the Southeast Asian region and let them touch and see our products. Products that obtained the 100% Made in Italy certification and and are developed and produced in a ISO 9001:2015 quality system.
In this occasion, our complete line of incubators, the ET series for 12, 24 and 49 eggs, and the ultrasonic humidifier NEBULA® will be displayed. The anti-waste feeders COMPACTA, ARCUS and ARCUS GYRO will also be displayed; their particular structure has been specifically designed to allow the animals to eat in a correct way, while preventing them from using their beak to spill the feed from the tray. The plastic used in all our products contains high levels of UV stabilizer and withstands the most diverse environmental conditions.
Email: info@riversystems.it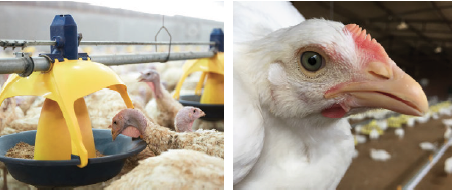 Come to VIV Asia and discover Titan for heavy turkeys: a new XL feeder pan for better growth results. Titan is the biggest turkey pan on the market. Expect bigger and comfortable feeding places with higher openings. Get 17% more feeding space compared to other large feeder pans. For farmers it is a big timesaver. Titan has central feed adjustment (optional) and is easy to clean. Be the first to find out more about this robust solution.
Order Natural Beak Smoothing at the fair
The Natural Beak Smoothing solution has been available to order via the Roxell distributors since early March 2018. We sense that the market is ready for this product and is looking for an alternative to painful beak treatments. That's certainly the case in the German and Dutch poultry markets, where beak treatments have either already been banned or soon will be. However, it's clear to us that other countries are also ready to invest in animal welfare, whether or not the practice is banned. Visit our stand and discover how a small investment will allow you to keep up with the changing market.
Email: info@roxell.com
SKA – Stand H100.3150 – www.ska.it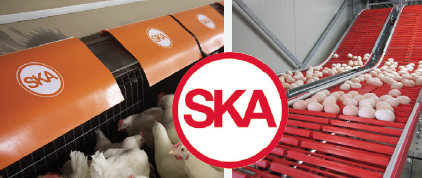 SKA is the Italian leader for floor rearing equipment, with more than 60 years of experience. Since its origins, SKA has been driving the evolution of the poultry industry with innovative products and creative solutions, and nowadays is manufacturing the widest range of equipment for floor rearing exporting in more than 60 countries worldwide.
SKA products are 100% made in Italy to ensure the highest quality and are well known to be exceptionally reliable and extremely resistant. Every one of our projects are designed to enhance the welfare of the birds and simplify the work for the farmers. With our continuing efforts to offer updated solutions, SKA will welcome you at our stand during the next exhibition – VIV ASIA, and present to you the best customized solutions.
We expect worldwide visitors, especially from Asia and Pacific and Middle East countries, to get a higher demand of broiler breeder projects, mainly for automatic nests and chain feeding system. Considering the general growth on all the Asian area, in terms of chicken meat's consumption, we hope to increase the number of our installations of broiler houses and also on breeder houses, because we have the right range of products to suit customer's needs.
Email: ska@ska.it
SOCOREX ISBA SA – Stand H106.274 – www.socorex.com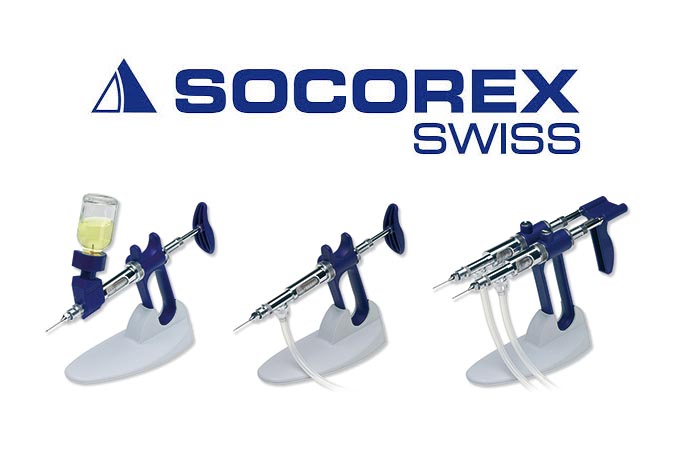 Socorex is a Swiss manufacturer of adjustable and fixed volume self-refilling syringes for serial animal injections. Feed tube and vial holder models with volumes ranging 0.025 mL to 10 mL. Ideal for poultry, swine, sheep, cattle. Their superior materials, perfect balance, ease of use, reliable field work are appreciated by professionals. Special features:
Long term reliability.
All parts interchangeable.
Tightness without O-ring.
Fully autoclavable.
Email: socorex@socorex.com
SPECHT Ten Elsen GmbH & Co. KG – Stand H100.3331 – www.specht-tenelsen.de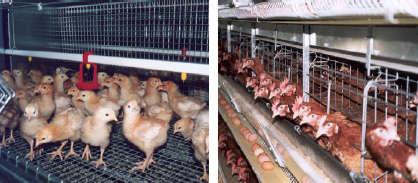 Since 1961, SPECHT Ten Elsen GmbH & Co. KG provides a great variety of battery models for rearing, egg production, parent stock and broiler growing. Today, the company is a leading developer and manufacturer of poultry equipment and helps successfully to maintain the German high quality image «Made in Germany» around the world.
Apart from this product range, SPECHT offers a complete equipment as ventilation, heating and cooling system, etc. High professionalism and deep knowledge accumulated over many years qualify us to find the best solution for the various problems associated with the planning of new poultry farms as well as the reconstruction of existing ones, taking into account all specific conditions individually for each poultry farm.
Visit our booth H100.3331 at the "VIV ASIA 2019" exhibition in Bangkok, Thailand from 13 to 15 March 2019. The company will show different types of Specht equipment like rearing cages, layer cages and broiler cages.
Email: info@specht-tenelsen.de
Bábolna TETRA, layers with superior genetic – Stand H100.2930 – www.babolnatetra.com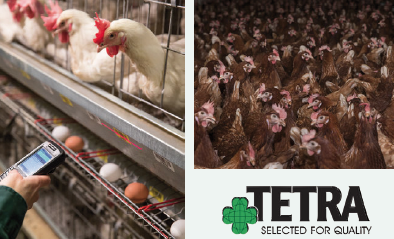 Bábolna TETRA has been providing layers with superior genetic background to the industry for over 50 years. The company offers a bird for every market and management system, along with an effective technical support in more than 40 countries. The target of Bábolna TETRA layer breeding has not changed much throughout the last decade, finding balance between welfare and economical production and increasing its share in the global market by predicting future trends of the sector. The effect of climate changes on animal husbandry, invention on precision feeding and housing techniques, as well as breeding for heat tolerance in layers and colored broilers, are hot topics for TETRA at present. The latest generation of their most popular products: TETRA SL LL lays 420 good quality eggs until 90 live-weeks, with low mortality and excellent internal and external egg quality; TETRA Amber, TETRA Harco are popular brown egg layers for alternative markets; TETRA L Superb, now ready to conquer the white markets with 410 eggs laid until 90 weeks of age; TETRA-H, SUPER HARCO and HB Color are slow and medium-growing broilers, with premium meat quality. Bábolna TETRA will be waiting for you on VIV ASIA 2019 at BITEC, Thailand in Hall 100, Booth 2930.
Email: tetrakft@babolnatetra.com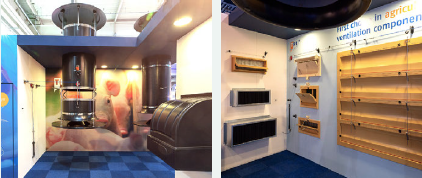 The VIV Asia offers a great opportunity to show the latest product developments and brand new products to the Asian market. As a worldwide producer & supplier of polyurethane ventilation components for the agricultural sector TPI-Polytechniek has built over 22 years of experience.
With our wide product range we make sure to offer the right ventilation components for all types of buildings in all climates over the world. We can offer products for extreme climate conditions due to our unique polyurethane formula, which offers the highest insulation values available in the market today.
This is the fourth consecutive time we visit the VIV Asia with our very own booth. Want to see what is new, hot and happening? Come visit us at booth 3325 in hall 100 and let's talk ventilation!
Email: info@tpi-polytechniek.com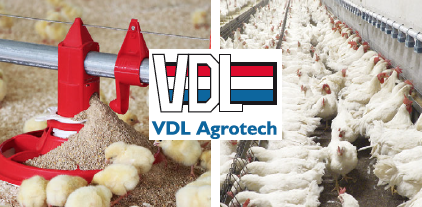 VDL Agrotech, member of the VDL Groep and a leading supplier of innovative livestock equipment, will feature its new innovations in poultry and pig equipment systems at the VIV Asia Show 2019.
VDL Agrotech's Poultry Equipment includes chain and pan feeding and drinking systems for broilers and breeders, feed storage, climate management, automation control and PoulDry® manure drying systems. The Matrix® Feeding System for males is the most recommended male feed system for breeders worldwide. The new generation is a unique and patented feed system developed to stimulate the uniformity of the males, to positively influence the fertility and to create optimal rest in the breeder house.
New for broilers are the Flow slider and Central slider option for the Valenta® pan feeding system. The Flow slider option makes it possible to dose approximately 1.5 kg of extra fresh feed in the open feed pans shortly before the day-old chicks arrive in the house. Feed will flow over the edge of the pan onto the floor, making it easily accessible to the day-old chicks. The Central slider option makes it possible to partially close feeding lines in a house where boilers are ready to move to the slaughterhouse. VDL Agrotech's Pig Equipment includes innovative feeding and drinking systems, housing equipment, feed storage, climate management, and automation control. On display are the VDL500 circular tube feeding system and the RescueCare™ system for piglets.
Email: info@vdlagrotech.nl
VAL-CO® – Stand H098.3941 – www.val-co.com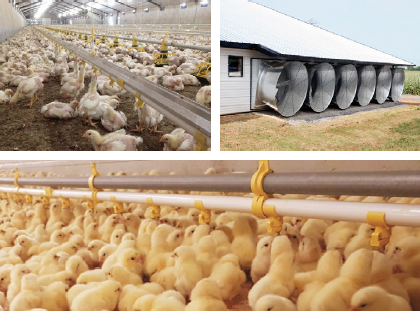 VAL-CO® poultry feeding and watering systems are known around the world for their outstanding performance and durability. From the United States to China, our systems are always made with the same care and quality. VAL-CO feeders have repeatedly shown great feed conversion in feed trials against other top companies. Our nipple drinkers provide the best access to clean water, and when maintained properly, will not leak and cause wet floors. When VAL-CO feeding and watering systems are used together, along with our ventilation fans and inlets, and our heating and cooling options, chickens grow bigger, live healthier, and are more productive. Let us prove it to you!
Email: intl.sales@val-co.com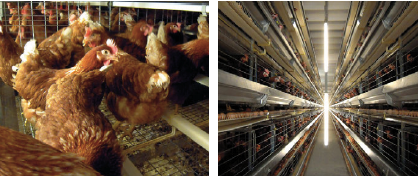 The latest transformations of breeding techniques, according to today market demands, make our customers pay their greatest attention in the way they invest their capital: "getting your money's worth" means earning higher and quicker profits thanks to solid, flexible and reliable equipment, with the certainty of a reliable and competent service.
VALLI, for over 60 years on the market in the breeding manufacture, offers optimal solutions, installation and after-sales service of its poultry equipment, a wide range of products to meet all customers' needs.
VALLI, present in over 70 countries all over the world, provides customized turnkey projects at the highest quality level and, in addition, VALLI is an absolute guarantee in terms of experience, listening and collaboration to study and build together the best possible solution.
VALLI can supply high-performance equipment for layers, pullets, broilers, breeders and traditional enriched or aviary systems for layer hens for a maximum welfare of the animals and a best rate of egg production thanks to the new Egg Elevator "Onda", designed to achieve the best performances, free maintenance, simple and sturdy, worthwhile to an hard daily work. VALLI: Quality you can depend on… but not only! VALLI is pleased to invite new and already consolidated customers to the VIV Asia 2019 fair in Bangkok, Hall 99, Stand 3550.
Email: info@valli-italy.com – YouTube: https://www.youtube.com/user/Vallitaly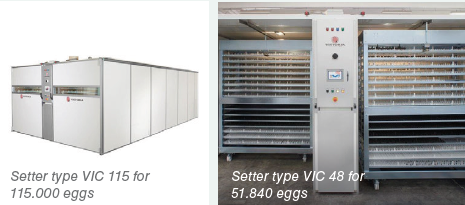 Victoria, an Italian Company specialized in Poultry incubators manufacturer since 1924 will take part to "VIV ASIA 2019". The Group, which operates internationally, bases its corporate strategy of the uniqueness for its incubators, which are the most advanced and sophisticated available on the market today.
In occasion of the show, Victoria will be proud to introduce its new Incubator for 51.840 and 115.000 eggs and relevant innovations regarding to hatchery and incubator disinfection though an innovative system called SANIDUCT.
Email: victoria@victoria-srl.com