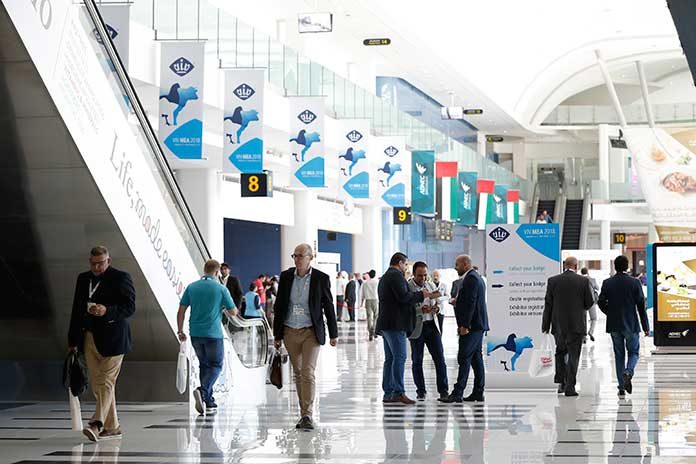 VIV MEA management team has decided to postpone VIV MEA 2020 to August 31st – September 2nd, 2020.
VIV MEA is the international trade show from feed to food for the Middle East and Africa.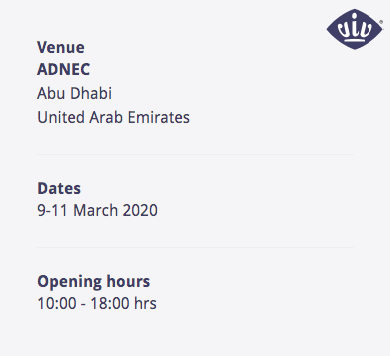 VIV MEA was launched in 2016 as a biennial hub dedicated to serving animal protein providers from the Middle East and Africa to Iran and the countries of the Indian sub-continent.
Good reviews from exhibitors and visitors has set the seal on a successful second edition of regional feed-to-food trade show VIV MEA. Their comments about the February 2018 event confirmed the value of having a truly professional and international show.
3rd Edition: a proven track record
In around three months, VIV MEA returns to Abu Dhabi for the third time. This international event is ready to bring this coming March an even wider exhibition to the heart of the Middle East, in Abu Dhabi.
VIV MEA 2020 will not only come with an enriched conference program, it will also offer more products and trade opportunities to the MENA region professionals, as it is strongly driven by business. 8000 professional visitors from the Middle East, Africa, but also the Indian continent and Asia, will be joining the event.
More exhibiting companies
With over 430 exhibiting companies from more than 40 countries, VIV MEA 2020 has expanded into an extra hall at the Abu Dhabi National Exhibition Center for a total of 17,500 sqm gross and an increase of 17% in terms of number of exhibitors.
This means more room for companies from feed to food, the full animal husbandry supply chain, to meet onsite.
Enriched conferences
The VIV MEA 2020 conference program includes sessions and seminars covering dairy, fish, poultry & eggs, cattle and calves, goat, and camels.
For its third edition this international show will feature a World Leadership Conference, where high-level industry speakers will be invited and key topics for the MENA region will be addressed.
Venue: ADNEC, Abu Dhabi – United Arab Emirates
Dates: 9-11 March 2020
Opening hours: 10:00 – 18:00 hrs
www.vivmea.nl

AVIAGEN showcases "Breeding Sustainability" at VIV MEA 2020, Hall 10 – Booth U025 – www.aviagen.com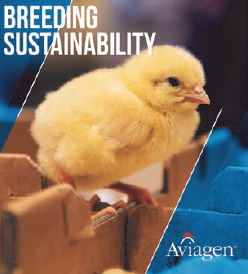 Aviagen® welcomes customers and the industry to hall 10, booth U025 at VIV MEA 2020 in Abu Dhabi. Regional customer support teams for all brands will be present from Turkey, the Middle East and Africa. Aviagen will exhibit its core product offerings, Arbor Acres®, Indian River®, Ross® and Rowan Range® available to customers in the region.
Aviagen has a long-term commitment and investment strategy in technology and innovation designed to produce and support the best performance portfolio of breeding stock and sustainability benefits for the industry. Through genetic advancements and balanced poultry breeding, we help to sustain the world's growing population with a nutritious source of protein, while at the same time lessening the impact of poultry production on the environment.
We look forward to seeing you in Abu Dhabi!
For information contact: info@aviagen.com
BARBIERI's wide range of products, Hall 08 – Booth H014 – www.barbieri-belts.com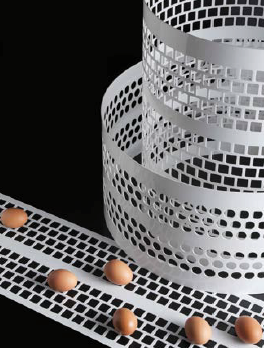 The production of egg conveyor belts, extruded belts and ropes is the final act of a long process that begins with the choice of the best raw materials and continues with the production of high-quality yarn.
Barbieri offers its customers a wide range of products:
Egg conveyor belts made of polypropylene, polyester in different colors and measures from 50mm till 360mm;
Extruded perforated polypropylene egg conveyor belt in width from 200mm to 500mm;
Manure belt in different thickness starting from 0,8mm to 3mm and widths starting from 500mm to 2500mm;
Perforated manure belt for dry systems;
Perforated polypropylene floor for broiler cages;
Polypropylene, polyester and polyethylene ropes in various sizes for feeding and drinking systems.
For information contact: info@barbieri-belts.com
BIG DUTCHMAN: Turn key expertise – and many topics more, Hall 08 – Booth F011 – www.bigdutchman.com
Big Dutchman is looking forward to welcoming many guests at the VIV MEA 2020 in Abu Dhabi. The impressive booth of the German equipment supplier in hall 8 provides much room for intensive technical discussions. Poultry managers from the region can expect a large number of clever innovations and well thought-out solutions for their farms. The central topic are turn key livestock houses.
For information contact: info@bigdutchman.de
CARFED, Hall 07 – Booth C017 – www.carfed.ch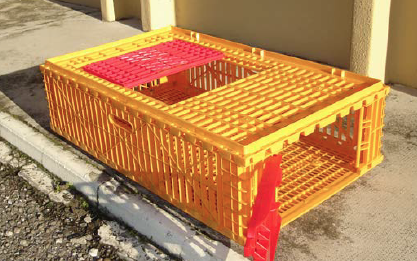 CARFED SA, the well-known Swiss-Italian group worldwide leader in live poultry transport crates will exhibit plastic crates for transport of live turkeys and ducks. Turkeys and ducks are more and more spread in the Developing countries. Some different live turkey and duck crates are available at CARFED SA:
+ MAXICARFED Code 43 not collapsible crate with 3 side doors (cms 99x58x42). This crate has 4 sides and bottom moulded in one piece so extremely strong and long lasting (monoblock). MAXICARFED crate can be used also with no lid (open top) as a Basket.
MULTI 100 "T" collapsible crate (cms 97x58x42) available also as Basket (Open Top, no lid) and with solid or perforated bottom.
MULTI 110 "T" collapsible crate (cms 108x58x42) available in the same styles of MULTI 100 "T" so as Basket as well (open top) and with solid or perforated bottom.
For sure the MAXICARFED Code 43 is the worldwide strongest turkey crate, much stronger of any collapsible/knocked down crate: lasting 3 times the normal life of a collapsible crate and we know as we have the MULTI 100 and 110 "T", it means that you save 2 times the price of a crate.
Besides visitors will find all other crates of the wide range of CARFED SA at the booth, including:
The collapsible Baskets (open top crates) MULTI 100 (cms 97x58x27) and MULTI 100 crates with different lids of same size to transport live chickens.
The collapsible Baskets MULTI 110 (cms 108x58x27) for live chicken transport and MULTI 110 crates with different lids of the same size.
The MULTI 100 OS MX collapsible crate (cms 97x58x27) with no closed corners and big top swinging Maximatic door cms 37×33: better air circulation and washing. The best for hot countries. Only six parts: easier assembling for unskilled people.
The MONDIALCARFED Code 46 collapsible for live chicken transport crate (cms 80x60x28).
The SUPER CARFED Code 40 not collapsible crate (Monoblock) available with 3 small doors on the three sides and big top door (cms 99x58x26) or with only 2 or 3 doors (code 37 and 38).
Day old chick boxes, egg transport crates, egg trays, trays for processed birds suitable for freezing at -40 °C will be exhibited as well.
Reliability, financial strength, top level quality worldwide are main features of CARFED SA.
For information contact: info@carfed.it
Cobb-Vantress, Inc. is the world's oldest pedigree broiler breeding company. Founded in 1916, Cobb is one of the world's leading suppliers of broiler breeding stock with distribution into over 120 countries. Cobb has contributed to the dynamic efficiency and growth of an industry that has transformed chicken into an economically affordable healthy protein source for many of the over 7.5 billion people in the world.
For information contact: info@cobb-europe.com
FACCO, Hall 07 – Booth E011 – www.facco.net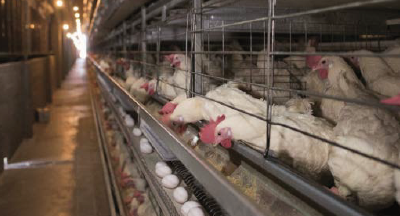 Food quality requires today innovation skills and focus on the whole supply chain, from feed to egg.
VIV MEA 2020 will give the opportunity to discuss and share ideas and Facco, for over 60 years world leader in the poultry field, will welcome you in booth E011 hall 7, with the complete range of avant-garde poultry solutions.
Facco (worldwide presence in over 75 countries) will be pleased to share its knowledge in the poultry field, focused on vertical cages products including the new battery system C5. Facco solutions are developed following the new technological trends coming from the evolution of the poultry industry market. These changes are well construed thanks to the strong Facco's customers relationship.
Highly qualified in Turnkey Solutions, Facco will be your partner in designing, analyzing data and managing projects using the most advanced technologies developed internally for your SMART FARM.
Keeping the highest quality as our standard, we will welcome you at our stand with our warmest, professional and friendly hospitality.
For information contact: facco@facco.net
FLEXY, Italian Poultry Equipment, Hall 07 – Booth C015 – www.flexy.it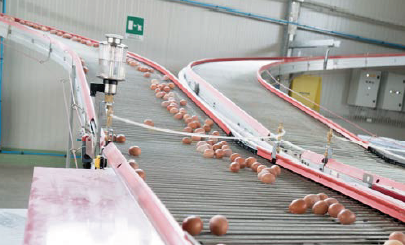 Established in 1998 has a wide experience on all the processes related to egg transportation and management. Our wide range of products includes the egg conveyor EGGWAY (available also with our lifter), communal nest FAMILY NEST (one of the best in the market) and semi-automatic nests, EGG TABLE, the FMDS (manure drying system) and the BROILER WAY (conveyor for chickens).
For information contact: info@flexy.it
GIORDANO Poultry Plast, Hall 07 – Booth B037 – www.poultryplast.com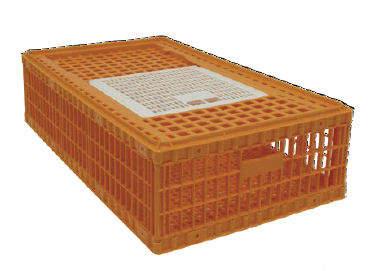 Giordano Poultry Plast, a leading multinational plastic moulding company, specialized in the production of poultry equipment, will be present at the upcoming edition of the VIV-MEA. Established in 1962 under the name of Avicolplastica and since 1974 as Giordano Poultry Plast, a handicraft company specializing in plastic equipment for poultry farming, the company has grown regularly over more than half a century to reach a very international dimension, both in sales and in production. Giordano Poultry Plast is glad to introduce its new Automatic Drinking Lines. The system has been upgraded starting with the pipe that goes from rounded to square shape 28×28 mm. This will provide a better result, not only during the use but also for washing at the cycle end. Also the pipes were changed as all plastic accessories and nipple. This new Automatic Drinking Line will also be easy to install, firstly because all the screws were eliminated and due to the larger space between the metal support and the plastic water pipe. The system includes "Super Drop" for broiler, "Pendolo Line" for Turkey and Duck (they will have different cups), completed by our already popular "Giro Line", a combination of 2 drinking lines with only 1 metal support (mainly used in the French market).
For information contact: info@poultryplast.com
HUBBARD Conventional and Premium; Your Choice, Our Commitment! Hall 10 – Booth T005 – www.hubbardbreeders.com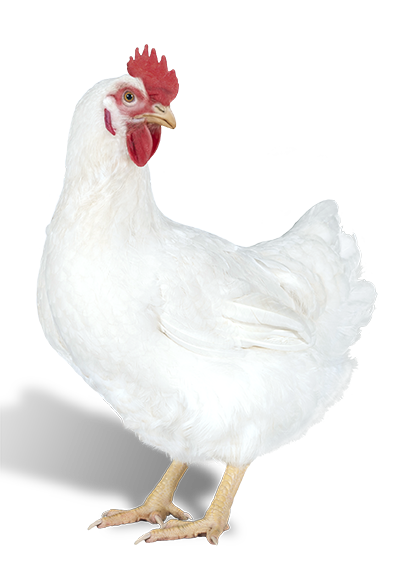 Hubbard has introduced the Hubbard Efficiency Plus for the conventional broiler markets looking for the efficient production of hatching eggs and chicks, fast broiler growth, low feed conversion, good conformation and uniformity.
With the Hubbard Premium product range, Hubbard is worldwide choice for speciality markets and offers a large portfolio of products with colour differentiation, slow(er) growth and excellent robustness.
For information contact: contact.emea@hubbardbreeders.com
Visit IMPEX at the VIV MEA, Hall 07 – Booth F030 – www.impex.nl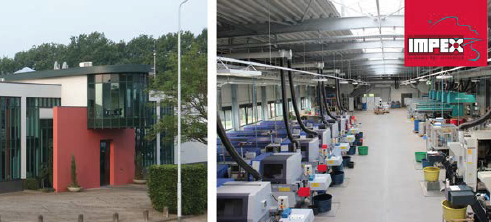 Clean, fresh drinking water is extremely important for a broiler and contributes to optimal production results. Unfortunately, this is still often overlooked by poultry farmers. It is important to think carefully about the right water supply for your poultry, because a poor-quality drinking system and incorrect management can not only cause health problems but also have considerable financial consequences.
The drinking water system is often only a small part of the total investment in a new poultry house. At Impex, experience has shown that the drinking water system generally receives too little attention and too often corners are cut in this area to achieve small cost savings, with all the associated consequences. After all, a poor-quality drinking system can lead to serious problems.
The production of a drinking nipple is very precise, because it is very important that the nipple closes perfectly, and it must continue to do so as time goes by so that no leaks occur. The accuracy and consistency of this process is often lacking in inexpensive nipples, with the result that the nipples leak over time and soon must be replaced.
Impex is one of the largest nipple manufacturers in the world and is based in Barneveld, in the Netherlands, which is renowned throughout the world as the centre of poultry expertise. From here, Impex is committed to providing poultry farmers worldwide with high-quality drinking systems. For almost 50 years Impex has guaranteed quality and excellent service, and its products are distributed all over the world through an extensive network of experienced dealers.
The production of these first-class nipples takes place at the company's own factory, near Frankfurt, Germany. This ultramodern production facility produces more than 30 million drinking nipples annually for the poultry sector and others. With the most modern machines and the latest technologies, Impex will continue to be able to deliver high-quality drinking systems that meet the company's three cornerstone values: Innovation, Service and Quality. Our expert team will be present during VIV MEA at booth 07.F030 to answer all your questions regarding drinking water management and are more than happy to help you find the right solution for your poultry production. See you there!
For information contact: info@impex.nl
INTRACARE on pole position at VIV MEA, Hall 08 – Booth L011 – www.intracare.nl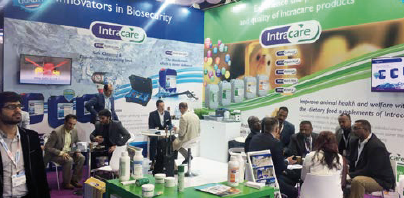 Intracare will be present at the 3rd edition of the VIV MEA in Abu Dhabi from March 9-11, 2020. We will welcome most of the distributors, integrators and opinion leaders from the Middle East & African region at our booth in hall 8, booth L011.
Intracare, a GMP pharma grade company, has a strong focus on reducing or completely replacing antibiotics. Rewarded as one of The Netherlands' most innovative companies, Intracare has solutions to guarantee clean drinking water, to battle Avian Influenza and other animal diseases. Their aim is to improve animal health, performance and welfare: topics of eminent importance for this region.
For us the VIV MEA platform will be the hotspot to share our pioneering innovations and rewarded products with the leading decision makers in the poultry and dairy industry.
For information contact: info@intracare.nl
JAMESWAY Incubator Company, Inc., Hall 10 – Booth T009 – www.jamesway.com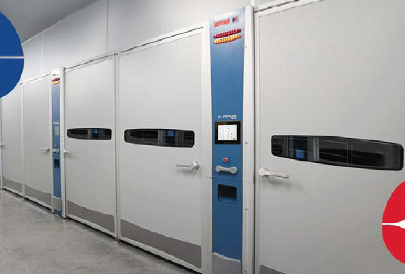 A hatchery that consistently performs well relies on equipment that is energy efficient, easy to use, install and maintain. Our practical and great performing machines are designed by hatchery experts to meet those needs and your bottom line. Jamesway is the partner you can rely on to consistently hatch high quality chicks.
Join us at Stand 10.T009 to see our Platinum 2.0 Single-Stage machines which allow you to produce the highest quality day-old chicks, ducklings and poults.
For information contact: sales@jamesway.com
JANSEN Poultry Equipment, Hall 07 – Booth B025 – www.jpe.org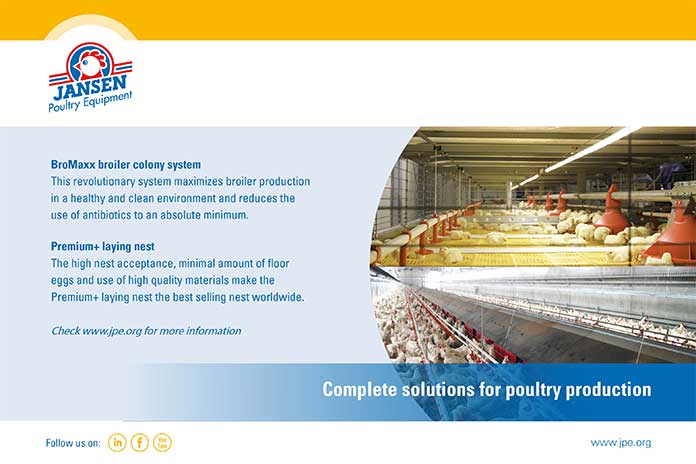 The JPE BroMaxx® guarantees broiler producers low production costs, easy management and high performance by creating healthy circumstances. The BroMaxx takes the manure, full of bacteria and ammonia, away from the birds. The smart harvesting methods result in significant saving on labour and a higher return on your investment!
For information contact: info@jpe.org
MAREL transforming Arabian poultry processing, Hall 09 – Booth R011 – www.marel.com/poultry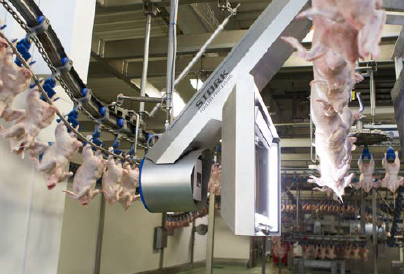 During VIV MEA 2020, Marel Poultry will focus on semi and full automation of poultry processing, as this is the road ahead for many Arabian processors. In Arabian and East-African countries, processing plants are growing in size. Therefore, their level of automation needs to increase too. Marel Poultry is able to supply made-to-measure systems and services that provide exactly the right level of automation. Marel will zoom in on plucking, evisceration, grading and distribution as well as water treatment.
For information contact: info.poultry@marel.com
MEYN and MAVITEC join forces at VIV MEA 2020, Hall 09 – Booth R038 – www.meyn.com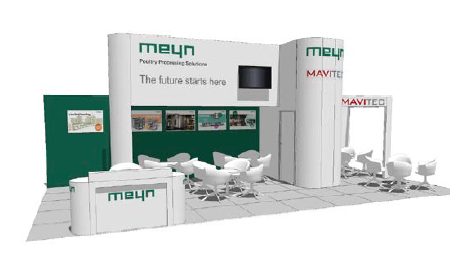 From March 9th to 11th these companies welcome all visitors at their shared booth R038 in hall 9. Visitors can learn everything about the poultry processing solutions of Meyn. From Live bird handling to Deboning and for line speeds from 1,500 to 15,000 birds per hour.
One of the highlights at the show is the new Rapid Plus breast deboner M5.0 with its semi-automatic loading of front halves. Automated breast deboning with the Rapid means significant labor reduction of up to 28 FTE per shift and provides undamaged back meat harvesting up to 35 grams per bird. The Meyn specialists find the best solution for every customer. Not only for equipment but also the lay-out of the plant and the complementary services to keep the line running. Through Meyn's subsidiary in Riyadh, Meyn has a deep understanding of the local poultry markets for better service and agility.
Welcome to Meyn – "Innovating the future."
For information contact: sales@meyn.com
NEWPHARM will present at VIV MEA 2020 a wide range of innovative and environmentally friendly insecticides and disinfectants, Hall 09 – Booth T050 – www.newpharm.it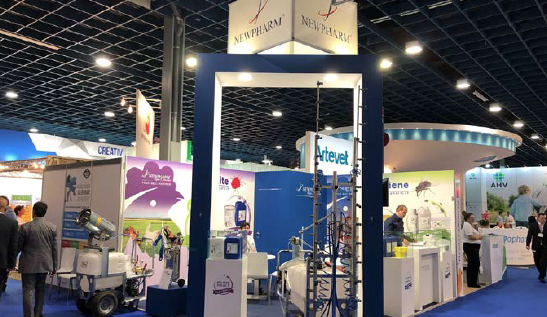 Newpharm is an Italian leading company active in the production and marketing of pest control and environmental disinfection solutions. At VIV MEA 2020 Newpharm will present a wide range of green, safe and effective products for pests and virus control in the livestock and food industries. Newpharm is a future-focused company interested in bringing forward low environmental impact solutions. De facto, Newpharm will launch two new fly control products: the ecological bait FLYREX® GRANULI and Larvmeth®, an effective Iarvicide against mosquito larvae and mealworms. FLYREX® GRANULES, thanks to its natural formulation in small, water-soluble, handy envelopes, attracts different species of flies and blowflies from considerable distances, creating dense clusters of insects. For the larvae control in livestock industries, Newpharm suggests Larvmeth®, an insect growth regulator larvicide (IGR) specifically thought for larvae, neither toxic for humans nor animals. A complete disinfection of livestock environments can be achieved through the use of Viroster® Veterinary. It has a neutral pH and is suitable for all washable surfaces. This product has immediate effects and destroys all microorganisms, including spores. For the food industries, Newpharm suggests Amminorex®. With a wide range of disinfectant action against bacteria, fungi and viruses, even at low temperatures, it has been specifically thought for the meat processing industry. Newpharm will present a professional equipment for the pest control and disinfection of environments. Mist Aersan® guarantees ultra-low volume sprayings on the entire interested area, reaching also the higher corners and cracks in the infested environment. Cannon Aer-San® is ideal for ULV sprayings on wide areas and can dispense concentrated and ready-to-use products. Newpharm will show its new branding which reflects the rebranding of the different branches of the Newpharm Group. It will be possible to discover the most innovative solutions which have been thought by the different industrial and manufacturing sectors, in particular in the post-harvest grain storage, in the livestock activity and in the pest control and disinfection of environments.
For information contact: info@newpharm.it
OMAZ, Hall 08 – Booth J014 – www.omaz.com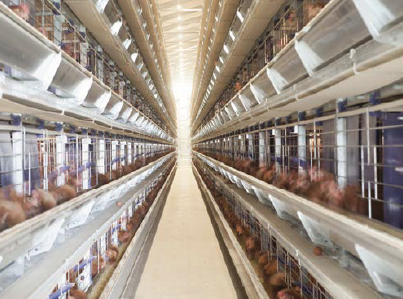 VIV MEA 2020 will be a strategical expo for OMAZ. The Middle East has always been a crucial area for OMAZ and this show is the best way to keep going this way. In our stand we will show our system for layers, the Space International AirP64.
It's particularly strong and easy to assemble. It is available in three different variants and 100% made in Italy. OMAZ supplies turnkey systems for commercial laying hens, broilers and chicks with fully automatic systems for poultry management.
For information contact: omaz@omaz.com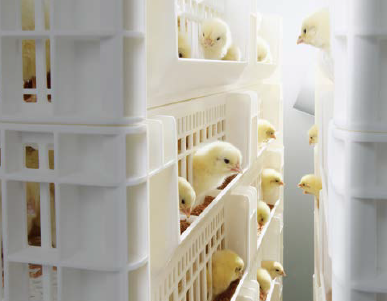 SmartStart™ from Pas Reform enables hatchery managers to apply post-hatch feeding where it will have most benefit. It comprises two key elements that can be applied individually or together: precision feeding and intelligent lighting. The system is easily integrated into existing hatcheries and can be applied to some or all flocks; in one, two, or all hatchers.
For more information visit our website www.pasreform.com/smartstart or contact: info@pasreform.com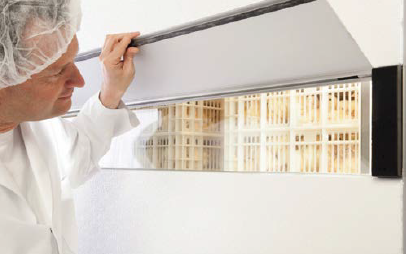 Petersime offers world-leading incubation and hatchery solutions with one aim: helping customers reach maximum results for the lifetime of their hatchery.
Meet Petersime's dedicated crew of specialists at VIV MEA and discover the new Virtual BioStreamer™ Incubator, alongside the company's wide range of state-of-the-art single-stage incubators.
For information contact: info@petersime.com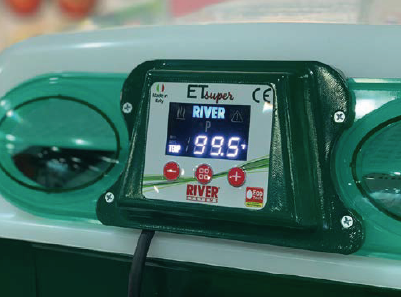 River Systems s.r.l. proudly confirms its participation at VIV MEA show, where Nebula, our ultrasonic humidifier for egg incubators, returns after winning numerous awards as best innovation. We look forward to presenting also our new incubator, ET-Super: it has a new display, interior light, 3 speeds ventilation and it shows the incubation day. Of course, our other renewed products and services won't be left out.
For information contact:: info@riversystems.it
ROXELL, Hall 07 – Booth D012 – www.roxell.com
The Roxell feeder pan is known as a symbol of high quality and innovation. Around the pan, there is a full line of systems for poultry houses. By combining Roxell products, you can elevate the feed conversion and profitability:
silos, auger systems, weighers, controllers and feed systems
automated drinking systems: nipples or cups
automated nests: spacious, sturdy, and animal-friendly
ventilation
For information contact: info@roxell.com
SKA, Hall 09 – Booth P011 – www.ska.it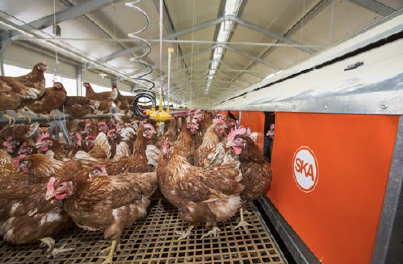 SKA's history runs parallel with modern poultry industry. With our inventions and continuous technical innovations, we have marked fundamental evolutionary changes in the field. Come and meet us at booth P011 hall 9 – VIV-Mea 2020, March 9-11. We will show you our complete range of floor equipment. Different solutions to make your poultry farm more efficient and profitable.
For information contact: ska@ska.it
SPECHT Ten Elsen GmbH Co. KG, Hall 09 – Booth P011 – www.specht-tenelsen.de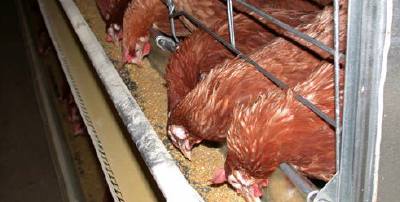 Since 1961, SPECHT Ten Elsen GmbH & Co. KG provides a great variety of battery models for rearing, egg production, parent stock and broiler growing. Today, the company is a leading developer and manufacturer of poultry equipment and helps successfully to maintain the German high-quality image «Made in Germany» around the world.
Apart from this product range, SPECHT offers the complete equipment as ventilation, heating and cooling system, etc. High professionalism and deep knowledge accumulated over many years qualify us to find the best solution for the various problems associated with the planning of new poultry farms as well as the reconstruction of existing ones, taking into account all specific conditions individually for each poultry farm.
Let's see you at our booth!
For information contact: info@specht-tenelsen.de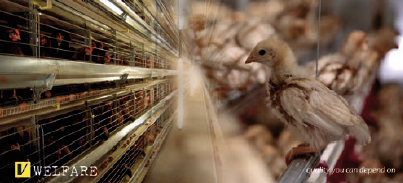 VALLI provides a wide range of products for laying birds from "A" frame cages for tropical climate countries, to manure belted systems with/without manure drying, Enrichable/Enriched multi-tier and Aviary systems to match the requirements of EEC welfare regulations.
VALLI also supplies rearing in standard and aviary configuration, parent stock and broiler cages.
Care, durability, flexibility, reliability and service are five concepts that deeply reflect VALLI's approach.
Valli is pleased to invite you to VIV MEA 2020 at Abu Dhabi from 9 to 11 March 2020.
For information contact: info@valli-italy.com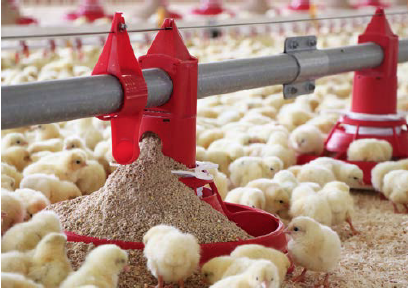 At VIV MEA 2020 we will show the Valenta Flow Slider. A unique feed pan which makes it possible to dose around 1.5kg extra fresh feed in the opened feed pans prior to the DOC's arrival. Around 0.5kg will flow over the edge on the floor stimulating feed accessibility for all DOC's, without extra labor cost and need for chick paper. We will also present the Matrix, Chainovation and PoulDry installation.
We look forward to welcome you at our stand!
For information contact: marketing@vdlagrotech.nl
VENCOMATIC GROUP, Hall 07 – Booth D007 – vencomaticgroup.com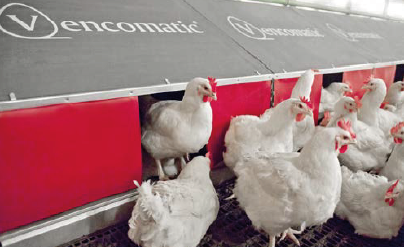 A hen has the natural desire to breed. To enhance her chance for offspring she will look for a safe, clean and sheltered place to lay her eggs. She will demonstrate this same behaviour in a breeder house. For successful hatching egg production, it is therefore essential to create the conditions that allow this behaviour. This is what we do at the Vencomatic Group. More than 30 years of experience have enabled Vencomatic's poultry professionals to design nest systems that perfectly match the need of breeding birds.
At VIV MEA we present our Grando Nest, a spacious nest, offering a solution for the bigger broiler breeders of today. The nest has a wide entry that makes it easily accessible for the birds, resulting in a maximum nest acceptance. The smart nest design ensures quick assembly, easy access to essential elements for maintenance, and thorough cleaning.
Let's meet and find out how our innovations can help you to get the most out of your poultry business.
We look forward to see you at our booth!
For information contact: info@vencomaticgroup.com
VICTORIA, a world leader in the production of egg incubators since almost 100 years now, renews its participation to the next VIV MEA 2020. The company, present on the market since 1924, has successfully been taking part for many editions at this important appointment. On this occasion, Victoria will present the last born, newly conceived incubator for 20.000 eggs of capacity, the final result of our constant research aimed to the expansion of the already wide range of incubators we supply. The Victoria focus will be, as well on the important novelties lastly introduced, on the new control board and the special trolleys. The processing of Victoria machinery is unique and customized to our customers' needs: in fact, each model is designed and manufactured to achieve the maximum results while conserving energy. Victoria is pleased to invite all the customers to take vision of the new products & novelties that will be presented during this important event.
For information contact: victoria@victoria-srl.com