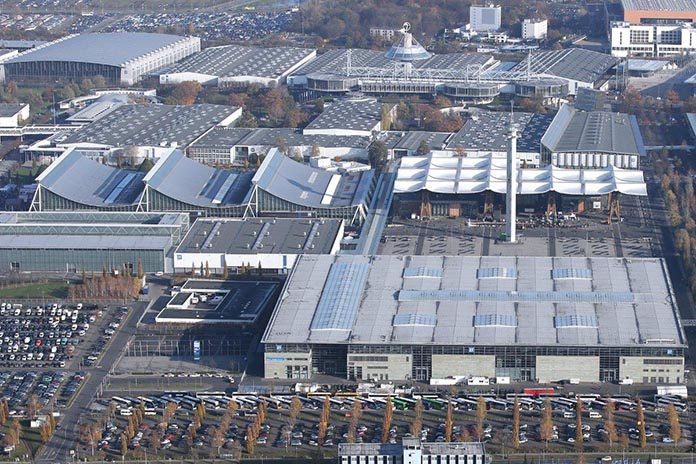 On 13 November 2018, EuroTier will once again open its gates to an international audience. Visit the world's leading trade fair with more than 150.000 visitors on a 250,000 sqm indoor hall space and you will get a fresh update on the state of art and the latest innovations in cattle, pig and poultry farming. The show will also be shining the spotlight on aquaculture, sheep and goat rearing as well as livery yards.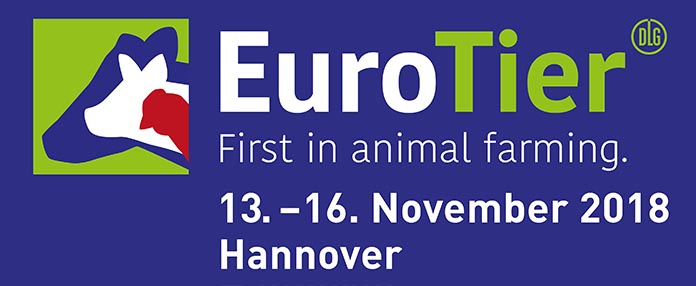 AB Vista explores unexploited opportunities to improve profitability with a new enzyme application at EuroTier 2018 – Hall 20, Booth C19 –

www.abvista.com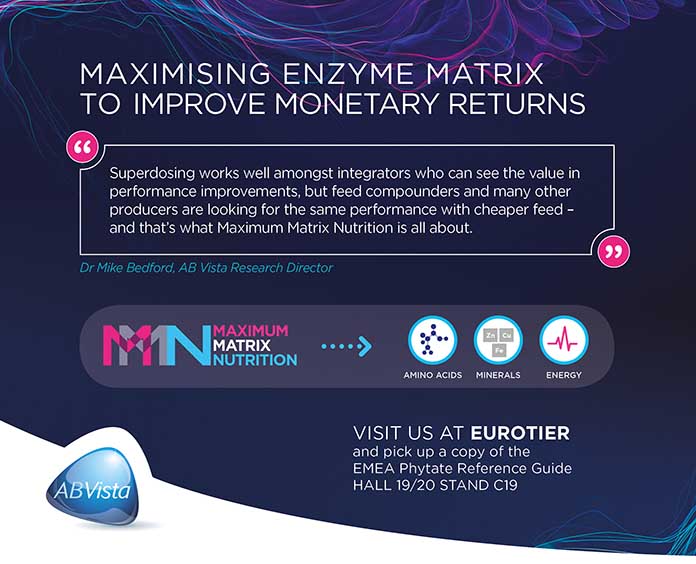 Exploring unexploited opportunities for enzymes to improve profitability is the focus for animal nutrition technology company AB Vista at this year's EuroTier animal production trade fair.
"Producers, nutritionists and suppliers continue to actively seek out ways to ensure incremental gains from their feed, whether this be through performance improvements or a reduction in feed cost", says Juan Ignacio Fernández, EMEA Director for AB Vista. Visitors to AB Vista's booth (Hall 20, Booth C19) can find out about a new enzyme application called 'Maximum Matrix Nutrition' that serves to deliver maximum phytate breakdown whilst reducing viscosity and increasing fibre fermentability. The net result is improved nutrient utilisation and a significant improvement in amino acids, minerals and energy, meaning diets can be formulated with higher nutrient credits, delivering considerable feed costs savings.
"Superdosing was relatively effective amongst integrators who can see the value in improvement in performance, but what feed compounders and many other producers are looking for is the same performance with cheaper feed – and that's what Maximum Matrix Nutrition is all about", explains Dr Rob ten Doeschate, AB Vista Technical Director EMEA.
Visitors to the company's booth will also be able to pick up a copy of the company's EMEA Phytate Reference Guide – a first for the animal feed industry. The guide will contain details of phytate levels for a range of raw materials available across the region.
The EMEA Phytate Reference Guide can be downloaded here.
Further information on Maximum Matrix Nutrition is available in this video interview with Dr Mike Bedford, AB Vista's Research Director.
AB Vista on +34918591787 or emea@abvista.com. Follow AB Vista on Twitter: @ABVista_EMEA.
AGRITECH'innovations at EuroTier 2018 ­–­ Hall 15, Booth D05 – www.agritech.it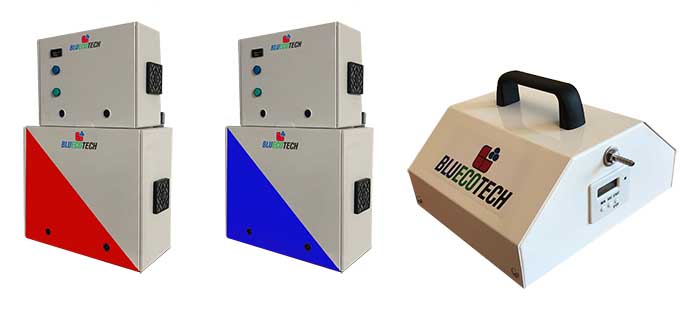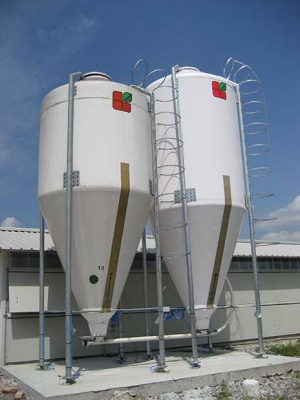 Agritech srl, the Italian company leader in the manufacturing of fiberglass silos, will present the ozone generators of the Bluecotech brand for the elimination of bacterial masses in the farm water and air. This process guarantees a complete sanitation of farm environments with highly positive results for the health of the animals thanks to consistent reduction in the use of polluting detergents.
Another innovation that Agritech will present is a smartphone App, thanks to which users will be able to keep a permanent monitoring of the temperature, weight and humidity of the feed stored in their silos.
agritech@agritech.it
AVIAGEN continues "commitment to global poultry industry" theme at EuroTier 2018 – Hall 17, Booth B52 – www.aviagen.com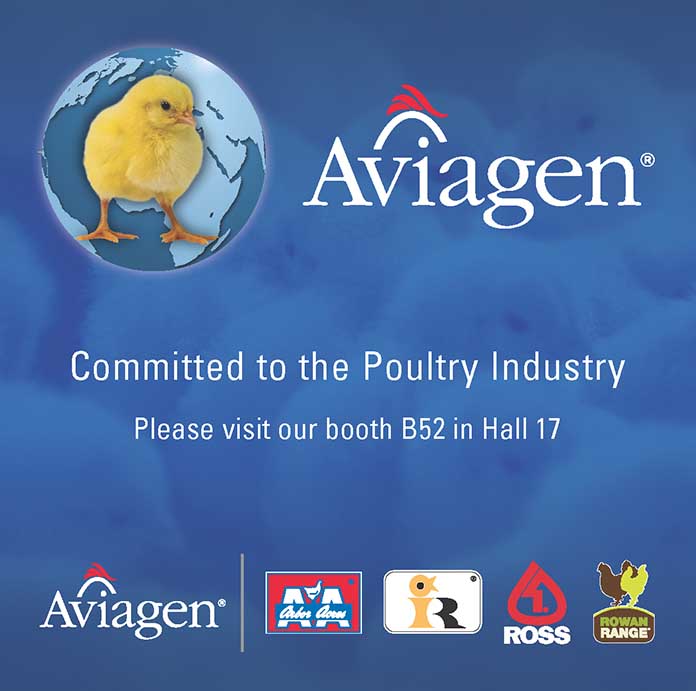 Aviagen® looks forward to welcoming customers and industry colleagues to stand B52, Hall 17 at EuroTier 2018. With regional customer support teams on hand from Europe, Middle East, Africa and beyond, Aviagen will continue to showcase its long-term commitment to the global poultry industry and its diverse breed offering under the Arbor Acres®, Indian River® and Ross® brands for conventional markets and Rowan Range® brand for slower-growing and coloured bird markets. "We look forward to seeing you in Hannover!".
info@aviagen.com
Aviagen Turkeys, raising levels of Sustainability, Health & Welfare – Hall 17, Booth B52a – www.aviagenturkeys.com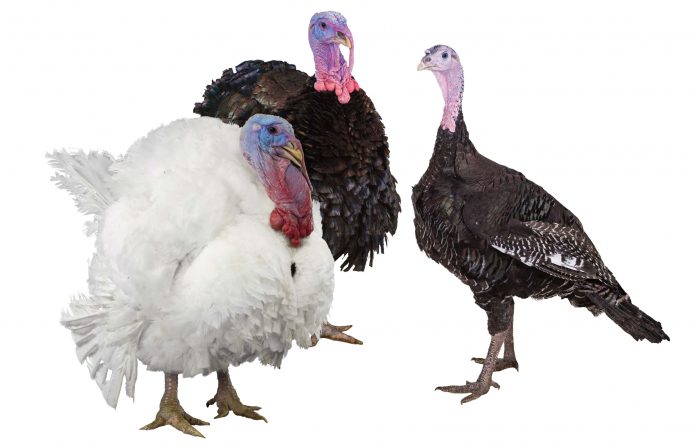 Aviagen Turkeys has two operations in two continents supporting the B.U.T., Nicholas and Hockenhull Turkey brands worldwide. The full-scale pedigree breeding programmes are situated in Europe and North America. Product quality assurance is achieved through careful attention to health, welfare, premier production facilities and company's veterinary and management specialists. Aviagen Turkeys provides a secure, global supply source and the opportunity to maximise product improvement and new product development. Their turkeys deliver advantages throughout the production chain, and based on continuous investment in their large pedigree breeding programmes. Through this investment the company delivers higher genetic progress supporting growth in the turkey industry making it even more competitive compared to other meats. Key to the growth and competitiveness of the turkey industry is efficiency of meat production, optimising inputs e.g. feed, water, litter and maximising the outputs e.g. meat and health. To achieve this, Aviagen Turkeys uses a balanced multi-trait selection strategy incorporating pioneering techniques, to offer improvements in health, welfare, efficiency and ease of management. Examples of such techniques include the use of X-ray technology to give strong skeletal build. Use of unique transponder-based water and feed intake recordings also provide a bird with the best gut health. Multi-environment selection gives a higher immune competency and removes the need for prophylactic antibiotics usage. These techniques and skills of selection produce an Aviagen Turkey breed portfolio, which is efficient, healthy, robust and easy to manage both as commercial and parent stock. This gives their customers birds with increased competitiveness and importantly, environmentally and financially sustainable production. Core to new product development is the preservation of genetic variation by careful selection and having a large diverse gene pool. Aviagen Turkeys has 40 turkey lines of 14 different colour variants. This diversity is the tool with which successful new products are developed for both standard and alternative production systems, white and coloured feathered birds alike, depending on customers' needs. Aviagen Turkeys works closely with the turkey industry to develop the turkey of the future. The combination of Aviagen Turkeys large gene pool, balanced selection programme and high levels of investment in new science ensures we have the strongest product options – right now and in the future.
Aviagen Turkeys extensive product portfolio provides their customers with choice from a range of market-leading products to suit specific operations and requirements.
For more information visit the Aviagen Turkeys stand at EuroTier 2018 – Hall 17, Stand B52. turkeysltd@aviagen.com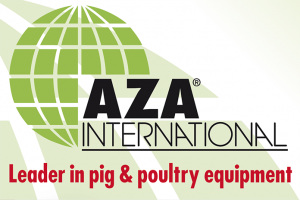 AZA INTERNATIONAL was founded in the late '50s and has always been recognized as a leader in the production of equipment for the transportation and automatic distribution of livestock feed.
After the great interest shown by visitors for AZA products at the last edition of VIV Europe in June, at the coming EuroTier Fair, Stand G06 in Hall 16 , AZA INTERNATIONAL has decided to present the same range of products complete with the new large-scale conveyor systems and all its innovative linear feeders and hopper, designed specifically for the needs of broiler, layer, breeder, rooster, duck and turkey farming. All are high quality products at competitive prices.
The heavy-duty conveyors capable of transporting up to 12 cubic meters/hour are available in chain link measuring 76 and 114 diameters. The stainless steel chain link conveyors and hoppers are all made with top quality materials. The curves and feed outlets are available in different shapes and materials depending on the type of feed that requires to be conveyed. They represent the ideal solution for all those customers who need to transport large quantities of feed from one or more loading points to one or more outlets. An example of where this type of application can be seen to be effective is in the cage sector where there is a need to transport large quantities of feed quickly without the feed breaking up or crumbling as happens with spiral conveyor systems.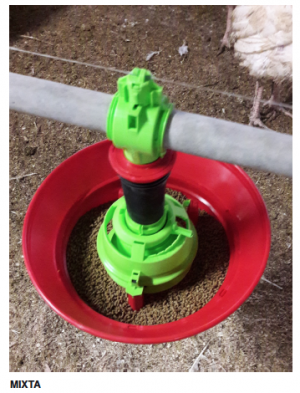 The MIXTA feeder, presented during the last edition of the SPACE fair in Rennes, is enjoying great success both in duck farms and also in countries such as France, Morocco and Algeria, where poultry farmers alternate between growing cycles of chickens and of turkeys. Those who believed in this product and started using it, have appreciated its ease of use. It is completely automatic and allows all internal components to be easily washed and sanitised as compared to other products on the market. MIXTA is equipped with an anti-chick ring that prevents chicks in the early days of the growing cycle from entering the hopper which is very important, especially when used with turkeys. The transition to the adult phase occurs through the application of a secure collar which is simply assembled and dis-assembled without the aid of screws or tools.
The PRATIKA feeders for broilers is completely automatic and has been designed to guarantee optimal feed distribution. The hopper has a fully automatic system for adjusting the feed and for opening the pans to facilitate cleaning and sanitising. PRATIKA is now also available in a specific version for cages that has no parts jutting up above the feeding tube.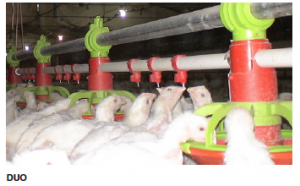 The DUO system for broilers has automatic regulation and is characterized by the fact it combines the feeding line with the watering line. This reduces bird movement and frees up space in the shed. Another advantage of the DUO system is that both the water and feed lines can be simultaneously lifted. The COMPACTA range is judged to be an ideal feeding system for turkey poults.
The BREEDAZA system is an innovative system for the controlled distribution of feed using linear trough feeders ­– a feeding system which is particularly suitable for flocks of breeders and laying hens housed either in cages or on the ground. Compared to flat-chain or spiral systems the BREEDAZA system works with a chain equipped with a plastic ring that runs inside the anti-stop tube. The system is installed above the plastic channel and creates no obstacle so birds can comfortably eat and clean out all the feed in the line at the end of each feeding cycle. The BREEDAZA system guarantees a fast and homogeneous distribution of the feed along the entire line, greatly reducing the feeding time of the flock. At the end of the growing cycle the cleaning operations are simple and quick. It requires only one lifting unit and a single lifting point even for feeding lines of 300 meters' length. With this type of feeding system, the loading silo can be positioned at the end rather than in the centre of the poultry shed. The BREEDAZA system is equipped with an adjustable anti-rooster grill to allow separate sex feeding.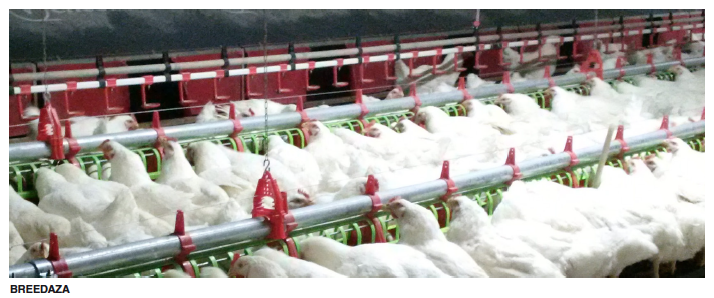 The SELF-DOSY feeder pan is another product that AZA INTERNATIONAL is presenting to its customers. This is a sturdy feeder, designed specifically for breeding males, which incorporates an innovative volumetric dispenser with centralized control that allows management to change instantly, across the line, the amount of feed to be distributed to the feeding pans. The amount of feed to be distributed is calculated according to the reproductive cycle of the males. With this system the operator no longer requires to use the various feed pre-weighing systems nor to raise the feeder line away from the birds during the feed filling phase. The SELF-DOSY feeder is very easy to clean and sanitise thanks to the removable bottom that allows for a complete cleaning of all the component parts.
The MODULA is a feeder designed for turkeys right through from the day-old stage up to the maturity stage of heavy males. It's robust, easy to operate and available at a very competitive price.
info@azainternational.it
EUROSILOS's fiberglass silos at EuroTier 2018! – Hall 3, Booth A13 and Hall 15, Booth A36 – www.eurosilos.it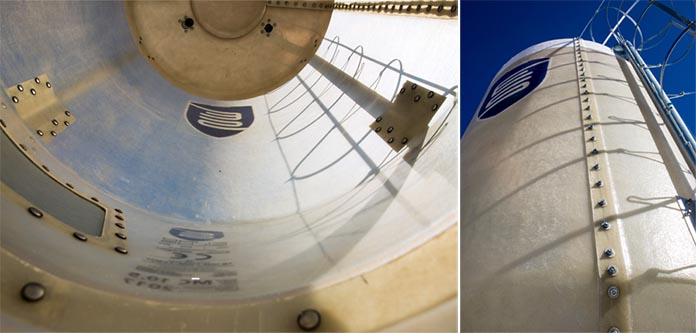 The company Eurosilos Sirp dates back to the early seventies: they manufacture modular GRP fiberglass reinforced silos for livestock farms, which comply with the static international regulations and are awarded of quality certifications.
GRP in modular scheme can be loaded into trucks or containers to be delivered worldwide.
Eurosilos Sirp also provides innovative and tailor-made transport solutions for filling and discharging silos, such as tubular conveyors and flexible augers.
The company will again exhibit in EUROTIER with two booth locations, Hall 3 Booth A13 and Hall 15 Booth A36. "We are eager to welcome your visit while our extensive experience will be shared to come up to any needs you may have about our product range".
contatti@eurosilos.it
GIORDANO POULTRY PLAST welcomes visitors and customers at the EuroTier Fair – Hall 2, Booth C11 – www.poultryplast.com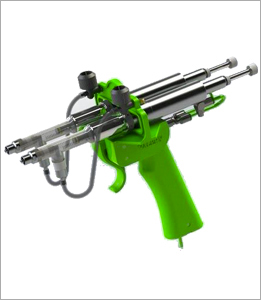 Giordano Poultry Plast SpA operates on the market since 55 years, being present in all 5 continents with more than 60 distributors and several direct customers. The company's huge range of products includes manual & automatic Drinkers & Feeders, poultry transport Crates/Containers for slaughtered birds, breeder & poultry Slats, Eggs Cargo System® and vaccination Devices.
Valery Technologies, a division of Giordano Poultry Plast, the leading multinational plastic moulding company with headquarter in Caraglio – Italy, will be present at the upcoming edition of EuroTier 2018, at the stand n. C11 – Hall 2.
Valery Technologies is specialized in the design, production and marketing of automatic vaccine administration devices. These technologies optimize quantities and methods of administration, together with the reduction of stress for animals, now globally recognized as an essential requirement to ensure a significant control of health risk, increase the economic result of the breeding, while reducing fatigue of the staff assigned to the administration.
Valery Technologies not only offers equipment, but technological solutions to the most varied requirements, with a wide and diversified range of proposals, in response to the many needs of the entire livestock sector, in all stages of productive life: from breeding to the incubator, from the laboratory to the veterinary clinic, through automatisms, supply systems and technological solutions of injection and administration the most diversified, such as: the "needleless" to reduce the risk of transmission of diseases through the needle, nebulisation, scarification, ocular vaccination, oral administration, nasal, endo-mammary infusion, etc.
The range of Valery Technologies solutions meet the specific needs of the main species of livestock interest: ruminants, pigs, poultry and rabbits.
Essential added value is represented by the possible customization of each reference to the precise needs or requests of the client, to the animal species and to the characteristics of the product to be administered.
info@poultryplast.com
INTRACARE welcomes visitors at EuroTier 2018 – Hall 23, Booth C34 – www.intracare.nl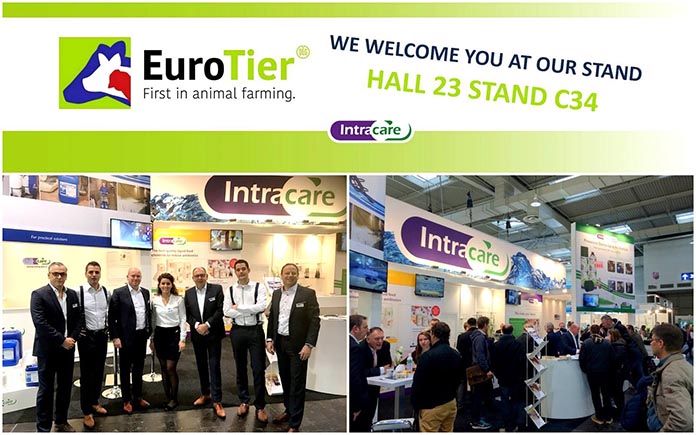 "Just like the previous editions, Intracare will participate in this exhibition in Hannover, Germany from 13 to 16 November 2018. The EuroTier provides just about everything there is to know about animal health, hygiene, animal production, agriculture equipment, etc.
EuroTier is the place where international visitors and exhibitors share novelties and stay fully up-to-date about the latest developments from the industry.
We wish you a very warm welcome to our stand during the EuroTier. Intracare is situated in Hall 23, Stand C34. We really look forward to seeing you again and to discuss business with you personally."
"We hope to see you in Hannover!"
avdvondervoort@intracare.nl
REVENTA »ZED« Professional 1800 perfectly combined with High Pressure Cooling – Hall 17, Booth A05 – www.reventa.de

The new »ZED« Professional 1800 can easily be combined with a high pressure cooling system and ensures a noticeable cooling-off in the stable during hot, dry days.
The »ZED« Professional 1800 is a ceiling fresh air inlet and has a wavy structure for high air outlet velocity. Thanks to the flap's shape the air is directed towards the ceiling and is guided reliably and targeted, even when the inlet is fully open. With a small opening in winter, the air outlet velocity is increased thanks to the nozzle contour, so that no cold air falls into the animal area. The »ZED« can be supplemented with an attachment so that this fresh air inlet can easily be combined with a high pressure cooling system.
info@reventa.de
ROXELL is expanding and updating its range of feeding systems – Hall 17 Booth D18 – www.roxell.com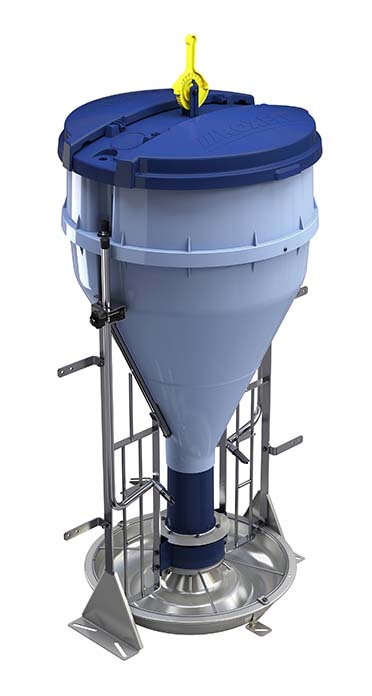 The round Blu'Hox feeder responds to the ever more complex needs of the market.
Roxell, the leading manufacturer of automated feed, drink and heating systems is presenting at EuroTier its new range of round, ad lib feeding systems for pigs. Blu'Hox now comes in a new range that offers a solution to the increasing number of weight classes and the growing wean-to-finish market. These automated feeding systems reduce the need to adjust settings manually. In addition, the new Blu'Hox range guarantees a significant time saving for the farmer. Manual feeding is completely redundant and the material and the round shape is quick to clean.
Roxell is expanding its range with Blu'Hox W2F, a wean-to-finish feeding machine. Blu'Hox W2F is a first-class solution for the wean-to-finish market, which is growing in popularity, where piglets remain in the same house throughout their stay. From young pigs to older ones, they have constant access to feed and water in the same feeding pan. The drink nipples can be height adjusted and the water pressure can be adjusted to suit the growing pigs. A unique feature is that the Blu'Hox W2F requires no extra manual feeding when starting up.
Nowadays, the pig market is making a shift towards using a larger number of weight classes. Roxell is responding to this by introducing a wider range of Blu'Hox feeders both for piglets and heavier meat pigs. Models range for small piglets from 5 to 45 kg and for meat pigs up to 145 kg.
The updating of the existing Blu'Hox products includes now making the feeder pans from stainless steel. They are easy to clean for the farmers and easy to install and transport for the installers. The sleeker design allows the pigs to stand closer to the pan. Young pigs can get to the feed more easily as a result. Roxell has also updated the agitator in the feed hopper. It is no longer possible for bridges to form in floury or sticky feed. For farmers who give pellets or crumbs there is a new pressure reducer. Manual control of the quantity of feed is kept to a minimum as a result.
"With the pellet pressure reducer in the new Blue'Hox I only have to check the optimal setting for the feed dispensing rotor every 6 weeks", says Peter Vermeire, a Roxell customer from Stalhille, Belgium. "I save a huge amount of time as a result. Time that I mostly use to observe my animals."
"These product innovations in our pig segment have come about because we always keep a finger on the pulse of our customers", says Frank Hartmann, Marketing Manager at Roxell. "We want to offer top products, which easily pay for themselves in time savings thanks to their quality and efficient operation. The innovations that we are launching today will make a fundamental contribution."
frank.hartmann@roxell.com
Injection syringes by SOCOREX – Hall 2, Booth E04 – www.socorex.com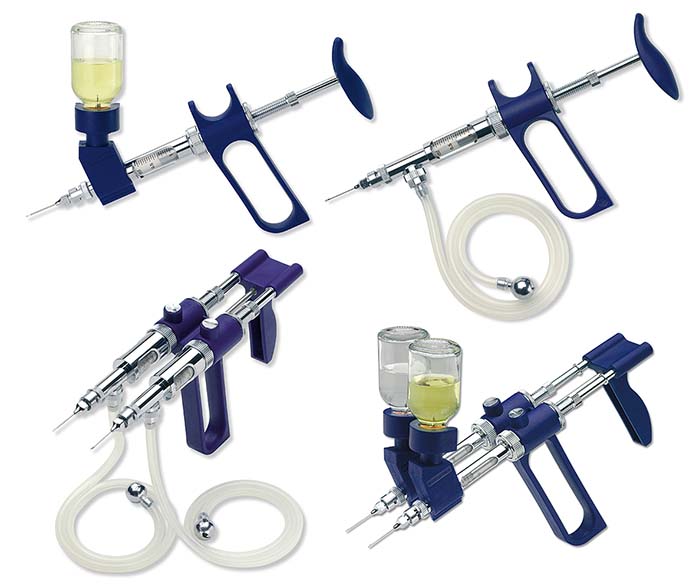 Socorex is a Swiss manufacturer of automatic syringes designed for precision animal injections. Fixed and adjustable volumes, feed tube and vial holder, supplied in volumes from 0.025 mL to 10 mL. Tightness without O-ring, quality materials, perfect hand comfort and reliable field-work are features appreciated by professionals. The Twin syringes ranging from 0.025 to 5 mL, are intended for simultaneous injection of two liquids. Both volumes are adjustable separately. All syringes fully autoclavable. Visit Socorex at EuroTier 2018 booth 2/E04.
socorex@socorex.com
Save the date, EuroTier is coming! Visit tpi-polytechniek – Hall 17, Booth H16 – www.tpi-polytechniek.com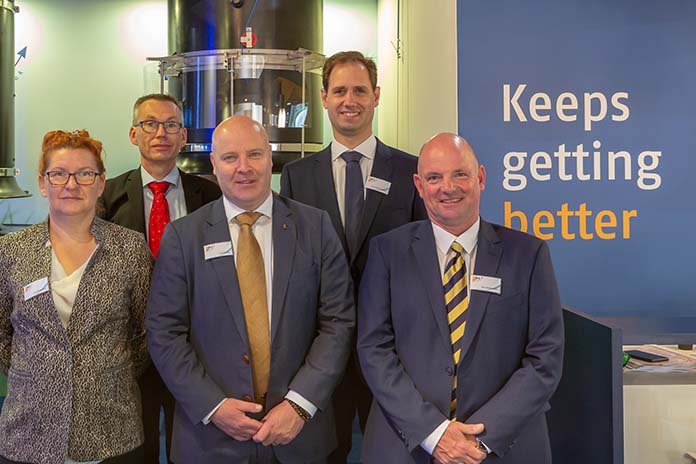 From 13 – 16 November we will be exhibiting in Hanover Germany at the EuroTier 2018. Visit us to see the latest developments and our newest products to be released during this exhibition.
TPI-Polytechniek is worldwide supplier of ventilation components renowned for their unique insulation value and high quality finishing. We will show a big part of our program with extra attention on equipment for the pig sector.
"Curious to the latest techniques or trends? Let's talk ventilation!".
info@tpi-polytechniek.com

Val-Co chose to have a more flexible presence at EuroTier this year and arrange mobile meetings to get a better impression of the show as well as have the opportunity to greet all the customers and suppliers personally.
"We see this as a nice chance to introduce our recently appointed area sales manager for Germany, Austria and Benelux, RikVerweij, to our business partners and to the German/International poultry world."
On November 13th and 14th both Rik Verweij and Galina Sadovska – Regional manager Europe and Africa, will be available at the show for meetings or introductions.
Reach out for us on the below numbers and we will open the world of Val-Co for you.
Rik +31 611 07 16 28 rverweij@val-co.com
Galina +31 622 693068 gsadovska@val-co.com
VDL Agrotech to Showcase Equipment and Drying Technology at EuroTier 2018 – Hall 17, Booth F35 – www.vdlagrotech.com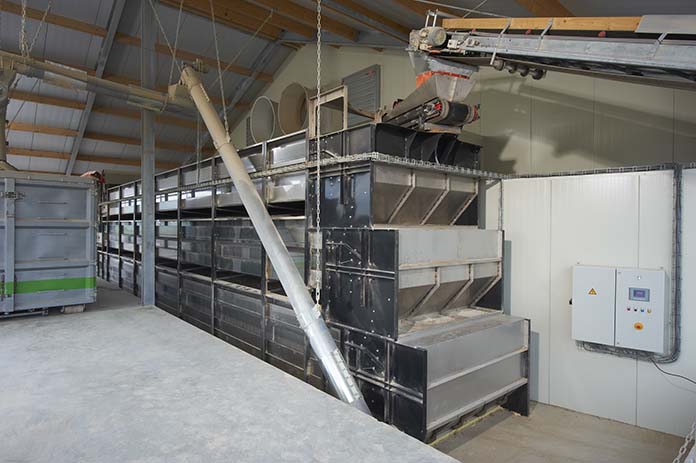 VDL Agrotech, a leading supplier of innovative livestock equipment, will feature its Drying Technology and Pig Equipment at the EuroTier 2018, in Hall 17, Booth F35. VDL Agrotech's Drying Technology System Pouldry is designed to dry poultry manure, but it is also perfectly suited to dry substances like digestate, potato wedges or woodchips in biogas and industrial environments. VDL Agrotech's Pig Equipment includes product groups such as feeding and drinking systems, housing equipment, feed systems and storage, climate management, and automa5on control. On display are the VDL600 circular tube feeding system, the new Corner Drive Unit and the RescueCare™ Cup system for piglets.
info@vdlagrotech.nl
VOSTERMANS Ventilation, energy efficient fan technologies with best in class performance – Hall 17, stand B10 – www.vostermans.com/energysaving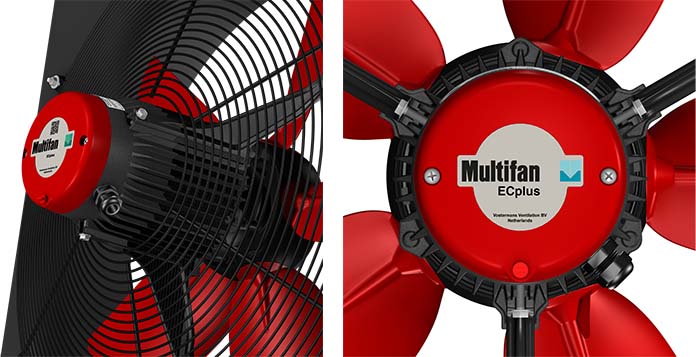 Axial fans of the company's brand Multifan are well known for consistent high quality, durability and longevity. With the introduction of the ECplus and Vplus technology, Vostermans Ventilation is now addressing the need for more energy efficient fans.
The ECplus technology, with intelligent fan drive, is characterized by significant energy savings combined with reliability under harsh conditions in for example the livestock industry. The Vplus technology is the next step for lowering the energy consumption and is the answer to the energy challenge.
"Visit us and be inspired by our energy efficient fan technologies. We are pleased to welcome you at Hall 17, stand B10."
ventilation@vostermans.com