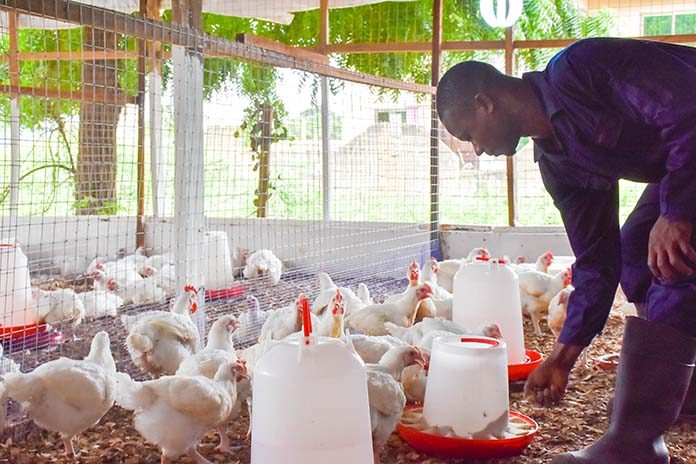 The African Union, a continental organization of 55 African countries, has recently launched the operational phase of the Africa Continental Free Trade Area (AfCFTA), which is expected to be the world's largest free trade area on account of the number of countries, in bid to establish a single market for traded goods such as poultry and poultry products and trade services.
The AfCFTA Agreement, which comes at a time when Intra-Africa trade has been historically low with exports within the region estimated at 16.6% of total exports in 2017, compared with 68% in Europe and 59% in Asia, promises to create "a clear, transparent, predictable and mutually-advantageous rules to govern trade in goods and services, competition policy, investment and intellectual property."
The Agreement also coincides an attempt by some poultry producers in the continent to review their poultry sector trade policies to stimulate growth in production and cut down on imports of poultry products into the continent.
Although the AfCFTA Agreement has outlined how the signatory countries will work together on matters of customs procedures, trade facilitation, the notification of national trade regulating measures, the monitoring of compliance, new negotiations, trade remedies and safeguards, standards, non-tariff barriers, the regulation of service providers, as well as dispute resolution, it is not yet clear how sensitive sectors such as poultry is likely to be impacted.
The biggest challenge currently is the huge differentials in tariffs among Africa poultry producers and divergent import regulations that have been linked to smuggling of poultry products across the countries' borders and stifled growth in other markets with huge potential for expansion.
For example, the West Africa country of Benin, which is one of the AfCFTA members, imported Euro 80 million worth of poultry meat that is fresh, chilled and frozen from the European Union in 2018, a 13.7% decline from the Euro 102 million it imported in 2017. Subsequently, more than 80% of these imports are sent to the neighbouring Nigerian market.
The EU is not exporting directly to Nigeria because of the country's existing restrictive ban on imports of frozen poultry meat to protect the local market.
"If trend is not checked and brought under control, the huge investments in poultry industry might be rendered unproductive and economy brought to total collapse," said a previous Nigerian government statement on the entry from Benin of cheap EU frozen poultry meat.
With the AfCFTA Agreement, African countries will have to agree on a common tariff for poultry products imports to protect the region's industry from collapsing while at the same time encouraging fair competition with other global poultry producers.
Furthermore, some poultry producers such as Ghana, South Africa, Uganda, Kenya and Mozambique have previously imposed separate bans on importation of poultry products including from other African countries that have experienced Avian influenza outbreaks or importing from European, North American and Asian countries with similar disease outbreaks.
However, the various bans on these poultry product imports have seen a proliferation of cross-border smuggling and shortages forcing governments such as Ghana to lift the suspension of import licensing system for poultry meat to address falling supply of the food products in the country.
Previously, South Africa relied on the EU poultry meat imports, which because they usually come in as 'cut and butchered' are more affordable and convenient for consumers hence having a competitive edge over the locally processed poultry products.
The government has now launched a team to develop an action plan around the new AfCFTA that would also come up with proposals on how the country can support the continent's trade in poultry and poultry products while at the same time protecting the growth and performance of the domestic market, which employs an estimated 50,000 people.
"We need find a road to a more competitive, inclusive industry employing more South Africans (and) there are opportunities for us to sell more chicken meat in other parts of the world, increase our capacity and bring down prices for local consumers," said Ebrahim Patel, South Africa's Minister of Trade and Industry.
However, the country's Agriculture, Land Reform and Rural Development Minister, Ms Thoko Didiza said in early November poultry production "has been static for the last decade despite the fact that consumption has continued to grow."
"This has happened because imported poultry has come into the economy in large quantities, displacing South African meat especially at the lower end," she said during the launch of South Africa's master plans in the poultry sector, which is part of President Cyril Ramaphosa's re-imagined industrial strategy for South Africa.
Heads of State and government meeting in South Africa on November 6 during this year's Africa Investment Forum supported AfCFTA saying the Agreement is "a historic development that promises to fundamentally reshape African economies."
"The Continental Free Trade Area will improve access to existing markets and lead to the creation of new ones," said Ramaphosa who was accompanied by Rwanda's President Paul Kagame and Ghana's President Nana Akufo-Addo.
Africa's poultry market is estimated to be worth US$15 billion with much growth expected in Ethiopia, Kenya, Ghana, South Africa, Rwanda, Uganda, Angola, Malawi, Senegal and Cote d'Ivoire.