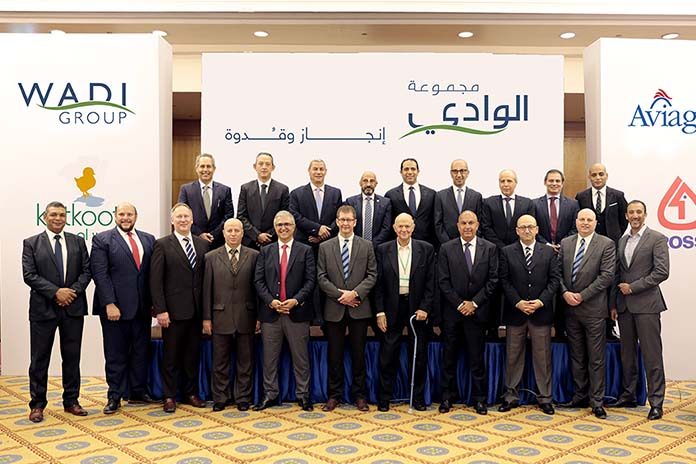 For 25 years, Aviagen has enjoyed a highly successful relationship with Wadi Group, the Ross® distributor in Egypt.
Wadi Group is a leading Egyptian agribusiness company, and celebrated its alliance with the Ross brand by holding a Wadi Poultry Forum in Cairo on March 27. Aviagen executives attended the forum, along with Wadi Group's senior management team and key Egyptian parent stock (PS) and broiler customers.
"We were delighted to be invited to this significant event," said Tom Exley, president Turkey, Middle East and Africa (TMEA). "Our long-term distributor relationship with Wadi Group is an important part of the Ross strategy in Egypt, and we are very grateful to them for their ongoing confidence in the Ross 308." Tom also praised Wadi Group's hard work and dedication to securing excellent Ross performance in Egypt: "We are impressed with the massive growth of the Ross brand in Egypt over the years and delighted with Wadi's ongoing expansions, particularly in the state-of-the-art grandparent (GP) facilities in the far south of Egypt, away from all the poultry populations of the country to ensure highest biosecurity standards."
Important keynote addresses
Essam El Behery, Wadi Group's chief commercial officer, opened the event and welcomed the delegates. Eng. Tony Freiji, Wadi Group's chief executive officer, gave an official opening address, where he highlighted key milestones in Aviagen's and Wadi's cooperative collaboration over the last 25 years. Exley then spoke about Aviagen's worldwide activities and investments, before Magnus Swalander, Aviagen Limited general manager and R&D director, provided an update on research and development. He focused on recent investments in Aviagen's UK pedigree facilities and the developments of the Ross 308 to perform well even under challenging environmental conditions such as in Egypt.
The crucial role of the Ross brand in the region
Michael Garden, Aviagen's business manager for TMEA, spoke about the importance of the emerging MEA region, highlighting Aviagen's commitment to education, delivering management advice and building distributor relationships for the Ross brand. The forum's final session was given by Mr. Puzant Dakessian, Wadi Group's head of poultry, who talked about the developmental investment plan for the Group's poultry division, including the new GP project in Toshka in southern Aswan. The new farm is situated in an excellent location with outstanding biosecurity levels, following the stringent Aviagen health and welfare protocols.
Presentations of gifts and awards of certificates
The day-long event was concluded with the exchange of commemorative gifts between Aviagen and the Wadi Group, as well as the distribution of certificates of attendance to Wadi Group's key customers. "Aviagen has been a strategic ally of ours for 25 years," said Tony Freiji. "Our cooperation has resulted in the development and growth of the Ross 308 in the Egyptian market place due to the excellent combination of balanced performance at the breeder and broiler levels. We look forward to celebrating the next generation of Ross genetics with our customers and Aviagen in years to come."