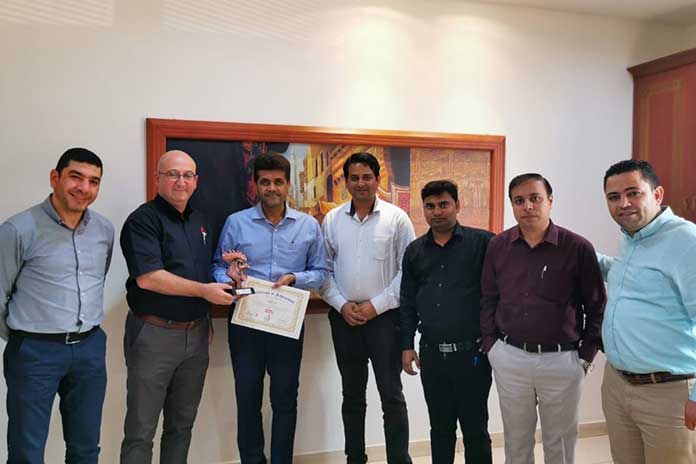 Al Zain Poultry Farms, a Ross® 308 broiler customer from Oman, recently became a member of the Ross 400 Club. Al Zain Poultry Farms established its broiler operation in 2018 and is currently rearing 1.2 million Ross 308 broilers per cycle with 9 cycles per year.
The Ross 400 Club recognizes producers who score a European Product Efficiency Factor (EPEF) of 400 or more with their broiler flocks.
Ross broiler performance is continuously improving in every cycle. In the first 12 months of live production, Al Zain Poultry Farms achieved an EPEF average of 407.70, with the best performing flock reaching an EPEF of 473.50.
Shabbir Boriyawala, Managing Director of Al Zain Poultry Farms commented; "The Ross 400 Club award is a result of continued investment in modern technology and excellent performance of our dedicated farm staff. Being a new company in Oman, we have put our faith in the Ross 308 bird to achieve the best broiler performance in our operation and provide the best breed for our customers. We look forward to enhancing our cooperation with Aviagen and Pure Breed and continuing to increase the presence of the Ross 308 breed in our operation."
"We are delighted to celebrate this award and achievement with our exclusive Ross 308 distributor, Pure Breed, and Al Zain Poultry Farms. This award and recognition is due to the hard work of the Al Zain Poultry Farms production team and the implementation of the best broiler management practices. Al Zain Poultry Farms has shown great progress in managing and expressing the genetic potential of the Ross 308 broiler. The Ross 308 broiler package provides the best return on investment and has a significant advantage in the market for average daily gain, and yield compared to our competitors," commented Bulent Tanyildizi, International Commercial Manager, Ross MEA.