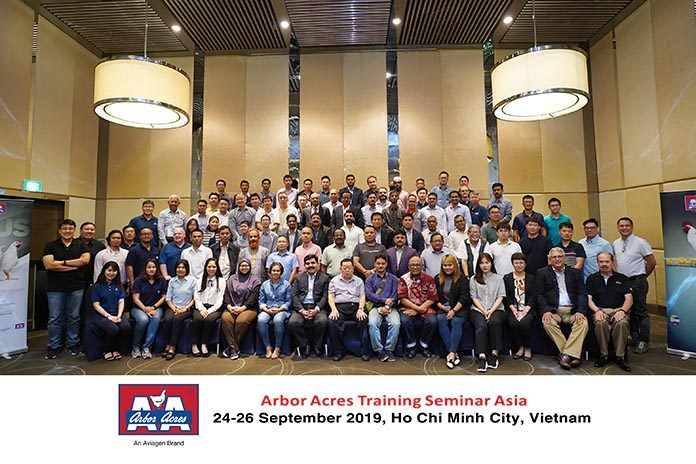 During the recent 2019 Arbor Acres® Training Seminar Asia (AATSA) in Ho Chi Minh City, Vietnam, the Aviagen® Arbor Acres team gathered with customers from throughout Asia for two days of knowledge sharing and relationship building. The team welcomed 76 participants from 33 poultry companies to this fourth annual AATSA, together exploring best practices for "getting birds off to a good start." Among topics discussed were hatchery, ventilation and brooding management; proper feed and vaccination techniques; housing biosecurity; and chick processing and palletization – basically the in-depth advice needed to produce quality and healthy chicks, from hatch to delivery at the customer's farm.
Because most people learn better by doing, the seminar combined theory with hands-on learning, enabling students to apply their skills during a brooding workshop.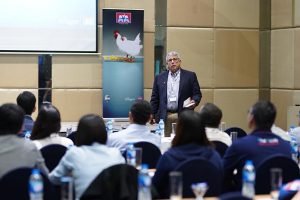 "Our team decided to focus this year's AATSA on brooding due to the fundamental importance of giving chicks a good beginning. This period of their lives has a great impact on their future health, welfare and performance," explained Arbor Acres Vice President Marc Baribault. "The 2019 meeting was a great success, and the team and I feel our valued customers were able to take home useful information for optimizing the genetic potential of Arbor Acres birds and, in turn, improving the bottom line for their businesses.
Krishna Bahadur is an Arbor Acres customer and Managing Director of the Gurung Mega Hatchery. He attended the seminar and commented, "I would like to thank Arbor Acres team for organizing this great training program on brooding, which is essential to our business success."
Eric Chien, Sales Supervisor of Arbor Acres Taiwan added, "This year's seminar was beneficial to help our managers improve the performance, health and welfare of their flocks, while also giving them insight into industry trends and breeding developments."
"The AATSA has convinced me that Arbor Acres performance is a great choice Indonesia. It was a beneficial meeting, with an in-depth sharing of knowledge and experiences within the poultry community," concluded Syahrul Bosang, Indonesian Senior Poultry Consultant.