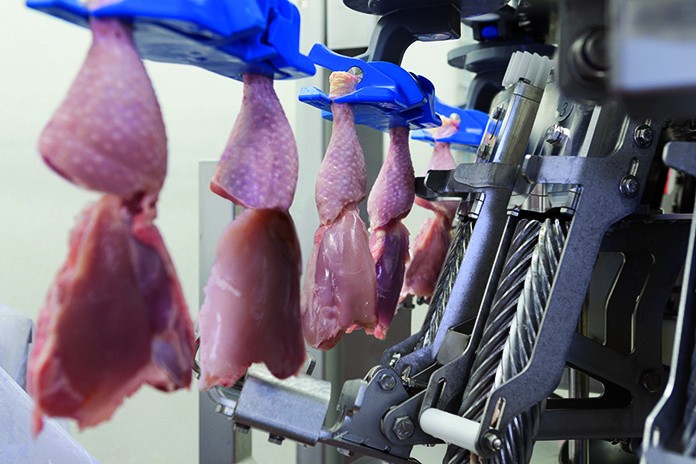 Consumers worldwide are increasingly appreciating boneless chicken thigh meat. Marel Poultry already foresaw this trend a while ago. That's why the company developed the Stork Thigh Fillet System, an inline solution which can keep up with the highest hourly throughputs while processing thighs with utmost precision and consistency.
Retail quality with inline efficiency
At the moment deboned thigh meat is quickly gaining popularity worldwide. Consumers around the globe have begun rating chicken thigh fillets at an equal or even higher level than breast fillets, as a result of its succulent taste. Marel Poultry prepared itself for this trend and created the world's first inline high-capacity thigh filleting solution. With the highest efficiency and consistency, and without the need for manual trimming, thighbone and knee cap are separated from the meat, in order to supply retail quality thigh fillets.
Labour-saving
The inline concept saves considerable labour. Manual shackling or rehanging is no longer necessary, and neither is manual skinning or knee cap removal. That's because the automated process remains completely inline after the Stork ACM-NT cut-up process. Thanks to the stable, optimized manoeuvres, an absolute minimum of operators are needed to check and trim.
How does it work?
The Stork system makes use of five carrousel modules to execute the entire thigh filleting process. From knee joint incision, via skinning and bone extraction to knee cap removal and fillet harvesting, every single task is meticulously performed.
The techniques used are unique and ingenious, though simple. For example the system understands the art to remove the knee cap without any meat on it: the Thigh Fillet Harvester succeeds in efficiently scraping a maximum of meat from around the knee cap without putting undue stress on the drumstick. This valuable meat surrounding the knee cap is now harvested together with the A-grade thigh fillet. During the entire process the products are not subject to excessive forces, but they are gently handled, notwithstanding the high speeds.
Stable and delicious
The Stork Thigh Fillet System reproduces the work of a skilled manual operator in an industrial way, ensuring retail quality thigh meat. This consistent performance can be achieved for all products entering the system, irrespective of size or quality. It is more stable than manual deboning could ever be, and certainly much faster with highest yield. The final outcome of the inline thigh deboning process is a tasty thigh fillet, a completely finished end product, ready for retail sale and for delicious meals.
More information: marel.com/thighfilleting