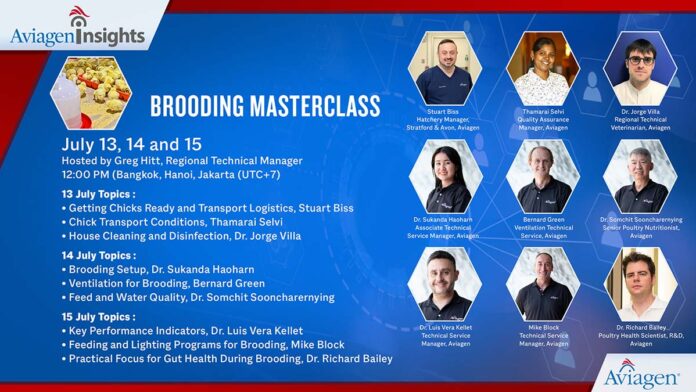 During July 13-15, Aviagen® Asia-Pacific hosted a "Brooding Masterclass" webinar as an exclusive, value-added service for its customers. The online meeting featured management practices that result in a great chick start – from hatch through seven days of age. Led by the regional Aviagen customer service team and a panel of international experts, the three webinar sessions offered vital management advice on house preparation, environmental conditions at the hatchery during transport and in house, lighting, gut health, nutrition and other strategies to optimize bird health, welfare and performance in the first seven days of life. Customers were awarded with certificates for completion of the sessions.
Based on positive feedback from customers who attended the company's April webinar on the impacts of Covid-19 on the Asian poultry industry, the Aviagen Asia-Pacific team sees the webinars as one of a number of opportunities to stay connected to their clients. "During these uncertain times, it's more important than ever to stay in close contact with our customers. Through the customer-focused webinars, we continue to show our commitment to sharing the latest knowledge to promote their success," remarked Rafael Monleon, Business Manager for Aviagen Asia Pacific.
Positive customer response
The webinar event proved to be highly popular, with 75% of attendees giving feedback via the post-webinar survey portal. The respondents gave the overall event more than 4.5 out of 5 stars. Through their comments, it is clear that they find this type of event beneficial, not only for travel restriction times, but for overall continuing education.
The following represents a selection of the customer feedback on webinar:
"I think it was an excellent effort by the Aviagen team during Covid-19 to keep us informed and educated," commented Dr. Amir Zeb, General Manager Parent Stock Production, Jadeed Group of Companies Pakistan.
"Providing knowledge on brooding management, chick delivery and other important topics, this webinar was a great program for me. I hope to join more webinars in the future," remarked Naw Gay May Paw, Formulator, Moe Ah San Trading Company Ltd., Myanmar.
"This should be a regular phenomenon!" concluded Dr. Damodar Pattath, Senior Manager Veterinary Services, MSD Animal Health India.