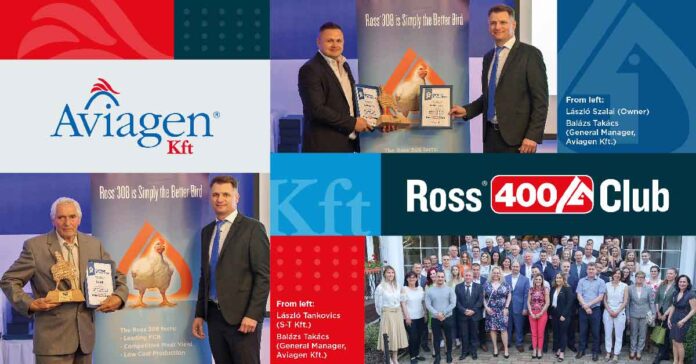 Aviagen® Kft. was excited to honor its highest-performing broiler growers in Hungary during a special ceremony on May 10. Due to past COVID restrictions, this date marked the first time the team was able to convene in person to recognize these achievements for flocks depleted between Nov.1, 2019 and Dec.31, 2021.
There to congratulate these high achievers was the Aviagen Kft. team: Balázs Takács, General Manager; Krisztina Németh, Sales Manager; Eszter Pák, Marketing Assistant; Aimen Abdalla, Assistant Production Manager; and Dejan Bosanac, Regional Technical Manager.
Balázs presented the well-deserved awards to 45 growers, who have 214 farms among them, producing a collective 14 million broilers to feed families in Hungary and further afield.
In addition to the award presentation, another highlight was a nutrition discussion led by Ines Rodrigues Phd, Aviagen Nutrition Specialist, exploring the topic, "Feeding to optimize results – especially in tough times," which was translated to Hungarian by Aimen.
"It was a great pleasure to once again have the privilege to meet with our valued customers face to face," said Balázs. "We are extremely proud of the performance they have reached with their Ross 308 broilers, despite the challenges of the past two years. On behalf of the Aviagen Kft. team, I would like to congratulate the winners, who are an encouragement to broiler farmers through Hungary and beyond."
At the event, László Szalai, winner of the broiler growers with flocks greater than 100,000 category, commented, "I have been working with the Ross 308 since 2009, when we started with 30,000 broilers. Today our modern farm has grown to a capacity of 180,000. Due to continuously improving Ross genetics, we can achieve excellent results in body weight, feed efficiency and livability. I am very proud to achieve Ross 400 Club membership again and win first place with our flocks in the large-producer section."
Aviagen Kft. saw multiple repeat winners in all award categories. "Aviagen Kft. congratulates and salutes these and all our Ross 400 Club winners. They are an inspiration to growers everywhere of the performance heights possible when the genetic potential of the Ross 308 is maximized through team work, excellence in stockmanship and a passion for their birds," concluded Balázs.
Recognizing the star performers
In the category of 100,000 flocks or more, broiler producer László Szalai reached a top-scoring European Performance Efficiency Factor (EPEF) of 461.84, while S+T Kft. scored an impressive 464.85 EPEF as a producer with fewer than 100,000 flocks.