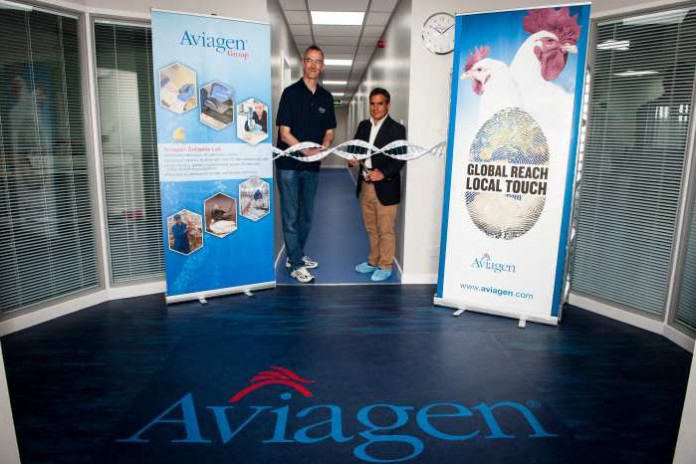 Aviagen is pleased to announce the opening of a new state-of-the-art Genomics laboratory. Based in Scotland, the new laboratory is equipped to process well over a million DNA samples and genotypes yearly for both chicken and turkey lines.
New laboratory broadens the field for Genomics selection
In 2012, Aviagen became the first poultry breeding company to incorporate Genomics information in the routine selection of its elite chicken lines. From 2017 turkey pedigree lines also benefit from increased selection accuracy from using Genomics information in routine breeding decisions. The information generated by this laboratory will therefore benefit the entire portfolio of Aviagen Group products, including conventional and slower-growing breeds.
Genomics research contributes to further improvement across a balanced breeding goal
Genomics research identifies naturally occurring variation within the genome of elite birds and uses that variation to further enhance selection decisions for traits across a balanced breeding goal, including biological efficiency, in particular feed conversion, meat yield and quality, reproductive fitness, health and welfare. Genomics information is combined with traditional selection techniques to achieve the highest selection accuracy.
The new Genomics laboratory marks a significant milestone in the company's long-term commitment to R&D investment and genetic advancement and provides a strong foundation for future developments.
Official opening of Genomics laboratory
An official open day was held on 19th June for Aviagen employees to mark this special occasion, which included a presentation from Aviagen Director of Global Genetics Dr. Santiago Avendaño, followed by a tour of the new facility.
Dr. Avendaño said: "Our new Genomics laboratory gives us the opportunity to significantly upscale Genomics implementation across our chicken and turkey breeding programs, which will ultimately translate to performance benefits for our product portfolio globally. Aviagen's investment in this new facility is a testament to our strong commitment to R&D, which is the backbone of our long-term strategy to achieve sustained genetic improvements in our elite chicken and turkey lines."
"The accelerated genotyping abilities created by the new laboratory help to further the ongoing improvement of Aviagen breeding stock," adds Dr. Alfons Koerhuis, chief technical officer for Aviagen. "Applying advanced Genomics research strengthens our ability to breed stronger, fitter and healthier birds with good robustness and adaptability to global production environments, which ultimately delivers optimal and predictable field performance."