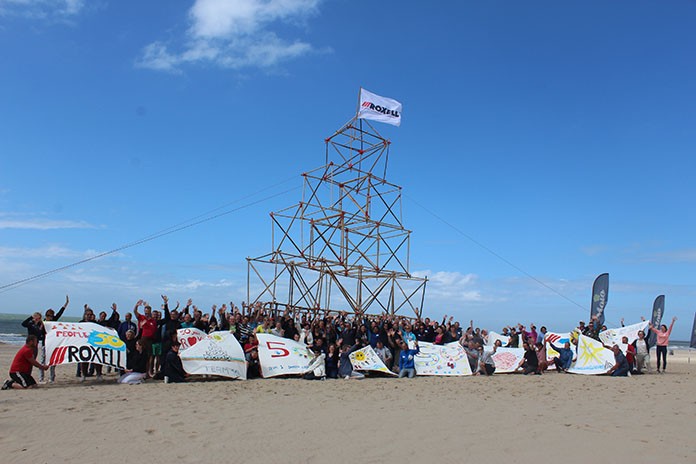 On the 9th of June, Roxell, the leading manufacturer of automatic feed, drink and heating systems for poultry and pigs, celebrated its 50th anniversary with Employees' Day.
2017, a special year for Roxell
Gino Van Landuyt, Roxell's Managing Director, took the opportunity to highlight this 50th anniversary: "This is certainly a memorable event. It illustrates the will, determination and sustainable success of a company that continuously strives for product innovation and quality. We are celebrating our anniversary throughout the year with our valued customers and distributors, and, of course, with all of our employees. After all, the talent, effort and dedication of our staff is the cornerstone of our success, our past and our future."
Employees' Day & Praise Award
On the 9th of June, Roxell put its employees in the spotlight with Employees' Day. Some 150 colleagues made their way to Cadzand on the Dutch coast for a day full of surprises, team-building activities and a nice barbecue. A lot of the staff pushed their own boundaries with rafting or competed in a game of bumper football and beach volleyball.
But the high point of the day's celebrations was undoubtedly the presentation of the Praise Award.
"The Praise Award is reserved for the Roxellian who lives and breathes Roxell's values and who consequently perfectly embodies what Roxell stands for", stated Gino Van Landuyt.
The 3 nominees, Myriam Vyncke from the Order Fulfillment department, Geert De Craene from the Maintenance department and Patrick Van Basselaere from the Welding & Assembly department, were congratulated by their colleagues with warm and heartfelt applause.
The winner of the Praise Award was Patrick Van Basselaere, better known by his colleagues as Bassie. Patrick came on board with Roxell 20 years ago. As an adjuster-operator, he puts in a great deal of effort every day, both for his colleagues and for the organization. He is not only a team player and an enthusiastic employee – he is also a motivator for the whole Roxell team.
So the company's management was very pleased to present him with the first Praise Award.
Roxell's Future
"When I look back on the last 50 years, I get impatient to see what the next 50 years will bring", says Gino Van Landuyt. The company is ready for the future. Innovative products of superior quality and functionality will continue to be the company's hallmark. "Our dedicated employees and distributor network guarantee strong customer service and support", declared Gino Van Landuyt.