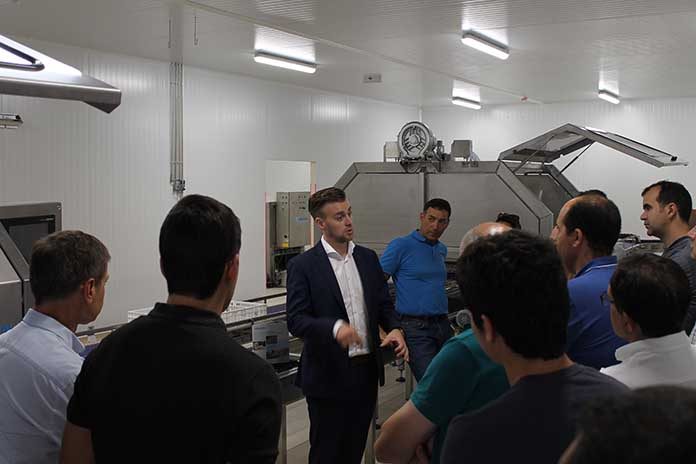 Aviagen SAU customers and employees tour new modern hatchery in Spain
Aviagen® SAU has inaugurated a new hatchery in Spain, which will serve the needs of Ross® customers in Spain, Portugal and Morocco. Market demand for high-quality Ross breeding stock is expanding, as customers are seeing the economic and performance benefits it can provide to their businesses. Grand opening celebrated with two ceremonies.
Leading-edge features underline commitment to biosecurity, performance and welfare
The first hatch was scheduled for Aug. 27. With a hatching capacity of 11 million parent stock (PS) per year (and a potential for future increase to 15 million PS), the facility expands Aviagen SAU's current hatching capacity in the region by 50 percent.
The new hatchery integrates the latest in hatchery technology for high production capacity and maximum biosecurity and welfare. Among these advanced features are automated setters and hatchers built to the highest industry standards, heartbeat detection for improved precision at candling and reduced contamination risk, one-directional workflow inside and outside the hatchery and cloud-based health passports for people and vehicles to safeguard biosecurity.
Located in San Esteban de Litera, the hatchery is strategically situated to efficiently supply customers throughout the region with premium Ross broiler breeding stock.
Double special grand openings
Aviagen SAU hosted two opening ceremonies in the hatchery. The company welcomed 40 Spanish dignitaries and VIPs to a ribbon cutting on June 29, and on July 18, 220 customers and employees attended an inauguration.
Customers and employees hosted on July 18
The ceremony for customers and employees started with an opening speech from Aviagen SAU General Manager Sergio Illán. The group was then led on a tour of the hatchery so they could see the features and capabilities firsthand. Representatives from hatchery developers and equipment manufacturers Petersime and Viscon were on hand to offer explanations on key hatchery attributes.
Sergio stressed that the new modern hatchery underscores Aviagen's commitment to security of supply, quality and ultimately to its customers. "Our investment in this innovative hatchery, along with our new state-of-the-art GP farms, will help us better serve our valued customers with an uninterrupted supply of top-quality parent stock and promote the success of their businesses for today and tomorrow," he said.