To take part in a month of learning and team-building, 35 poultry producers from 19 countries journeyed to Huntsville, Ala., US, for the 2019 Aviagen® Production Management School. Aviagen welcomed to class veterinarians, production managers, hatchery specialists and other poultry professionals representing a variety of cultures, languages and production operations.
From June 2-27, students engaged in more than 75 sessions that combined theory with plenty of on-the-farm learning – all designed to prepare them for a future of success in the global poultry industry.
Multiple sessions were held in Aviagen's brand new Research and Training Center, featuring modern, spacious classrooms and wet lab facilities.
Digital tools
Students stayed connected with instructors and with each other throughout the month using an event app. Through the app they collaborated and posed questions to instructors. Additionally, they were given electronic tablets containing all course content, which they were able to take home and use as a reference guide for their daily work.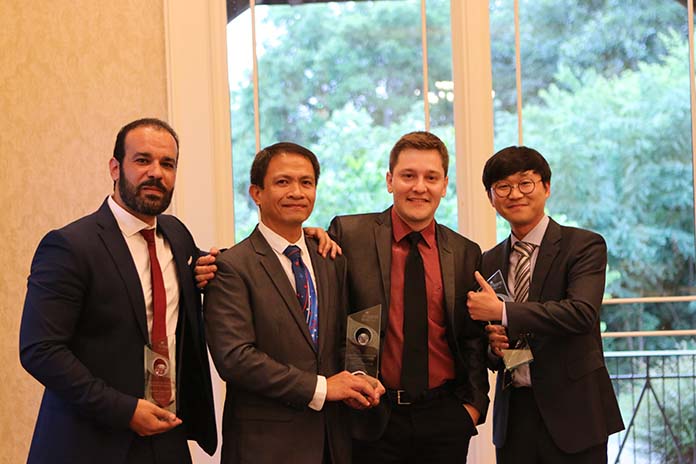 Full program of management essentials
Themes as varied as biosecurity, data analysis and broiler economics all had one element in common – demonstrating to students how continuous improvement in flock management techniques can maximize the performance, health and welfare of brands of Aviagen breeding stock, and increase economic returns for breeder and broiler growers.
Weekly tests helped reinforce concepts learned during the month. As extra incentive, the highest scorers were recognized. This year's top achievers were:
1st place – Byoungyoon Kim, Cherrybro, South Korea,
2nd place – Ross Abraham, Gama Foods Corporation, Philippines,
2nd place – Vinicius Duarte, BRF SA, Brazil,
3rd place – Dr. Ahmed Gamal Elnaby, Eastern Coast Group, Saudi Arabia.
"We thoroughly enjoyed our time with this year's participants in the 56th Production Management School. Students came with a broad variety of backgrounds and perspectives, and it was great to see how quickly and thoroughly they picked up on the classroom knowledge, and were able to apply it during our multiple hands-on farm, hatchery and laboratory sessions," explained School Director Rudy Gil. "Perhaps even more rewarding was the camaraderie and idea exchanges that went on among the students – to me that is the most effective learning possible. We congratulate all students for their progress this month. It is our wish that the learning continues, as they use what they've learned here to promote continuous improvement and success at their home operations."
Learning with a global reach
Aviagen is committed to the success of customers around the world, and the company's philosophy is that learning and the sharing of knowledge is key to this success. The company's Production Management School in Huntsville is the first and longest-running of its kind in the poultry industry. In fact, since the school was founded in 1964 as the Arbor Acres® Production Management School, more than 1,600 poultry professionals from 62 countries have successfully completed the program.
Aviagen also hosts week-long, Schools focused on single subjects in various countries throughout the year. Additionally, numerous seminars, meetings and workshops are organized regularly by Aviagen teams globally as opportunities to share knowledge with customers and help them get the most from their flocks.