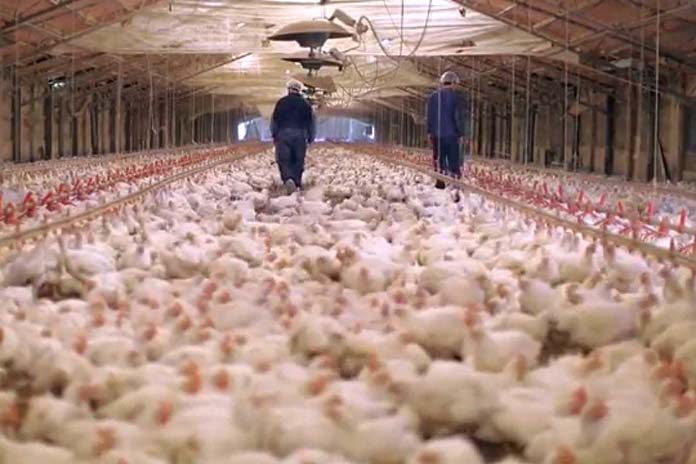 City officials, poultry industry representatives and Cobb-Vantress, Inc. team members came together earlier this month to commemorate the company's recent decision to expand local operations by opening a new corporate office building in downtown Siloam Springs. Nearly 200 people attended the ribbon-cutting and the luncheon following the event.
Located at 305 E. Main Street, the 35,000-square-foot office building was purchased by Cobb in May. Since that time, Cobb has made some renovations to the building and work will continue in other areas during the next few months. The building currently houses approximately 70 Cobb team members from a mix of departments, including human resources, environmental health and safety, marketing, research and development, information technology, and Cobb's renowned World Tech Team.
"This new facility gives us an opportunity to spread out from our existing corporate global office, which was largely overcrowded," said Joel Sappenfield, president of Cobb-Vantress. "We had been considering building or purchasing a new facility when the office building was listed for sale. We've got a great downtown location that gives us room to continue to grow and ensures that we can meet the needs of our customers — both now and in years to come."
Built in the 1970s with an addition completed in the 1990s, the building most recently housed Sager Creek Foods and previously served as the corporate offices of Allen Canning Company. The company's other Siloam Springs location at 4703 U.S. Highway 412 E. will continue to serve as the company's global corporate headquarters.
A global leader in poultry genetics and breeding
Cobb moved its corporate headquarters to Siloam Springs in 1986 from Concord, Massachusetts. Today, the company distributes poultry to more than 120 countries, and has facilities and offices in each region of the world. With a range of quality poultry products designed for a variety of growing conditions and diets, Cobb-Vantress produces the Cobb500™, CobbMVMale™, Cobb700™ and CobbSasso™.