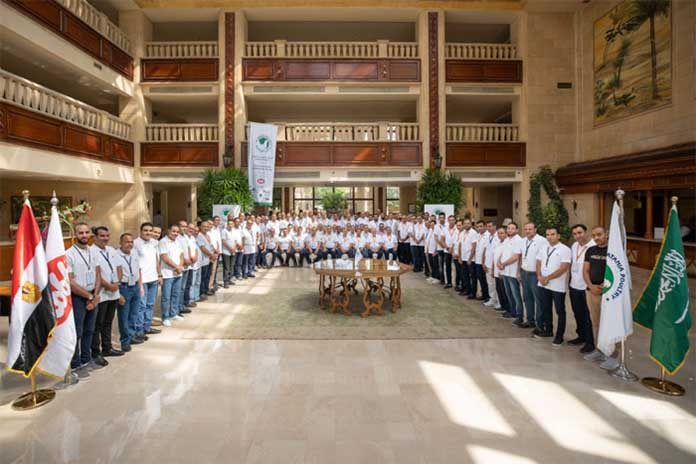 Cobb Europe partnered with Al-Watania Poultry in Egypt to host the pair's annual scientific conference focusing on the importance of creating a safe environment for broiler breeders. Held in Ain Sokhna, Egypt, the two-day intensive training course combined the technical expertise of Cobb Europe and Al-Watania Poultry leadership to reach industry leaders from over 50 companies and major industry investors.
The theme of the 2019 conference was "safe environment for safe food," highlighting global and regional poultry trends, biosecurity measures, and opportunities for industry improvement including rations, mortality rates and optimizing performance. Mr. Abdullah Abu Hamid, chief executive officer of Al-Watania Poultry in Egypt, conducted the opening address, sharing insights on the evolving industry and growing demand for poultry in Egypt. As the exclusive distributor of Cobb genetics for the region, Al-Watania Poultry plays an active role in food security and is evolving to meet growing needs from local growers.
"Poultry is one of the most important industries for national food security in Egypt," said Mr. Hamid. "Now in its eighth year, this critical conference combines the largest gathering of breeders, broilers and veterinarians in Egypt, Europe and the Middle East with the industry's top experts to create a place for active participation and learning. We leave feeling revitalized after this meeting each year and reenergized in our quest to work together to meet the needs of the region."
Building on Mr. Hamid's presentation, Cobb leadership and industry leaders also shared information about vaccine application, breeder and broiler nutrition, breeder and broiler rations and performance, and safe and efficient housing.
"At each Al-Watania Poultry annual conference, we examine modern solutions to the problems hindering progress and growth in the poultry sector," said Hosam Amro, Cobb Europe senior manager of technical service in the region. "By combining the teams of both Al-Watania Poultry and Cobb Europe, we're able to maximize value each year to help participants get the most up-to-date information and approaches."
While only two days in duration, the conference covers a lot of ground in the modern poultry industry and provides participants with tangible information to reduce unnecessary economic losses. The conference expands in scope and size each year, making the networking and information presented valuable to all participants.