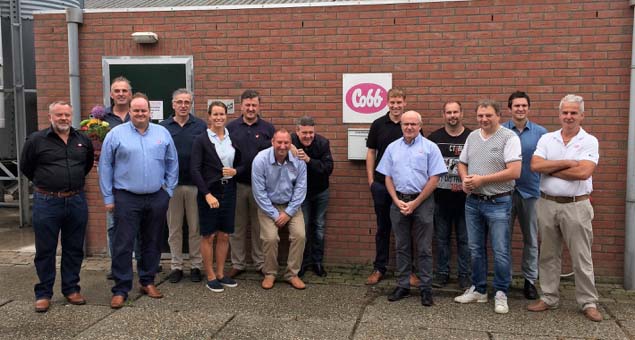 Cobb grandparent production managers from across Europe met in Holland this summer for the region's fifth grandparent stock roundtable. The annual event provides attendees an opportunity to review the latest technical information, exchange best practices and set priorities for the region in the year ahead. For two days, delegates from the company's distributors in Germany, Spain and Sweden joined managers from Holland and the United Kingdom for the event, located in the historic town of 's-Hertogenbosch. Together, this group of nearly 15 poultry experts is responsible for all of the grandparent-level stock that provides customers in Europe with company's parent stock.
During the roundtable, attendees reviewed techniques to maximize performance of the company's quality products particularly bringing breeding stock into lay. Additional roundtable agenda items included the importance of body weight control on production and hatchability, how feed strategy impacts a male's fleshing score, and sharing best practices with customers as part of their unparalleled technical support program.
While in Holland, roundtable participants also visited a grandparent farm at the Wilzing family facility in Zeewolde. Here, attendees reviewed how to evaluate a bird's fleshing to determine if they are ready for light stimulation — a technique implemented across the region in 2017.
"These new practices have allowed us to more efficiently make decisions regarding fleshing, leading to a dramatic increase in hatchability," said Richard Weatherley, production director of Cobb Europe.
Together, the group discussed priorities for the region in the year ahead, which include optimizing preparations for males to mate and females for production.
"The roundtable is an invaluable opportunity to spend time with people who are the experts in their field, comparing notes and sharing stories," said Patrick van Trijp, Cobb Europe senior account manager. "Cobb Europe is proud to work with these distributors and we take great pride in knowing that our parent stock customers will receive high quality birds and genetic lines."
Visit http://cobb-vantress.com/academy (http://cobb-vantress.com/academy) for the latest technical information, industry best practices and information on feed conversion, broiler and breeder management, and much more.