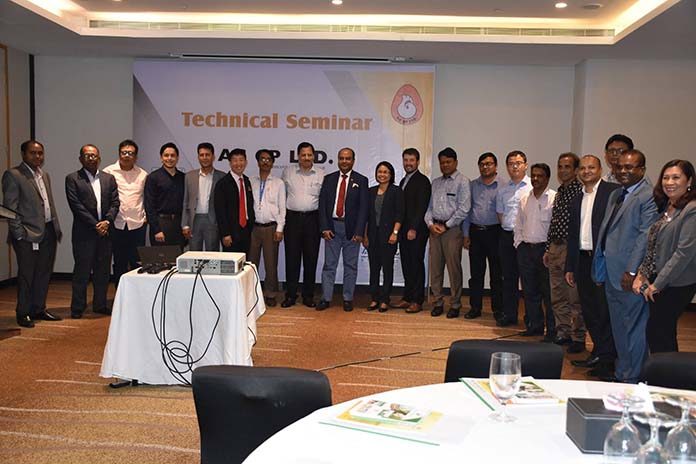 Optimum incubation and breeder management practices lead to customer success with Indian River broiler breeding stock.
Aviagen® and its distributor AG GP Limited teamed up on July 19 to present an informational seminar for 20 AG GP customers of Indian River® parent stock. Held in Dhaka, Bangladesh, the seminar aimed to share best practices in breeder management.
During the program, Larry Blackstone, Indian River commercial manager, presented the latest performance developments for Indian River broiler breeding stock, while Dr. Ampai Nangsuay, Aviagen hatchery technical service manager, focused on optimal incubation techniques and Michael Chau, Indian River commercial support and technical service manager, offered best breeder management practices.
Positive feedback from presenters and participants alike
The seminar in Bangladesh offered a great opportunity for knowledge and idea exchange, and the response was positive from those in attendance.
Kbd Zahidul Islam, GM, Bengal Feed and Fisheries said it was a "very good seminar and constructive learning session."
"The information presented will help improve our success with Indian River breeding stock and exchange information with our colleagues in the industry. I look forward to similar sessions in the future," added A.M.M. Nurul Alam, GM-S&M, AG Agro Industries Ltd.
"At Aviagen, our customers come first, and we work toward continuous improvements in our breeding program to ensure their success. The advice shared at the seminar helped show them how optimal hatchery management can result in good-quality chicks and maximum performance," said Ampai.
Michael added, "The seminar was a good opportunity for customers to talk and share their own experiences, and for us to gain insight into how we can better meet their needs. We expect the attendees will be able to apply what they have learned to address their individual challenges and drive further improvements in product performance."
For further information, please visit www.aviagen.com.