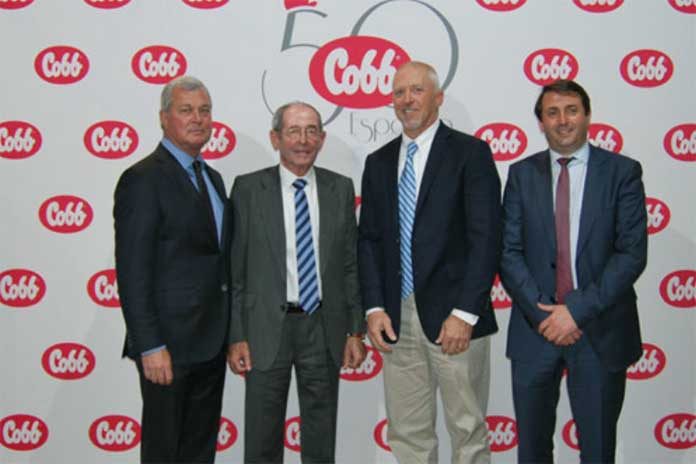 This year marks the 50-year anniversary of Cobb Spain, a distributor of Cobb Europe, serving Spain, Portugal, Algeria, Morocco and Tunisia. To celebrate this milestone, the company hosted a celebration in Madrid earlier this month, bringing together many Cobb team members and colleagues who help make the distributor a success.
Cobb Spain Managing Director Rafael Gil said the long-term success of the distributor is built upon the company's investment in premium genetics and quality products.
"We've been fortunate to have the long-time support of our shareholders, allowing us to invest in developing a high-quality product," Gil said. "At the same time, Cobb Europe provides us with valuable technical support to continue improving results."
On behalf of Cobb, President Joel Sappenfield presented Cobb Spain leaders with personalized gifts and a commemorative plaque from the company, expressing thanks and appreciation for the success of the distributor in the region.
"Our relationship with Cobb Spain is very strong. We've grown together for the last 50 years and look forward to many years of continued partnership," Sappenfield said.
Key milestones in the history of Cobb Spain include:
1969: Cobb Spain began as grandparent flock farms in Pozo de Guadalajara and a hatchery in Alcalá de Henares (Madrid).
1980s: Though these two operations began as leases, with steady growth the company was able to secure ownership during this decade.
2006: Further growth occurred with the purchase of the of Hybro facilities in Spain, which included a hatchery in Dueñas and a few grandparent flock farms in Valladolid and Palencia. These new facilities enabled the distributor to complete sales internally.
2012-2019: With a €18 million ($20.3 million USD) investment in farm space, a new hatchery was developed, several extensions were completed, and a new office was established in Pozuelo de Alarcón, Madrid. During this time, Cobb Spain also updated its existing facilities in Guadalajara.
"We are very proud of the history shared with such an excellent distributor and partner," said Mark Sams, general manager of Cobb Europe. "We have seen exceptional growth in the territories managed by Cobb Spain and look forward to working with our friends and partners for the next 50 years and beyond."
Tyson Foods CEO Noel White was in attendance, as were several Cobb executives from throughout the world including Pelayo Casanovas, vice president Europe, Middle East, Africa and Asia Pacific, and Roy Mutimer, vice president operations. Together the leaders held sessions focused on the future of the poultry industry, Cobb's vision and genetics technology.
Additionally, Cobb Spain leaders held a sofa interview celebrating the past, present and future of Cobb Spain. Shareholder Rafael Gil Martin and Juan Carlos Abad, Cobb Spain technical director, also attended.
Cobb Spain plans to open a new breeder trial farm in 2019, to be built in Dueñas, the Palencia province where most of Cobb Spain's grandparent farms are located. The farm will be used by both Cobb Europe and Cobb-Vantress to test the Cobb500™ product with different management profiles.