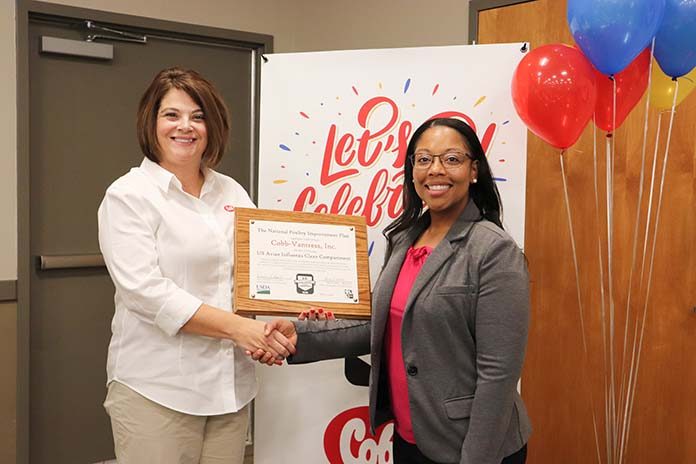 The U.S. Department of Agriculture's (USDA) National Poultry Improvement Plan (NPIP) recently certified Cobb-Vantress U.S. operations as an Avian Influenza (AI) Clean Compartment, helping to continue Cobb's promise of making quality protein accessible worldwide.
The company's U.S.-based pure-line facilities, including pedigree and great-grandparent farms, feed mills, and hatcheries, were certified after extensive USDA/NPIP auditing that confirmed all biosecurity and flock management practices met program requirements. This was a complex process that took more than two years of planning, preparation and auditing to complete. The designation makes Cobb the only poultry breeding company to have attained four such certifications, including the United Kingdom, the Netherlands, Brazil and now the United States.
"Our customers have come to depend on our security of supply, and this certification adds another level of assurance for AI-free products," said Kyle Traeger, world quality assurance manager at Cobb-Vantress. "Avian Influenza is one of the biggest threats to international trade, a and compartmentalization certification helps ensure any future supply chain disruptions would be limited. It's just another way for us to give our customers the reliability they have come to expect from Cobb."
Compartmentalization was introduced by the World Organization for Animal Health (OIE) in 2002 and was adopted by the NPIP in 2006. The NPIP developed management guidelines in 2014 to provide international trading partners confidence in the health status of imported breeding stock. Companies with this certification are recognized for operating at high levels and exceeding basic standards.
"Stringent biosecurity, skillful flock management and frequent health monitoring help facilities remain disease- free in the event of a notifiable AI disease in the country, helping to alleviate trade barriers," said Melissa Phillips, Cobb-Vantress quality assurance auditor and NPIP coordinator.
Prior to this concept, countries and companies used a regionalization approach, establishing geographic zones free of AI to meet importing countries' requirements. Now, with compartmentalization, the importing country may assess risk based on management practices and biosecurity programs of segregated production facilities rather than strictly geographical boundaries. In the U.S., this is managed by the USDA Animal and Plant Health Inspection Service's National Poultry Improvement Plan Program.
"Exceptional biosecurity is a critical component to Cobb's ability to distribute poultry to more than 120 countries worldwide," said Joshua Teague, Cobb-Vantress quality assurance specialist. "Everything we do is driven by integrity and innovation, so we've established protocols that exceed the USDA's rigorous standards so importing officials have a high degree of confidence in our products moving into the future."
At a ceremony held this week at the company's global headquarters in Siloam Springs, Arkansas, Dr. Gene Shepherd, managing director of quality assurance and vet services at Cobb-Vantress, expressed gratitude and appreciation to all team members for the hard work and dedication required to achieve this certification. Guests included USDA/NPIP dignitaries, Cobb's executive leadership team, quality assurance and vet services teams, and other contributors to the project.
To learn more about Cobb's stringent biosecurity protocols, visit cobb-vantress.com