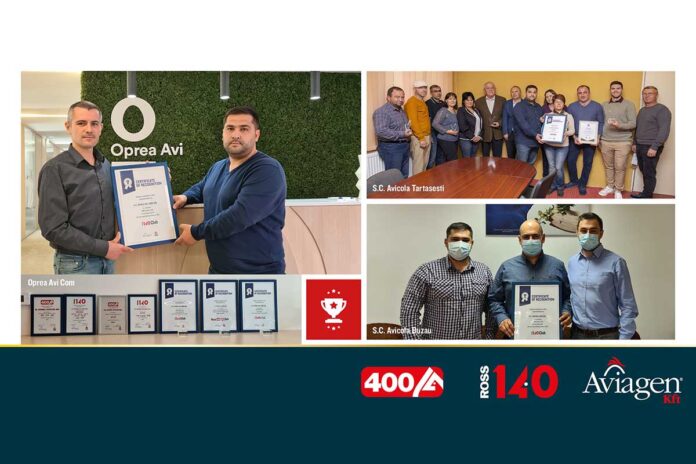 Aviagen® Kft customers Avicola Buzua, Avicola Tartaseti Poultry and Oprea Avicom are sterling examples to poultry growers throughout Romania for their Ross 140 and Ross 400 Club achievements. They have demonstrated the breeder and broiler performance possible when excellent stockmanship combines with dedication and teamwork to maximize the genetic potential of Ross® birds. In October, Paul Anton, Sales & Technical Manager, from Aviagen Kft traveled to the offices of these customers to present them with awards and certificates for their Ross 140 and Ross 400 Club achievements.
All three companies are repeat Ross 140 Club winners – an impressive accomplishment in itself. This year marks the fifth award in a row for Avicola Tartaseti and Oprea Avicom, and the third for Avicola Buzua. Avicola Tartaseti's
Farm 10 entered this year's Ross 140 Club with a top breeder score of 159.84 chicks per hen housed (chicks/HH), and Avicola Buzua reached 154.5 chicks/HH on its Calarasi Farm. Oprea Avicom's Sincai Farm achieved 158.5 chicks/HH, while at the same time attaining a European Production Efficiency Factor (EPEF) broiler performance of 414.42 and earning entrance to the Ross 400 Club.
"We are thrilled to celebrate the accomplishments of Avicola Buzua, Avicola Tartaseti and Oprea Avicom, who are shining examples to our entire region of the year-on-year improvements possible with hard work, skill and a passion for their birds," explained Paul
Gabriela Nicolae, General Manager of Avicola Tartasesti Poultry, added, "We are very proud to be part of the Ross 140 Club and to exceed the benchmark each year. Thank you to our deserving team members for their efforts, and many thanks to the Aviagen customer support team for the help they have provided throughout the years."