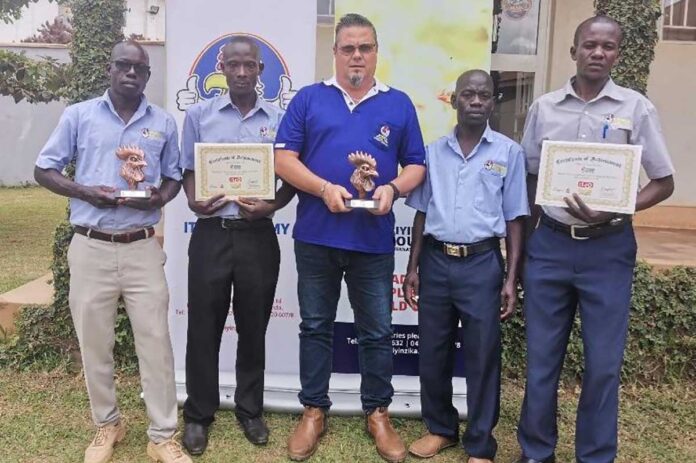 Biyinzika Poultry International Limited (BPIL), a Ross® 308 customer from Uganda, recently received a Ross 140 Club award for their outstanding breeder performance.
BPIL is the leading integrated poultry company and a recognized household brand within Uganda. It was established 30 years ago and has vastly grown throughout the years, with an employee base of over 1,000 and over 10 production sites. The company produces 510,000 day-old chicks and 800 tonnes of feed per week and distributes this quality breeding stock and Hazard Analysis Critical Control Point (HACCP) certified animal feed to over 40 branches in Uganda and the East Africa region. BPIL also produces poultry meat products under the Pearl Chicken brand supplying to 21 Pearl shops, wholesale, retail and food service customers.
Performance is consistently high in breeder flocks, due to the genetic developments of the Ross 308 and the knowledge and intense efforts of Ross customers in the region. The Ross 140 Club recognizes producers who achieve a breeder performance of 140 or more chicks per hen housed at 60 weeks, which Biyinzika achieved in their most recent flock.
"We are proud to be exclusive members of the Ross 140 Club and to collaborate with Aviagen, where we receive excellent quality, genetics, service and best return on investment. Receiving this 140 award motivates both our farm management and frontline teams to continuously progress in our performance standards. This award is thanks to our teams hard work, dedication and discipline, and highlights that top quality results can be achieved in old, naturally ventilated houses. I would like to sincerely thank my production team and the Aviagen Ross MEA team for making this achievement possible," commented Jeremy Watson, Chief Operations Officer, Biyinzika Poultry International Limited.
"The Ugandan market is very important to Aviagen as the Ross 308 is gaining more and more momentum each day, as we have shipped a number of flocks to all major customers throughout 2021. Biyinzika Poultry International is a key customer in Uganda and their breeder and broiler performance are encouraging other players in the market to perform well. The BPIL production team work very closely with the Aviagen Ross customer support team and I believe this is the key to success along with BPIL's hard work and dedication. I look forward to continuing our collaboration with BPIL and seeing their performance go from strength to strength," commented Bulent Tanyildizi, International Commercial Manager, Ross MEA.