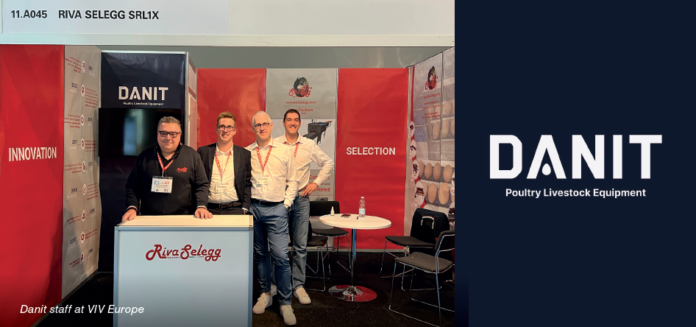 Riva Selegg announces the birth of Danit S.r.l, which will be responsible for distributing the Riva product range on the national, African and Asian markets. This new company was created from the dream of a group of Italian entrepreneurs, based on the strength of their considerable experience gained in the poultry and livestock sector and their determination to contribute to the constant growth and innovation within the poultry sector.
During the days of VIV Europe we met Andrea Trevisanut and Denis Zampese, owners of Riva Selegg, who together with Nicola Bonetti, Danit S.r.l., talked to us about the new projects related to Danit, the company recently created to meet the requests of the Italian and international market for new 'turnkey' services designed for poultry farming.
"The collaboration with Nicola Bonetti – explained Andrea Trevisanut – stems from constant attendance, especially at trade fairs, which has allowed us to deepen our mutual knowledge and identify some elements which, in our opinion, various markets may, at this time need. Danit S.r.l. arises precisely from the desire to offer a capable interlocutor, who with solid technical knowledge, can offer the customer not only a series of reliable products, but also advice on the setting up of a poultry farm."
"Danit's mission – Nicola Bonetti told us – was identified thanks to years of market research and the analysis of feedback received from breeders. My personal experience as a commercial technician, together with Riva Selegg's considerable presence in the field of egg collection and selection, led us to offer the customer much more than a basic 'turnkey' project. What we offer, in fact, is a consultancy that commences with the customer's desire to undertake an entrepreneurial activity in the field of poultry farming, passing from the construction of the poultry farm right through to the marketing of the products produced by the company."
In addition to the Riva Selegg brand, Danit S.r.l., thanks to their sales concessions for some important brands including Lubing, River Systems and Codaf, can offer a series of products ranging from feeders to drinkers, nests, ventilation, conveyors, and egg grading machines etc. In short, everything you need to set up a poultry farm.