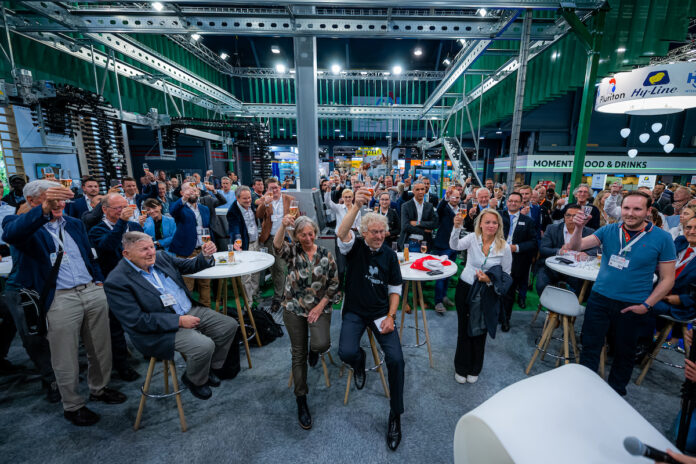 At VIV EUROPE 2022 Vencomatic staff celebrated Cor van de Ven's retirement, the man who founded Vencomatic alongside his wife Han in 1983, with his breakthrough innovation for breeder housing: the first automatic breeder nest box in the market. 
Almost 40 years ago Cor van de Ven designed the first automatic breeder nest. During the VIV in 1984 this nest was introduced to the market. Not only did this nest revolutionize the industry, but it also set the foundation for what is now the Vencomatic Group. After forty years, the nest was back on the exhibition floor at VIV Europe 2022 for a  special occasion, the Cor van de Ven's farewell party. A good time to say goodbye to the poultry sector after forty years at the VIV and start enjoying his retirement.
Cor van de Ven and his wife Han founded Vencomatic in 1983. Since early 2018, all five children of Vencomatic Group founders Cor and Han van de Ven have worked in the company. Daughter Lotte has been working at the Vencomatic Group since 1 January 2008 and was responsible for the Product Management, Marketing, and Poultry Specialists teams. In May 2018, she became the CEO of the company.
"It is now time for the second generation to move on and for me to enjoy my retirement. From a technical background I went into the poultry industry. My strength has always been innovation and being close to the farmers. Listening to the farmers, translating the farmer's problems into solutions" said Cor van de Ven.
The second generation is ready to move into developing Precision Farming solutions which will again revolutionize the industry. In today's world, we see an increasing dependency on data. More than just providing information on daily production, feed and water intake, climate conditions etc, data will guide poultry farmers in their management and enable them to change from beeing reactive to proactive and even to predictive. 
All of the team at Vencomatic UK wish Cor the very best in his retirement and thank him for his almost 40 years of dedication in building a worldwide leader of high welfare poultry systems and farming solutions.